The Talk Show Host That Inspired Jimmy Kimmel's Career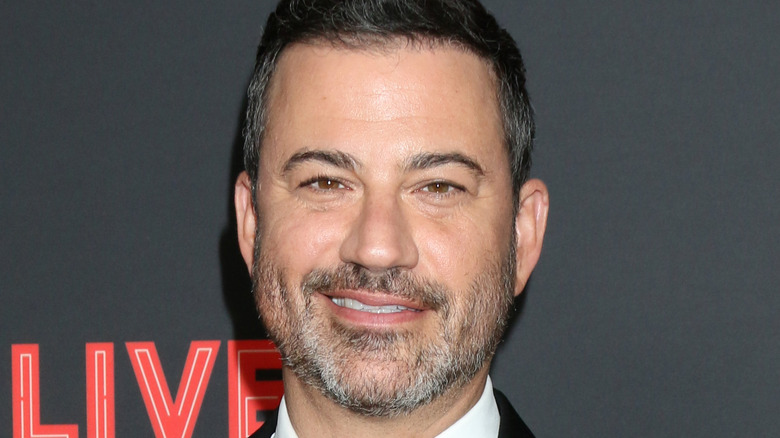 Kathy Hutchins/Shutterstock
Before ABC bet on Jimmy Kimmel, he was writing and performing charming "jokes" about saving the world from the oppressive regime of "feminization" (via YouTube). "The Man Show" aired on Comedy Central for six seasons, pointing to the revolting political climate of the early 2000s — Kimmel described it as "a joyous celebration of chauvinism" (via The New York Times). Luckily for anyone with a TV, Kimmel switched up his act and created a show that's been taking nominee slots at the Emmys since 2012, bringing in two awards for being an Outstanding Variety Special (via Emmy Awards).
Jimmy Kimmel's charismatic hosting skills, easy banter with celebrities, and segments like "Celebrities Read Mean Tweets" (also on YouTube) have earned "Jimmy Kimmel Live!" a top spot as one of the most-watched late-night shows, competing with names like Seth Meyers, James Corden, and Jimmy Fallon (via Deadline). Considering Kimmel's start as a testosterone-fueled host, his character development is as interesting to watch in the 20 seasons of the ABC show as the segments. Another standout from the realm of late-night talk shows influenced both his career and his sense of humor.
Kimmel shaped his career after David Letterman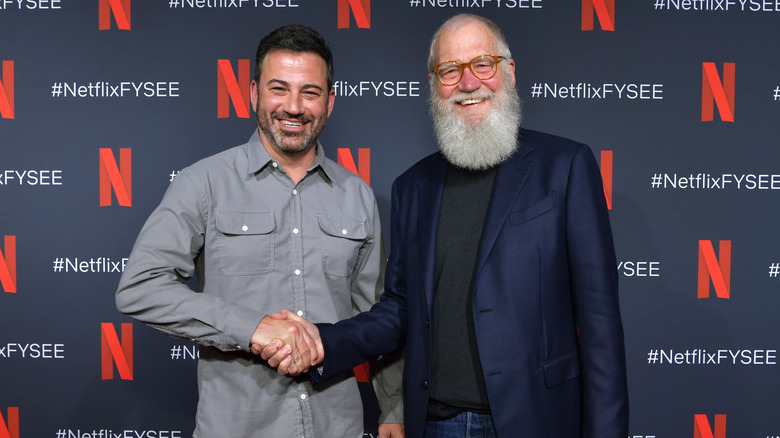 Emma Mcintyre/Getty Images
When "Jimmy Kimmel Live!" was first announced in 2003, the new talk show host wasn't too sure of himself. "My goal was never to host a late-night talk show," he told The Hollywood Reporter. "My goal was just to keep watching a late-night talk show."
Kimmel revealed that his passion for that genre of television started with David Letterman's show. "Every school night, I watched with the kind of simmering fervor described in newspaper profiles of teens who run away from home to fight for ISIS. First period started at 7:35 a.m., but Dave was more important than sleep," Kimmel wrote in Time in 2015. "On the day I turned 16, I blew out candles on a Late Night birthday cake. I had 'L8NITE' vanity plates on my first car. Dave smoked cigars, so I smoked cigars."
Watching hours and hours of Letterman probably helped Kimmel follow in his idol's footsteps, starting in radio, as Letterman had, and culminating in a daily show watched by millions. In 2002 Kimmel told The New York Times, "The only reason I ever even got into show business was that I might be able to hang out with [Letterman] someday ... He practically invented my sense of humor."