The Truth About Jessica Chastain And Octavia Spencer's Friendship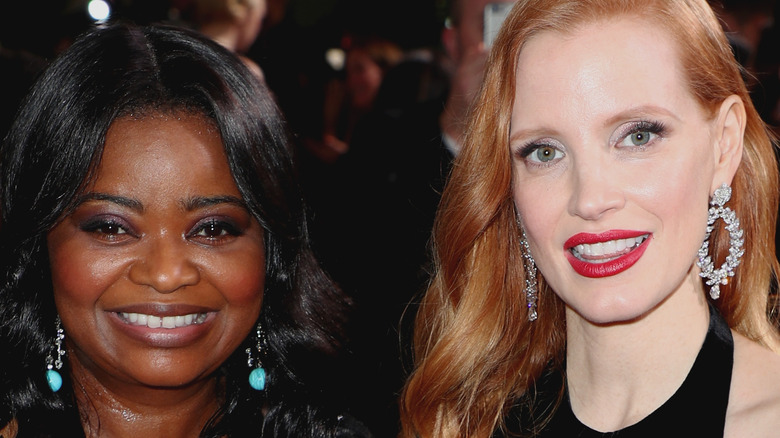 Joe Scarnici/Getty Images
The 2011 film "The Help" went on to become both a critical and box office success, earning over $216 million at the box office and garnering nominations for multiple Oscars, including Best Picture (via Box Office Mojo, Gold Derby).
Starring Jessica Chastain, Viola Davis, Octavia Spencer, Emma Stone, Bryce Dallas Howard, and Allison Janney, the film — which is based on the novel of the same name — takes place in 1960s Mississippi and depicts the racism Black maids faced at the hands of their white employers (via MPR News).
Although the film won praise at the time of its release, it's evaluated differently today, as many have come to realize that the movie centers around a white savior narrative (via BBC). "There's no one who's not entertained by 'The Help.' But there's a part of me that feels like I betrayed myself, because I was in a movie that wasn't ready to [tell the whole truth] " Davis told Vanity Fair.
While the film is now viewed through different eyes, the cast of the film appears to remain close friends. In 2018, Davis posted a picture of herself, Janney, and Spencer at the Oscars, with the caption "#TheHelp ladies doing it!!! #Oscars." Spencer and Davis are particularly close — as are Chastain and Spencer, even though they only shared one scene in the film (via PopSugar).
Jessica Chastain and Octavia Spencer hit it off immediately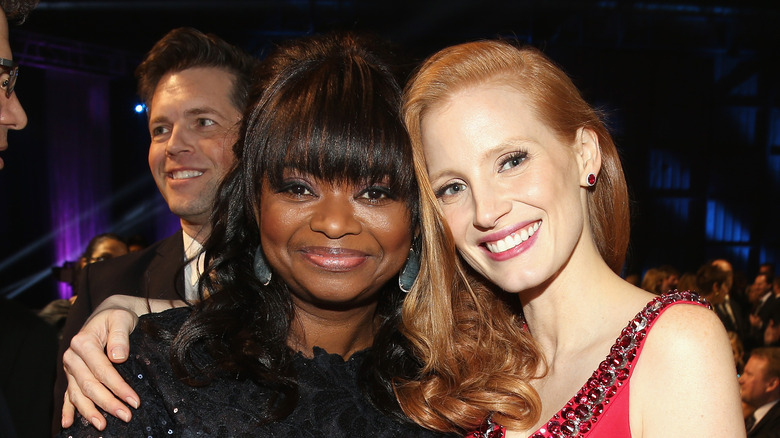 Christopher Polk/Getty Images
For Octavia Spencer and Jessica Chastain, it was platonic love at first sight — or rather, at first line read. "I went in to auditions and my first meeting with [director/writer] Tate Taylor, and I read with Octavia Spencer," Chastain recalled to HuffPost. "Our very first scene...just ended, and it's that moment just before you break character, and we're looking at each other, smiling, and she says, 'I love you' and I said, 'I love you!'" 
The two spent their downtime during filming hanging out and supported each other during the awards circuit as they were neck and neck at the Oscars, Golden Globes, and SAG awards in the Best Supporting Actress category (via PopSugar). Even after awards season ended, the pair made time for each other, enjoying "date nights" like their trip to see "A View From the Bridge," which they showcased on Instagram. 
Chastain also shows up for her friend where it really counts. After she approached Spencer about a project, she discovered that her friend was earning much less than she was. In response, Chastain tied her salary to Spencer's in order to raise it. "She had been underpaid for so long," Chastain wrote in a tweet. "When I discovered that, I realized that I could tie her deal to mine to bring up her quote." Spencer later shared that thanks to her friend, she's now making five times as much as before. Now that's what we call powerful female friendship.