Is CBD Oil Really An Effective Autism Therapy?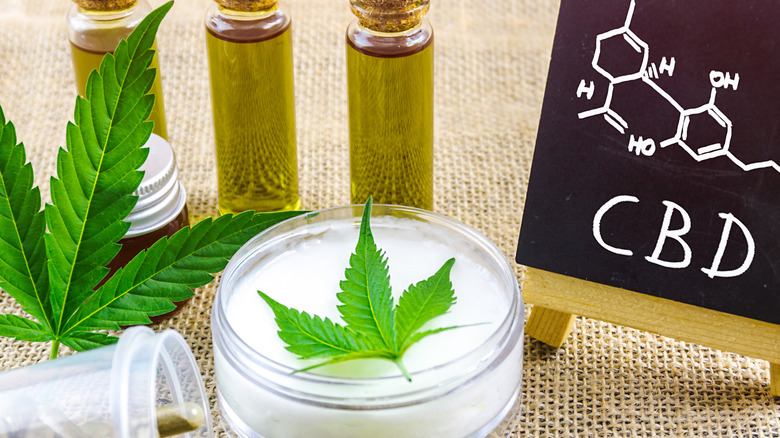 Creativan/Shutterstock
Cannabidiol oil (CBD) has become a wellness staple over the last decade. It's become a staple of massage therapy, as it can relieve swelling in muscles through the body, and has also become a new way to relax at the end of a long day. Rather than drink a glass of wine or enjoy a beer, many adults use CBD to unwind without adding calories to the day or waking up with a headache in the morning.
CBD comes in various forms, including candy edibles like gummy bears, oil tinctures that are placed under the tongue, pills and capsules, creams and lotions to be used topically, and vaping cartridges, according to Healthline. In fact, you can find CBD almost anywhere, including wellness stores and specialized CBD stores that have been popping up throughout the United States in recent years. But can it really help people with autism, and if so, how does it help?
New ideas for autism treatments include use of CBD and medical marijuana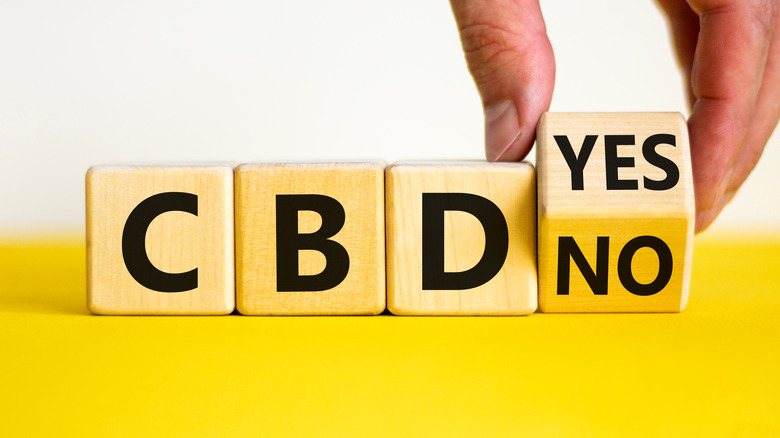 Dmitry Demidovich/Shutterstock
When a child or an adult is on the autism spectrum, they are usually told that there are no medications they can take and therapy is the best way to deal with a diagnosis of Autism Spectrum Disorder (ASD). While some doctors prescribe FDA-approved medications to treat some of the symptoms that come with ASD, like anti-depressants and anti-anxiety drugs, the National Institute of Health does not endorse them, while specifically stating there is no medical cure for autism.
In recent years, some states, with the first being Pennsylvania, have approved the use of medical marijuana to treat ASD symptoms in both children and adults (via The Philadelphia Inquirer), but the prescription is typically for a strain that contains significantly more CBD than THC. CBD is the second most present derivative from the cannabis plant and is not meant to give anyone the feeling of being "high" the way tetrahydrocannabinol (THC) does.
In fact, commercial CBD comes from the cannabis plant's cousin, hemp (via Harvard Health), with the World Health Organization issuing assurances that it has no addictive properties, saying the following in a report. "In humans, CBD exhibits no effects indicative of any abuse or dependence potential ... To date, there is no evidence of public health related problems associated with the use of pure CBD."
How CBD oil can help people with autism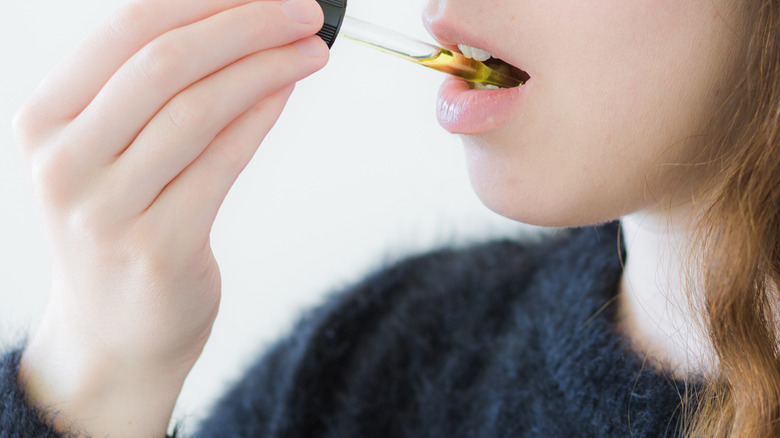 elizabethmphl/Shutterstock
For pure CBD oil containing zero THC, a person does not need a medical marijuana card, as CBD is legal throughout the United States and has become fairly easy to find and purchase.
As autism research has become more prevalent in the last few decades, a study from Harvard Medicine has found a link between inflammation and autism, meaning people with autism tend to have a lack of translocator protein in the brain, a substance that helps regulate both inflammation and metabolism. As CBD is known for its anti-inflammatory properties, it can help reduce brain swelling, according to Thinking Autism.
Studies have also shown that CBD helps reduce some of the most common symptoms and side effects of autism, resulting in lower anxiety and better sleep. That, in turn, can make it easier for those impacted by ASD to communicate and form the friendships and relationships with others that they crave, according to Very Well Health.