Who Is Ryan Henry Of Black Ink Crew: Chicago?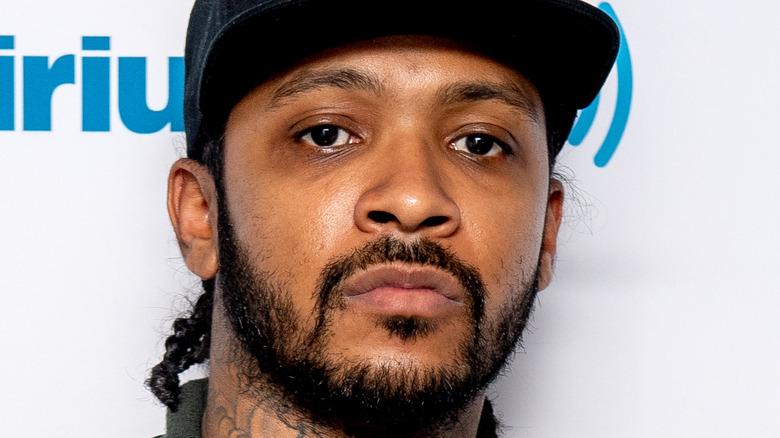 Roy Rochlin/Getty Images
The public was first introduced to tattoo artist and 9MAG tattoo shop owner Ryan Henry on "Black Ink Crew: Chicago," which debuted in 2015. Throughout his time on the show, Henry has been a tumultuous character, inspiring both hatred and envy among the show's viewers.
According to Earn the Necklace, Henry opened 9MAG in 2009. He was inspired to open the tattoo shop in his sister's honor, who died only days after encouraging Henry to pursue entrepreneurship. His sister, Nova Henry, along with her 10-month-old daughter were killed by her former attorney whom she was involved with, per Suggest. After opening the shop, Henry quickly caught the attention of Miya Bailey, the owner of the celebrated City of Ink tattoo shop. Bailey became Henry's mentor, helping him secure many important contacts and clients throughout the world.
This newfound infamy within the tattoo world eventually led to Ryan being offered a main spot on "Black Ink Crew: Chicago." Though, as he mentioned during an interview with The Source in 2019, Henry was hesitant to display his work and his personal life on national television. "When I first received the offer it was a no," Henry told The Source. "I didn't want to be all on TV. My thing ain't about acting the fool in public. I didn't do TV to say, 'Hey, let me be on TV!' I did it to show a different part of what you knew about my city, and to give a lot of stuff that's relatable."
Henry is a bit of a controversial character
Since taking centerstage on "Black Ink Crew: Chicago," Ryan Henry has become a controversial character on and off the show. In fact, Henry's rather cruel treatment of his staff has become so notorious that a compilation of the many times he has fired staff members from his tattoo shop, 9MAG, on the show actually exists on YouTube. Outside of the show, Henry also raised quite a few eyebrows as well when it was revealed that he had slept with Nina Marie, the ex-partner of his best friend, Anthony Lindsey. To add insult to injury, Henry is the godfather of the former couple's child. Oh, and Lindsay was suffering from cancer at the time as well, according to Atlanta Black Star.
Since high school, Henry has had a years-long on-again, off-again relationship with fellow "Black Ink Crew: Chicago" cast member Rachel Leigh. The pair share a 12-year-old son, Mason, together. Even though they are not together, Henry has proven that he is committed to being a positive presence in his son's life. Leigh also has a younger son, Grey, with R&B singer Jeremih, who has not been actively involved in his son's life. From the moment Grey was born, Henry has acted as his father. "My second son is not mine biologically, and I take nothing away from his father, but my son's brother is treated as my son is, no question about it," Henry wrote in a since-deleted Instagram post, per Decider.