The Truth About Cruelty Free And Vegan Nail Polish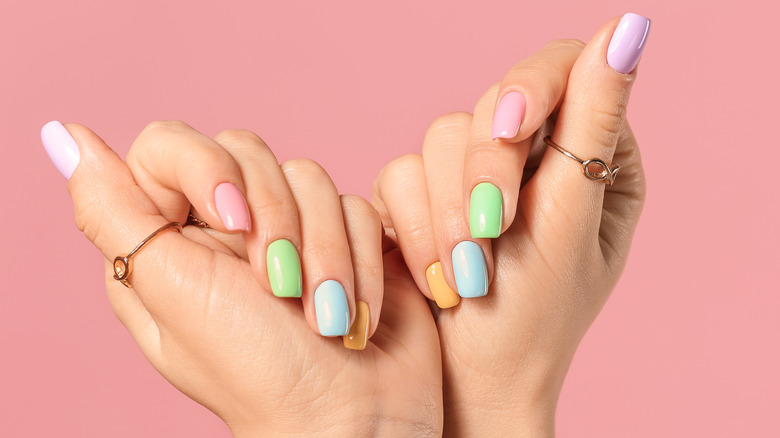 Pixel-Shot/Shutterstock
When it comes to adding a pop of color to your nails, naturally you want to be able to do so without compromising on your ethics. Thanks to some amazing vegan nail polish brands, you can do just that.
As Stylist says, it's no secret that the beauty industry has had a huge overhaul over the past few years, with vegan beauty taking center stage. The truth is that an increasing number of people are now choosing to shop more conscientiously, forcing the beauty industry to bring sustainability and ethics into its formulas.
More and more people are choosing to go vegan, which means that there's been a huge call for beauty products, including nail polish, that are free from animal testing, environmental damage, and animal derivatives. As a result, the vegan beauty industry has grown exponentially.
What this means is that whether you're a big fan of high shine nail polish, love a matte finish, are obsessed with glitter or prefer a simple look, there's sure to be the perfect vegan nail polish available. But what are the ins and outs of vegan and cruelty free nail polish? Does it have the same staying power? Is it as pigmented? How easy is vegan nail polish to apply?
What's the truth about cruelty-free and vegan nail polish?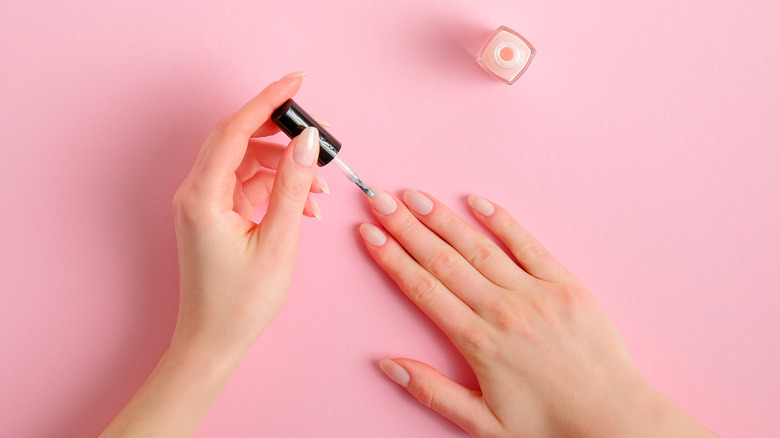 Savanevich Viktar/Shutterstock
According to Totally Vegan Buzz, the fact is that there can sometimes be some nasty ingredients lurking in non-vegan nail polish. Did you know that the gorgeous mermaid shimmery polishes and the metallic shades are often made using fish scales? That's why opting for a vegan and cruelty-free polish is best — you know it's free from any nasty surprises.
The Vegan Society reports that vegan nail polishes are not only free from animal derivatives, but are also a lot less toxic than regular nail polishes. What's great about vegan and cruelty-free polishes is that they tend to work, last, and look just like normal polishes. If you're going to try a vegan nail polish, there are some fantastic brands available.
Beauty Without Cruelty offers a wide range of vegan, non-toxic nail polishes in a selection of colors, and are made from 85% bio sourced ingredients, according to Totally Vegan Buzz. Pacifica is another must-try vegan and cruelty-free brand, with 55 nail polish colors to choose from, from bright, bold reds to shimmery metallics and soft nudes. Plus, they're free from parabens, phthalates, toluene, xylene, camphor, formaldehyde, and resin.
Stylist relates that Orly nail polish is another fantastic vegan brand. These polishes are packed full of pigment, offer long staying power, and are designed to be breathable.