Has Mike Pence Spoken To Donald Trump Since Leaving Office?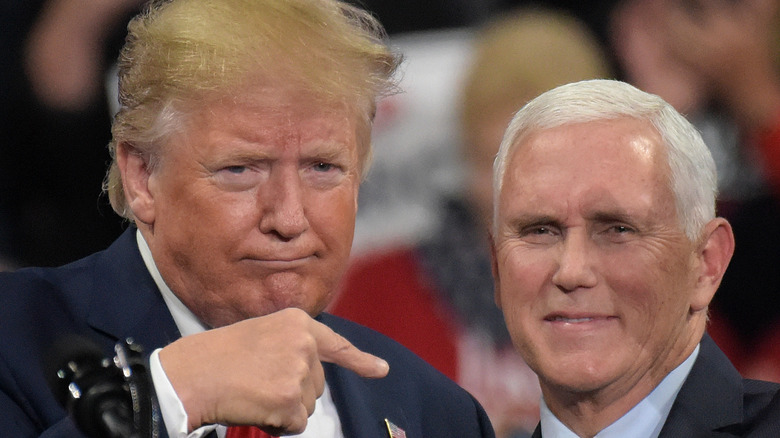 Matt Smith Photographer/Shutterstock
During the four years that former President Donald Trump was in office, his vice president, Mike Pence, remained loyally by his side. Trump even made him the leader of the Coronavirus Task Force when the COVID-19 pandemic began changing the nation and the world. 
Unfortunately, things didn't go as well between the two men toward the end of the Trump presidency when he was looking for any way to stay in office, despite losing the 2020 election. According to the new book "Peril" by Bob Woodward and Robert Costa, Trump pressured Pence not to certify the election in Congress on Jan. 6, 2020, and even told him he wouldn't be his friend anymore if he didn't do what was asked of him (via CNN).
As we know, Pence did eventually certify the election in the wee hours of the morning on Jan. 7 after a bloody insurrection at the Capitol, where rioters were chanting "Hang Mike Pence" and had set up a gallows for the vice president outside. 
Since then, Pence has been relatively quiet, while Trump has remained as vocal as he can, still insisting that the election was rigged against him nearly a year later. But are the two men still on speaking terms after how it all ended?
Mike Pence does keep in touch with Donald Trump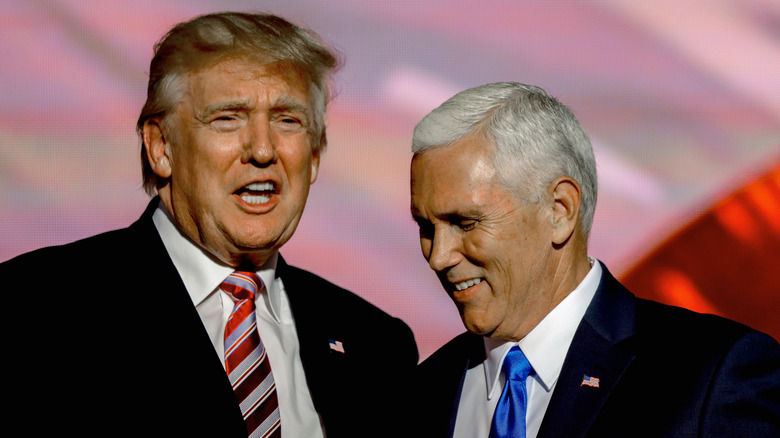 mark reinstein/Shutterstock
When appearing on the conservative podcast "Ruthless" on Sept. 30, 2021, former Vice President Mike Pence described Jan. 6 as "dark" and "difficult" but also said that all the violence and calls for his death are essentially water under the bridge. "We moved past it. We finished the work," Pence said, adding that he's focused on the future now.
He even admitted that he's regularly spoken to Donald Trump over the past nine months. "We've spoken probably a dozen times since the inauguration," Pence said, as he remained positive about his time as vice president and confident about things to come.
"I believe [the] future is bright because I think what we've got to do is tell the story of what we did the last four years," he said. "We also have to articulate a positive conservative agenda that will draw the American people to us, that would show how we would govern differently and base that on how we did govern differently during our administration and facing the challenges going forward."