Did Meghan And Harry's Trip To New York Help Their Reputation?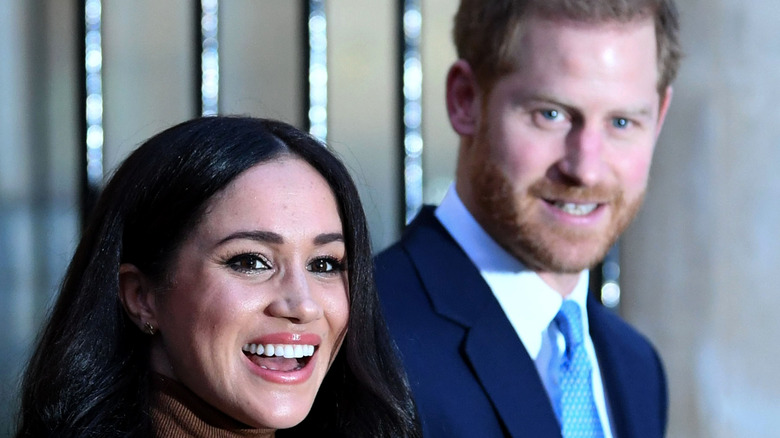 Wpa Pool/Getty Images
Prince Harry and Meghan Markle have returned to their home in Montecito, California following their first, and by all accounts hugely successful, official trip as independent royals. As Harper's Bazaar reported, the beloved couple packed plenty of activities into their whirlwind visit to New York, including speaking at the Global Citizen Live concert and meeting with various politicians, organizations, and local officials. They even visited the U.N. national headquarters, all the while promoting their pet causes of vaccine equity, children's literacy, and general community service. Meghan and Harry set up their Archewell foundation to solidify their commitment to social justice initiatives and they've been fighting their corner ever since.
In a joint statement, the Sussexes enthused they were "eager to do our part" following meetings with various top-level people. Meghan and Harry are clearly making their presence known too. A spokesperson for U.N. Deputy Secretary-General Amina Mohammed, with whom they met at the HQ, said that the secretary-general "commended the initiatives of the Archewell Foundation in promoting vaccine equity around the world." Page Six confirmed the New York trip was captured for a rumored upcoming Netflix documentary about the famous couple, with a personal videographer and photographer spotted at various points throughout the visit. Footage was also reportedly being collected for the Archewell archives. Has the trip helped their profile?
Meghan and Harry received a warm welcome in the Big Apple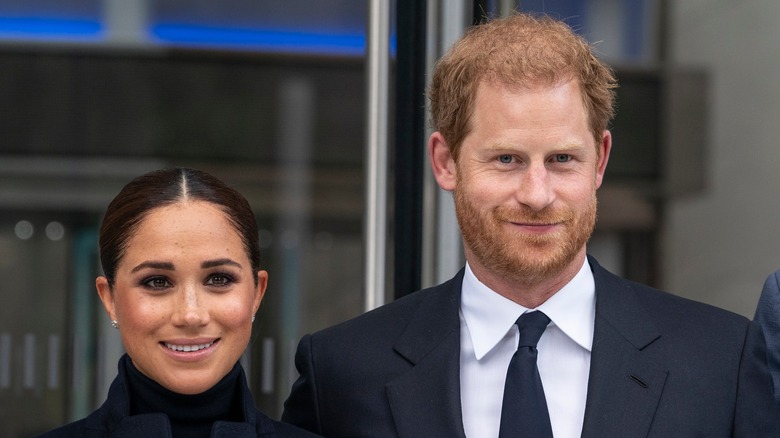 lev radin/Shutterstock
According to Yahoo! News, Prince Harry and Meghan Markle were warmly received in New York, by everybody from Mayor Bill de Blasio to the 60,000 in attendance at the Global Citizen Live concert. The royal defectors are continuing their social justice initiatives, moving forward in their pursuit of a life outside the stuffy confines of the monarchy who, it must be noted, remain frustratingly stuck in the past according to some (via The Guardian). Queen Elizabeth memorably warned that, by stepping down as working royals, Meghan and Harry would forfeit the "duties that come with a life of public service." A statement at the time shot back by saying, "We can all live a life of service. Service is universal." As it turns out, the Sussexes have done exactly that, which isn't too surprising considering they both have extensive backgrounds in public service and are clearly passionate about it. 
If anything, their new distinction as "normal" people has made Meghan and Harry more accessible, and led to them being taken more seriously, too. Former British Ambassador to Morocco, Thomas Reilly, described them as "amazing Ambassadors" who are "committed and passionate about vital issues." Global Citizen co-founder Simon Moss noted they are "pushing hard" to make things happen. In fact, the Sussexes' move echoes that of Princess Diana, who took a significant step back from royal duties to commit her time to humanitarian work independent of the family, and was beloved for it. Meghan and Harry stand to make even more of an impact.