Inside Jimmy Fallon And Drew Barrymore's Friendship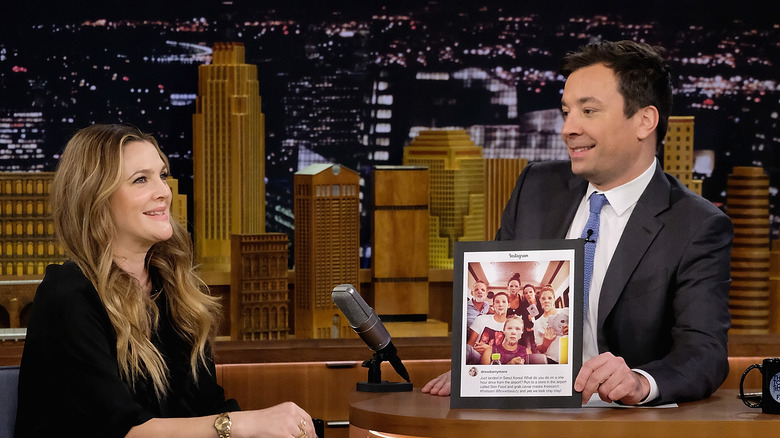 Jamie Mccarthy/Getty Images
The long-running show "Saturday Night Live" can be a place that brings people together, be it romantically in the case of married couple Dave McCary and Emma Stone, or platonically, like Adam Sandler and everyone he casts in his movies (per Showbiz CheatSheet).
For Drew Barrymore, it's the place where she struck up a friendship with then-cast member Jimmy Fallon (via The Things). Fallon recalled the first time he met Barrymore at Rockefeller Plaza in 2004, saying that Barrymore was as "cool as a cucumber."
"I remember she was going over cue cards and she was trying the wig, and as it was happening, some other person came over and said, 'Drew, I just wanted to show you, I have a tattoo of you on my leg,'" Fallon shared on "The Drew Barrymore Show" (posted on YouTube).
"And she was like, 'That is so oh, that's beautiful.'" Understandably, Fallon was impressed by Barrymore's demeanor. "I'll never forget it," Fallon continued. "And luckily I got to be friends with Drew from that moment on until now."
Introducing Fallon to his wife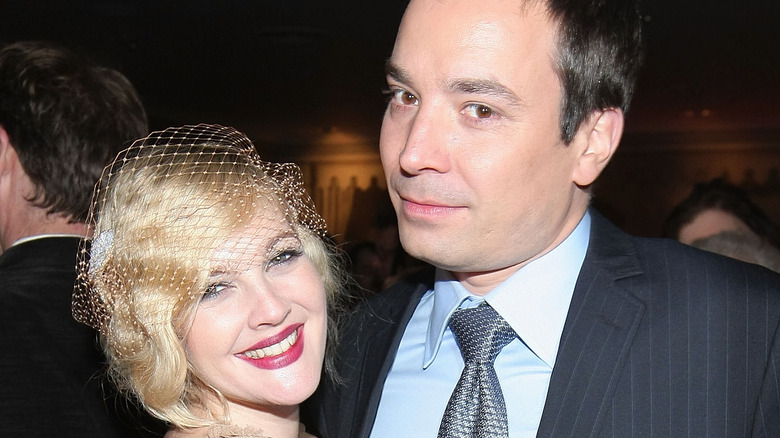 Michael Loccisano/Getty Images
After striking up a friendship, Fallon and Barrymore went on to appear together in the 2005 film "Fever Pitch," followed by "Whip It" in 2009.
Barrymore, a friend through and through, even introduced Fallon to his wife, Nancy Juvonen (via Rare). Juvonen, a close friend of Barrymore's as well, helps Barrymore run her production company, Flower Films. Juvonen first met Fallon when Barrymore hosted "SNL," and then the two had the opportunity to get to know each other better while Fallon and Barrymore filmed "Fever Pitch," which just happened to be produced by Barrymore and Juvonen's company. Only a couple of years later, in the summer of 2007, Juvonen and Fallon got engaged, and by December they were married.
In the years since they initially struck up their friendship, Barrymore and Fallon haven't been shy about their affection for each other, appearing on each other's shows and posting about each other on social media, with Barrymore calling Fallon one of her "favorite men" (via PopSugar).
Even their kids are friends, with Barrymore's daughters Frankie and Olive enjoying playdates with Fallon and Juvonen's daughter, Winnie (via E! Online).