CeraVe Vs. Cetaphil: Which Is Better For Your Skin?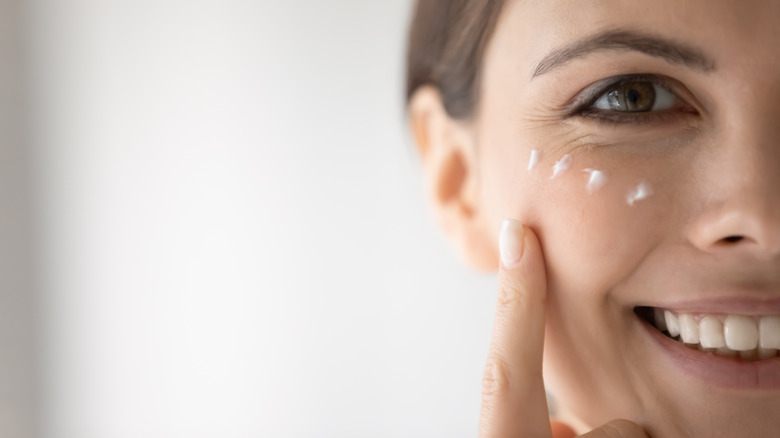 fizkes/Shutterstock
Finding the right skincare products can be tricky, especially when you want to ensure that the product you pick will help to alleviate (and not worsen) any skincare concerns that you might have. It can be difficult choosing between two brands, such as CeraVe and Cetaphil, which both offer such similar products.
As per A Beauty Edit, two of the most popular drugstore skincare brands, CeraVe and Cetaphil, are both renowned for offering budget-friendly, dermatologist-approved skincare solutions, but which is better for your skin? To answer the question, we've put the two to the test and compared the pros and cons of CeraVe and Cetaphil.
The truth is that when it comes to skincare, it's a rather tricky business, especially as everyone's skin is unique. Whether you've got sensitive skin, dry skin, oily skin, or even normal skin, finding the right product to suit your skin type can be a complex process. We've done some digging to determine which product: CeraVe or Cetaphil is the better choice. 
What makes CeraVe so beneficial for skin?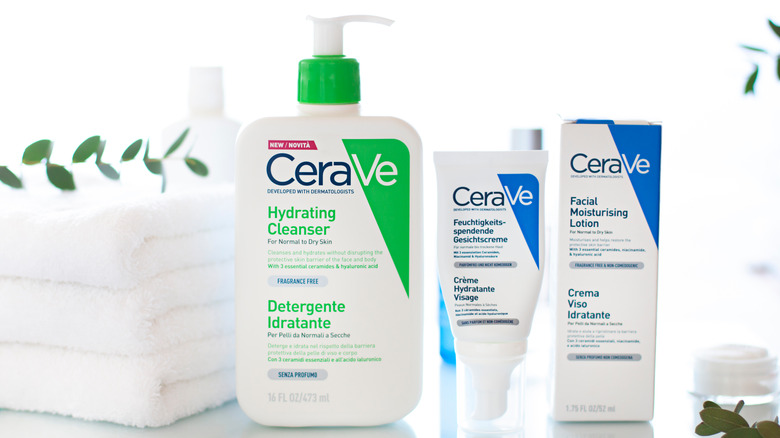 Maria Rom/Shutterstock
As reported at Byrdie, CeraVe is a real treasure when it comes to skincare, particularly as it's so versatile. The CeraVe moisturizer is ideal for a range of skin types — from dry skin to sensitive skin, to skin that's prone to conditions such as eczema and psoriasis, because of how gentle it is.
Byrdie relates that CeraVe was actually developed by dermatologists and has a formula that's patented. The formula is so effective because it adds a "protective barrier" to the surface of the skin: "Multivesicular Emulsion Technology." This smart technology makes sure that moisture is released equally over time to boost skin hydration.
Harper's Bazaar tells us that the main appeal of CeraVe is the simplicity of the products — while the product range is best known for facial cleansers, its moisturizers are also exceedingly popular.
What makes CeraVe so effective as a skin soother is its star ingredient: ceramides, which help to prevent transepidermal water loss from occurring, while also moisturising the skin and helping to maintain its barrier.
Why is Cetaphil so good for skin?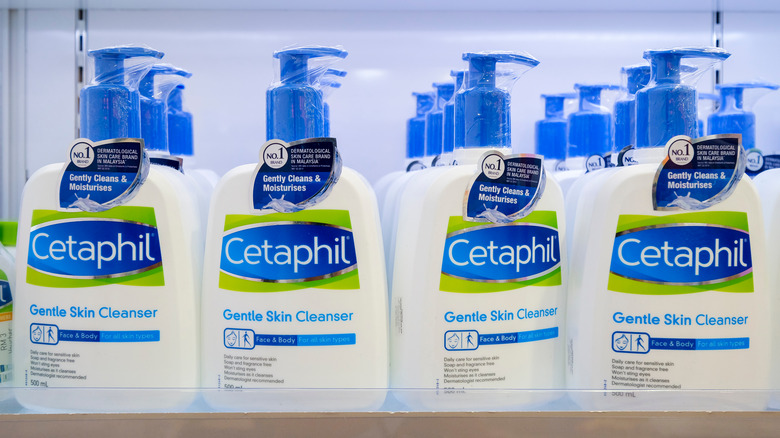 Abdul Razak Latif/Shutterstock
On the other hand, Style Craze tells us that Cetaphil has a number of benefits of its own, including being specifically formulated to help soothe skin that's chronically dry. The formula is also non-greasy and non-irritating. An added plus? It's suitable for all skin types.
One of the benefits of Cetaphil is that the moisturizer is able to help bind moisture to skin, thereby preventing skin dryness. The quick-absorbing formula offers long-lasting hydration, forming a protective layer for the skin's epidermis.
Specially formulated with sensitive skin in mind, this lanolin-free formula is also deemed suitable for people with eczema and psoriasis. It's ideal for people with acne-prone skin, too, as it's light enough not to clog pores while also offering good levels of hydration.
Both CeraVe and Cetaphil come with a range of benefits for skin, and are both dermatologist recommended. Per U.K. Beauty Room, CeraVe tends to be better for dry skin, due to the ceramides in its formula, whereas Cetaphil tends to be better for sensitive skin, as the formula is more gentle.