The Heartbreaking Death Of Elizabeth Warren's Brother
The past two years have been heavy for Massachusetts Senator Elizabeth Warren; she lost not one, but two of her beloved brothers. Warren, herself the youngest of four children, is currently mourning the loss of her older brother John Herring. In a poignant Instagram post, Warren shared that Herring died on Thursday, September 30, after a battle with cancer. 
Warren shared the sad news the day after her brother's death, taking to Instagram with a photo of the two of them together (above) on Christmas Day, 1958 (per People). "He was at home, and he'd been strong enough to watch the football game on Monday (Dallas Cowboys, of course) with his son Mark," she wrote. "But he started going down sharply on Wednesday, then died on Thursday." Warren remembered Herring as "the sweet one who was soft-spoken, shy, ready to help. He never seemed to understand how much he had going for him."
She went on to reminisce over some of her favorite memories with Herring and of his noteworthy life. "When I was little, he would carry me on his shoulders, even though he had to bend way down to make sure he didn't crack my head on the door jambs," she continued. "He joined the Air Force to fly planes like big brother Don Reed, but after basic training he was too tall to fit in the cockpit, so he spent his years of military service on the ground in California, Texas and Morocco."
Elizabeth Warren mourns the loss of two brothers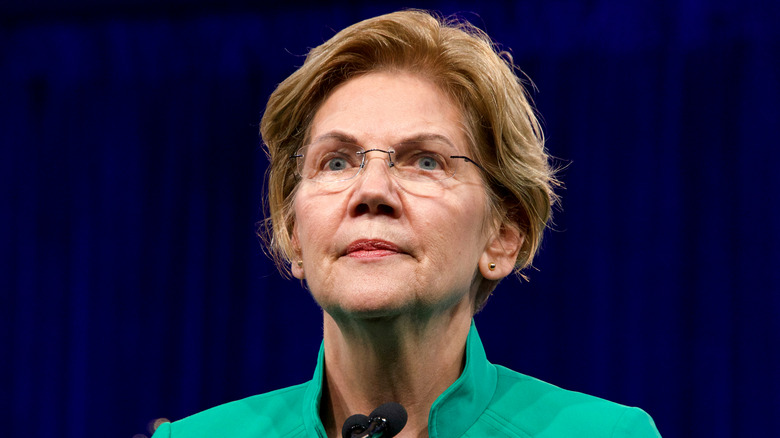 Sheila Fitzgerald/Shutterstock
In the same Instagram post, Elizabeth Warren reflected on her brother John's marriage to his wife, Barbara, who died 14 years before he did (per New York Daily News). 
"Whenever he talked about Barbara, it was clear he thought he'd won life's biggest prize," she wrote. "He'd play the records they had danced to and look at the pictures he kept of her on his mantle. I hope that John is now with his beloved Barbara." Warren went on to cite a shocking statistic for the day of her brother's death. "The same day John died, another 2,744 people died from COVID. Families all across our nation have lost brothers, cousins, friends, parents, children — the list is too long to absorb," she wrote before encouraging everyone to tell those close to them how much they are loved. 
Prior to the loss of John, Warren endured the death of her oldest brother, Don Reed Herring, to the coronavirus in April of 2020 (per Boston.com). "He was charming and funny, a natural leader," Warren tweeted following his death. "What made him extra special was his smile — quick and crooked, it always seemed to generate its own light, one that lit up everyone around him."
The loss of a single family member, much less two, is never an easy thing. Our thoughts are with Warren and her family during this difficult time. May her cherished memories with her brothers be a comfort to her.