What Is Elizabeth Warren's Net Worth?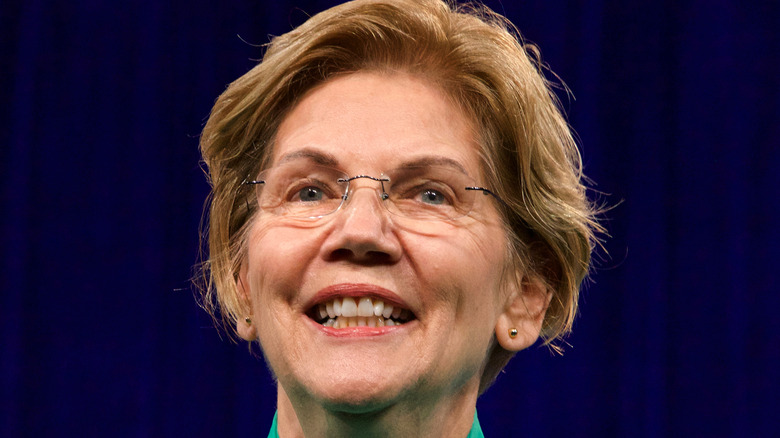 Shutterstock
Former Democratic presidential hopeful Elizabeth Warren — who's been known to drop Easter eggs throughout her political life – has built a career with one eye focused on the ultra-rich, and the other on the financial difficulties faced by middle-class Americans. Describing herself as "capitalist to [her] bones," Warren nonetheless loathes the thought of capitalism run too wild, and seeks to curb the benefits and wealth held by America's richest. She laid out her guiding principles in the speech announcing her candidacy for president when she said, "Rich guys have been waging class warfare against hard-working people for decades .  I say it's time to fight back!" (via Money).
True to her word, Warren — along with Washington Rep. Pramila Jayapal and Pennsylvania Rep. Brendan Boyle — recently co-sponsored the "Ultra-Millionaire Tax Act," which would levy a 2% annual tax on households with income and assets between $50 million and $1 billion, and a 3% tax on those with over $1 billion (via CNN). But with all of that said, how much is Warren worth herself? 
Elizabeth Warren's net worth is around $12 million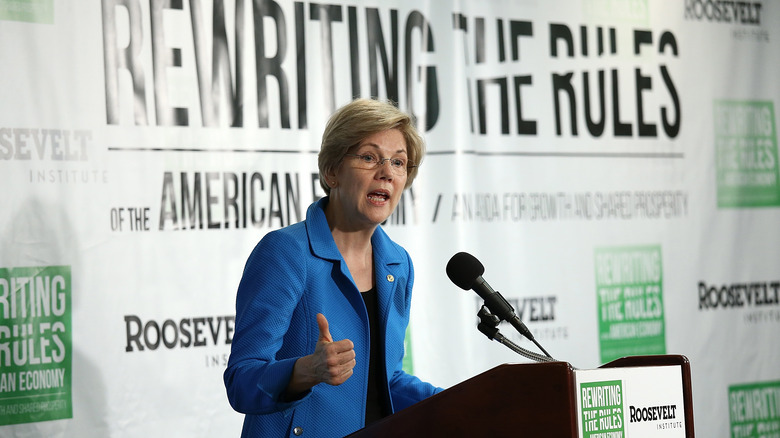 Win Mcnamee/Getty Images
Although Elizabeth Warren herself is not a stranger to financial struggle — she was born and raised in Oklahoma "on the ragged end of the middle class" — she has done very well for herself over the years. Together with husband and Harvard law professor Bruce Mann, the couple has firmly cemented their place among the country's wealthiest. So what does that actually amount to?
Warren's household net worth is estimated to be approximately $12 million, with no debt. A substantial portion of that wealth — about $4 million — is held in retirement accounts specifically for educators and non-profit employees (via Forbes). Warren and Mann have another $4 million or so in real estate holdings between their two homes — one, a Victorian home in Cambridge, Massachusetts, and the other an upscale condo in Washington, D.C. The rest of their wealth has been accumulated from Warren's book deals and her work as a law professor, consultant, expert witness, and U.S. senator, as well as from her husband's Harvard salary.