The Surprising Secret Feature St. James' Palace Is Rumored To Have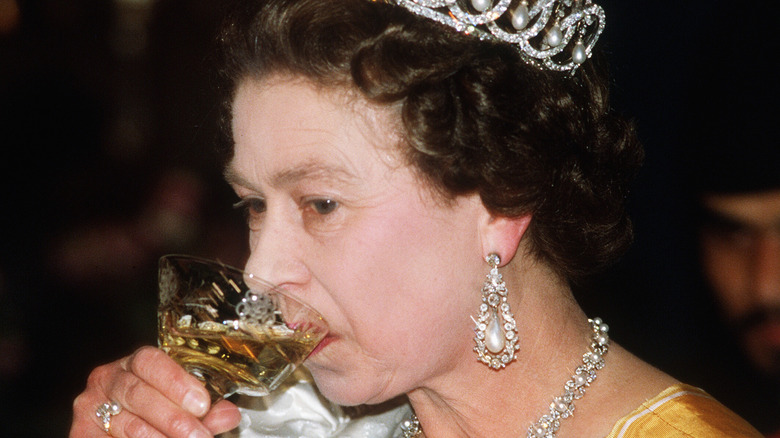 Anwar Hussein/Getty Images
The British royal family aren't what you would call teetotalers. The Windsor clan all enjoy the occasional drink, with each member having their own favorite potent potable. For example, Queen Elizabeth is known to enjoy a daily gin and Dubonnet cocktail, while her oldest son, Prince Charles, prefers a single-malt Laphroaig whisky (via Spirits Business). Liquor is yet another area on which Princes William and Harry disagree; the second heir to the throne likes a pint of Guinness or a fancy Champagne mixed drink, while his younger brother mixes vodka with Red Bull for a jolt of energy.
When we non-royals want to meet up for drinks, we may run into traffic delays, parking hassles, and other inconveniences on the way to our favorite watering hole. The Windsor family has no such problems. It seems one of the royal residences is hiding a secret passageway that goes directly to one of London's finest bars.
Jack Brooksbank, husband of Princess Eugenie, also happens to be a brand ambassador for the Casamigos tequila brand. At a recent party sponsored by the company, he reportedly told a tabloid editor that among the underground tunnels of St. James' Palace is one that leads to Dukes Bar in the swanky Dukes Hotel (via The Sun). "I haven't used it yet, but I'd love to check it out," he's said to have confessed.
Palaces are full of secrets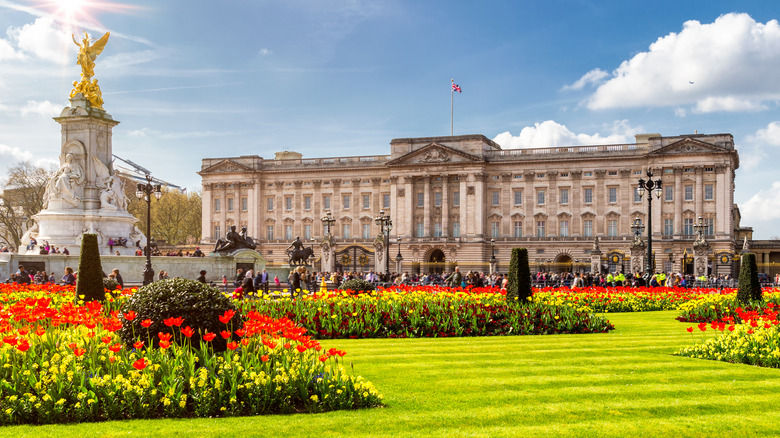 DaLiu/Shutterstock
The palace has yet to confirm or deny the existence of this particular passageway, but it wouldn't be surprising if Jack Brooksbank was right. After all, Buckingham Palace (seen here) is so huge (775 rooms, thank you) that it has its own zip code (via Travel & Leisure). It also has at least one secret entrance within the palace itself. A British morning TV show reporter once revealed to the audience that the White Drawing Room has a full-length mirror that conceals a door that leads to the queen's personal living area (via The Sun). Travel & Leisure also reported that the palace really does have tunnels below ground — confirmed by none other than the Queen Mother herself, who discovered them when she took a curious peek into the basement area.
St. James' Palace, the residence mentioned by Brooksbank, does have a rep for, um, facilitating some un-royal behavior. Centuries-old rumors still circulate that Charles II had underground tunnels built to connect the palace to his favorite wine shops, gentlemen's clubs, and even (ahem) brothels. Perfume crafter Edward Bodenham showed the Daily Beast that the basement of his shop actually has evidence of these tunnels. "Apparently the tunnels were used so that gentlemen of the time could discreetly visit the clubs in the area and meet up to discuss business, topics of the day and to have a few drinks and play cards," he said.