Rudy Giuliani's Huge Confession About Donald Trump's Election Loss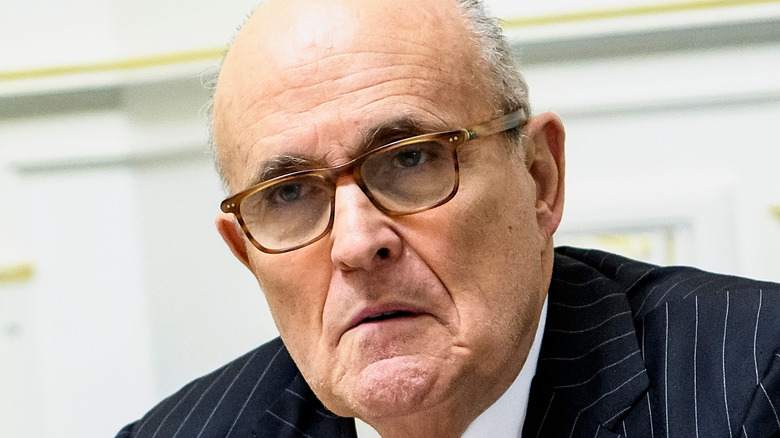 paparazzza/Shutterstock
On September 21, The New York Times reported that the Trump campaign knew all along that their 2020 election conspiracy theories were false. Now, one of Trump's former lawyers who promoted the theories, Rudy Giuliani, revealed under oath that he didn't fact-check the claims. Even worse, he said that he based some of his voter fraud accusations on social media posts, via Business Insider.
Giuliani's admission comes from an August deposition for a defamation lawsuit. According to MSNBC, the defamation lawsuit was initiated by Eric Coomer, a former employee for voting machine company Dominion Voting Systems.
During the deposition, the opposing attorney questioned Giuliani about his sources, trying to pinpoint where his theories came from. "As I'm hearing in your testimony, in terms of eyes on information about Dr. Coomer, we've got some media reports that you generally described, and then you looked at some Facebook postings that you described?" the opposing attorney asked, per YouTube.
Giuliani responded, "I don't remember if it was Facebook. Those social media posts get all one to me ... Facebook, Instagram, Twitter." The attorney then asked Giuliani if he remembered laying eyes on any other "evidence." Giuliani answered, "Right now, I can't recall anything else that I laid eyes on."
Rudy Giuliani said he had no time to investigate claims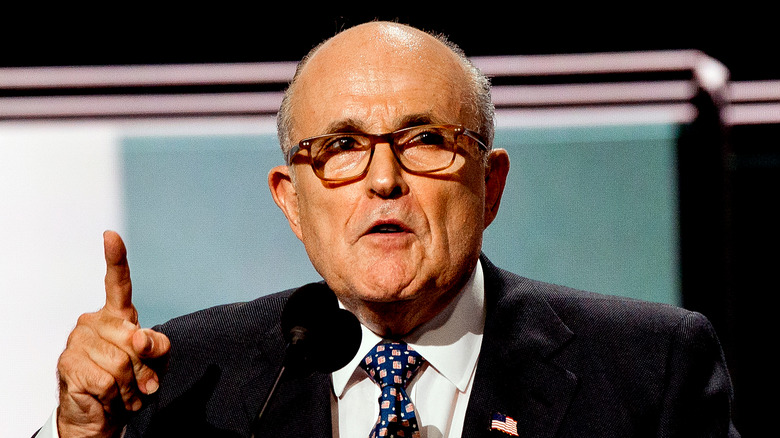 mark reinstein/Shutterstock
In addition to admitting that social media inspired some of his voter fraud assertions, Rudy Giuliani said in his deposition that there wasn't enough time to check certain election claims. MSNBC noted that Giuliani once publicly announced he had a "bombshell witness" who could prove that the election was stolen. In his recent deposition, however, Giuliani said he never interviewed the witness.
"I take it from your testimony that you or your team didn't interview him about that call?" the opposing attorney asked, in reference to Giuliani's witness. "I didn't interview him," Giuliani said. He then backtracked and added, "I can't tell you if somebody on the team didn't interview him ... I think somebody interviewed him" (via YouTube).
"You said the story was credible," the attorney continued. "Do you have any knowledge about this source ... that led you to believe he was credible?" Giuliani responded, "No, I didn't have any information that he wasn't ... it's not my job in a fast-moving case to go out and investigate every piece of evidence that's given to me, otherwise you're never going to write a story." Giuliani then added that he "didn't have the time" to "find out it's untrue."
Despite the fact that Trump and many of his allies still promote conspiracy theories surrounding the 2020 election, the Justice Department and the FBI stated that they didn't discover any evidence of widespread voter fraud, per Business Insider.