What We Know About Drake's Son Adonis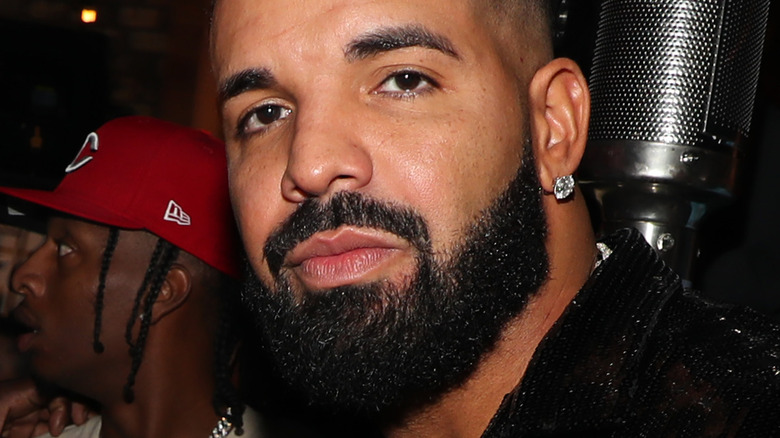 Jerritt Clark/Getty Images
Pusha T shocked the world in 2018 when he added a diss to his rap album claiming that Drake had fathered a child. In response to the track, the rapper released his own follow-up song that confirmed he had a son, according to the New York Post. In his song, "Emotionless," he explains, "I wasn't hiding my kid from the world / I was hiding the world from my kid. From empty souls who just wake up and look to debate / Until you're starin' at your seed, you could never relate."
Today, fans have only seen Adonis a few times. The outlet notes that the 2021 Billboard Awards was the first time the rapper appeared in public with his son. When accepting an award for Artist of the Decade, Drake had an unlikely companion — three-year-old Adonis. After asking the toddler if he wanted to hold his award, he gave his acceptance speech and soon after had to carry his wailing son off the stage. Looking cheery and laughing, Drake looked every bit the hip-hop dad you would imagine him to be. Adonis' mother is former model, Sophie Brussaux.
Drake's relationship with Adonis' mother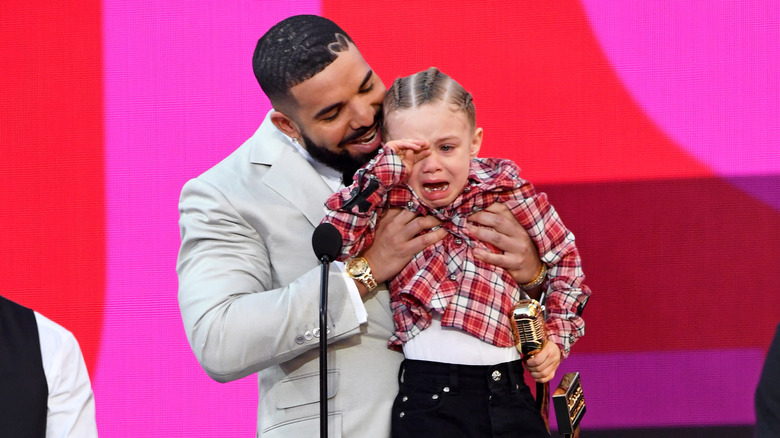 Kevin Mazur/Getty Images
It seems that Drake warmed up to becoming a father eventually, but wanted to shield his son from the spotlight. After sharing the news of Adonis' existence, both Drake and Sophie Brussaux have posted snaps of their son. According to People, the rapper has come clean about the struggles he and Brussaux have had over the years. On his latest album, he raps, "I walked out on my only son." He continues, "See your mother raised a fine young man. Daddy's home. And I know I missed so much of your life."
The outlet also notes that Drake has since taken his fatherly role in stride, posting pictures of Adonis and bringing him out to public events. SCMP notes that the boy's mother used to have roles in music videos but has since gone on to become a successful artist. She's even shared a photo of herself meeting the pope.
"We have found ourselves in a situation and we are both equally responsible. Now, I'm just really excited to be a great father," Drake said on an episode of Lebron James' show "The Shop". "No matter what happens, I have unconditional love for the mother of my child. I want him to love his mother and I have to project that energy."