Donald Trump Makes An Assertive Prediction About Running Against Ron DeSantis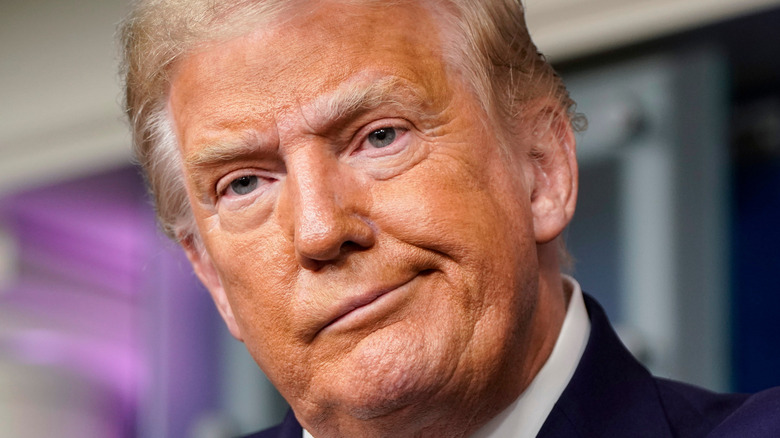 Naresh777/Shutterstock
The former President of the United States Donald Trump believes that he would beat his strongest Republican competitors if he were to run for office again in 2024. According to Fox News, this includes Florida Governor Ron DeSantis, a former ally of Trump, who is proving to be increasingly popular among conservatives and rumored to be a potential candidate in the Republican presidential primary.
During an interview with Yahoo Finance, Trump asserted his belief that "most people would drop out" if he decided to enter the 2024 GOP nomination race. When asked specifically about Governor DeSantis, the former president confidently replied, "if I faced him, I'd beat him like I would beat everyone else."
Speaking in the interview, Trump also stated that he believes he would do "well" in the GOP nomination race due to his strong support among the Republican base. However, the former president has not yet made a decision regarding whether or not he will put himself forward. "If I do run, I think that I'll do extremely well," he stated.
Ron DeSantis is proving popular among Republicans
Eva Marie Uzcategui/Getty Images
According to Fox News, Trump is still proving to be very popular with both Republican voters and GOP politicians and is a front-runner in many of the early polls for the 2024 Republican presidential nomination race. However, DeSantis and former VP Mike Pence appear to be the most popular hypothetical candidates in similar polls that do not include Trump's name. 
Per Politico, DeSantis gained notoriety across the country due to his defiant approach to coronavirus restrictions, which appeared to go down well with many Republican voters in the state of Florida. Although he could one day be an opponent of Trump, DeSantis and the former president are closely aligned on many big issues which could indicate that Trump has a lasting influence on the GOP.
However, DeSantis distanced himself from the 2024 speculation during an interview with Fox News' Sean Hannity on Thursday, September 30, explaining that he isn't currently "considering anything beyond" his current position as the Governor of Florida. 
Speaking to Hannity, he continued, "We've got a lot of stuff going on in Florida. I'm going to be running for reelection next year and we're also working on a lot of things in the state beyond just the governor's race."