Did Lizzo Really Call Chris Brown This?
Kevin Mazur/Getty Images
Lizzo has never been one to hold back. If she thinks or feels something, positive or negative, the iconic singer makes it known. Case in point, in September 2021, Lizzo delivered her very own TED Talk about body positivity. As People reported at the time, Lizzo revealed that she used to hate her own butt, acknowledging, "I have my father's shape and my mother's thighs, so it's big, and long." The singer added, "I used to think that only asses like J.Lo's or Beyoncé's could be famous. I never thought that could happen to me." Lizzo admitted to growing up during a time when her body type wasn't considered attractive and, in particular, having a bigger butt wasn't acceptable either. Thankfully, that's all changed for the better. 
As Lizzo proudly detailed, "My ass has been the topic of conversations, my ass has been in magazines, Rihanna gave my ass a standing ovation. Yes, my booty! My least favorite part of my body. How did this happen? Twerking. Through the movement of twerking, I realized that my ass is my greatest asset." The hilarious hit-maker went on to share her history with the dancing style, and how it helped her find confidence, as well as her pride in the Black community — who originally created twerking, even if people don't realize. Lizzo railed, "Everything that Black people create, from fashion to music to the way we talk, is co-opted and appropriated by pop culture." She even led the audience in a demonstration.
Although Lizzo is frequently heralded for speaking her mind and sharing her truth, the beloved star's latest revelation has landed her in some boiling-hot water.
Some of Lizzo's fans are disgusted by her support of the rapper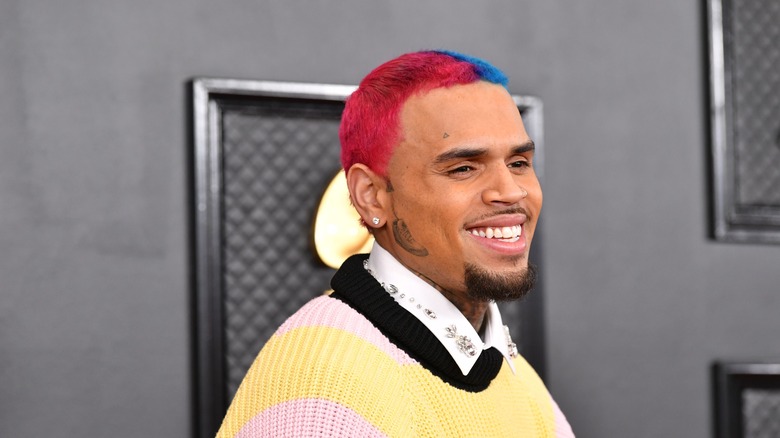 Amy Sussman/Getty Images
Lizzo is typically everybody's favorite person on social media, but she might have put her foot in her mouth in a major way by seemingly expressing her love of fellow star Chris Brown. In a widely-circulated video shared to Twitter, the beloved singer approaches Brown and asks to take a photo with him because, according to Lizzo herself, the rapper is her "favorite person in the whole f***ing world." Lizzo appeared to be backstage at a gig when the incident occurred. Evidently, it was quite recently too, maybe even after she name-dropped Rihanna in her TED Talk (a post on Twitter dates the interaction to October 1, 2021). As NME noted, Brown is quite a controversial figure, to say the very least.
Brown was widely criticized in 2009 after photos of then-girlfriend Rihanna emerged of her looking bruised and swollen following a violent altercation in a car. Brown was later found guilty of felony assault. Likewise, a woman accused the rapper of physically assaulting her at his house earlier this year, while in 2020, Brown settled a sexual assault lawsuit against him out of court over another incident at his house. Lizzo's fans took to Twitter to weep over her association with Brown, with one user simply describing him as "scum." However, several others pointed out other people support the rapper and haven't been subject to the same vitriol.