Florence Pugh Reveals Her Diet Plan And How Moderation Is Key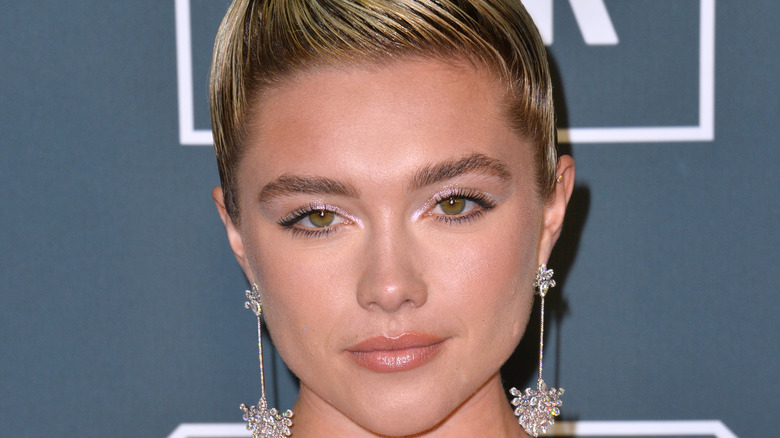 Featureflash Photo Agency/Shutterstock
In just seven short years, Florence Pugh cultivated a career for herself by landing major roles in some of the most iconic films of the 2010s. The young starlet was born in Oxford, England, and began performing plays at a young age. Soon, it was clear that the blonde beauty was destined for fame. Getting her big-screen start at the young age of 17, Pugh's first role in a major motion picture was that of Abbie Mortimer in "The Falling." She gained major traction in Hollywood following her role as Katherine in "Lady Macbeth," and later went on to star in Ari Aster's second major movie for A24 in 2019, "Midsommar." That same year, Pugh also appeared in the long-awaited film adaptation of "Little Women" (via IMDb). Following a big year for the young actress, Pugh has continued to land roles and cement her spot as a rising star in the film industry.
Fans and film enthusiasts alike can't help but notice that Pugh maintains a figure so svelte that it leaves one to wonder how, exactly, she maintains such a trim physique. The actress opened up about her diet and exercise regime, offering an inside look at what it takes to maintain a figure that stays so camera-ready (via Health Yogi).
Florence Pugh loves moderation (and indulging)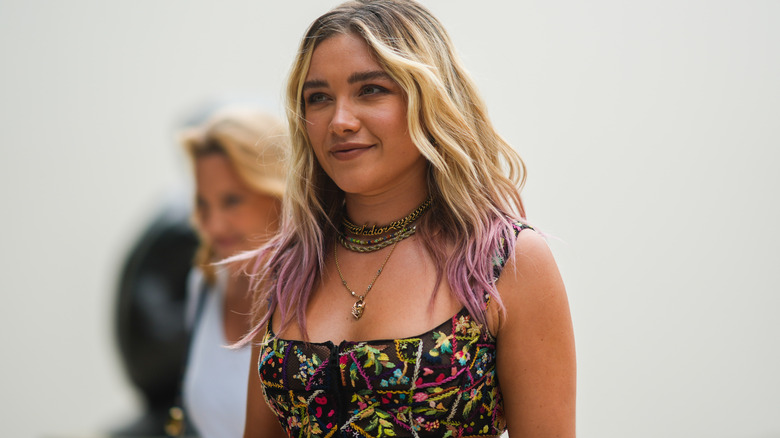 Edward Berthelot/Getty Images
Florence Pugh takes into consideration one of the most tried and true pieces of nutritional advice- everything in moderation. According to Health Yogi, the rising star sticks to the basics in her everyday life. Breakfast often consists of egg whites and fruit, porridge, or toast, while lunch is a salad full of fresh veggies. For dinner, Pugh likes to stick with a classic and healthy combination of protein and vegetables but often opts for her favorite indulgent meal instead — sushi.
While many diet enthusiasts will tell you to avoid snacking, Pugh has no qualms about reaching for a protein-rich bar to tide her over when she's feeling hungry between meals. Like most people, Pugh has a constant sweet tooth that she satisfies daily with a bit of dark chocolate. The actress also stresses the importance of eating every few hours to keep her energy up, as well as staying away from heavily processed foods. Though she likes to stay healthy, Pugh doesn't overthink her diet. She also adds in a daily workout regime that includes a bit of cardio, such as 50 jumping jacks, sprinkled in with tons of toning exercises that target her whole body.
Marvel challenged Florence Pugh's routine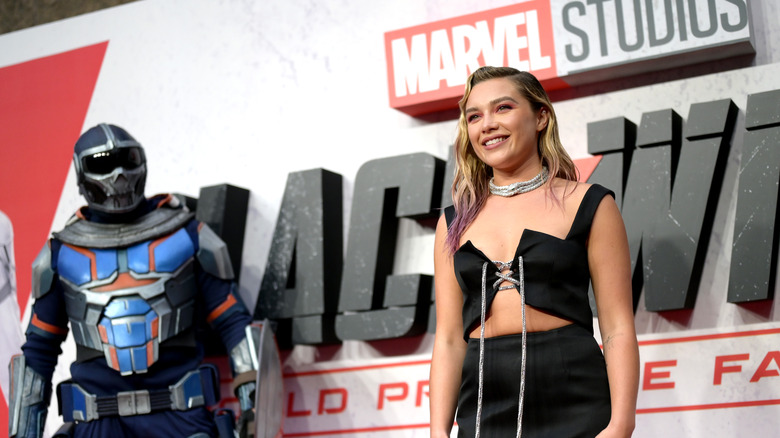 Gareth Cattermole/Getty Images
When Florence Pugh accepted a role as Yelena in Marvel's "Black Widow," she did encounter an expectation to maintain a svelte physique. However, the young actress declined to have her meals monitored and prepared for her like many of her castmates do. She says, "That was a big deal for me. I didn't want to be part of something where I was constantly checked on and people were making sure I was in the 'right' shape. That's not me at all" (via Daily Mail).
Pugh's castmates often asked her why she would be cooking for herself, as there was staff onsite to make sure the stars were fed. Pugh would reply, "Nope. My brain is so pew, pew, pew. Genuinely, my therapeutic thing is chopping and cooking and stirring and tasting."
Getting genuine joy out of food and movement is so key when it comes to health and fitness, and Pugh embodies that perfectly. If a Marvel superhero can stick with moderation as a general rule, anyone can.