Florence Pugh Shares Her Fitness Routine And How She Got Toned For Black Widow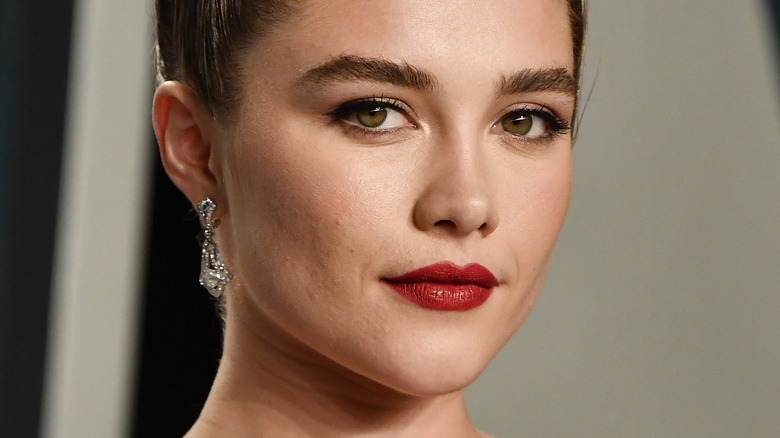 Frazer Harrison/Getty Images
Florence Pugh is a breath of fresh air in Hollywood. The British actor, who broke out in "The Falling" alongside Maisie Williams before making her mark on "Little Women," endured some harrowing scenes in "Midsommar," and transformed into a wrestler for "Fighting with My Family" (via IMDb), joined the MCU with her role in "Black Widow." Still, she remains refreshingly unaffected by the trappings of fame. Pugh courted attention, for instance, for making marmalade on Instagram and later befriending Paddington Bear (via People) before gamely sinking a pint of Guinness (via Instagram). 
Evidently, the burgeoning star has no interest in projecting a celebrity-appropriate stance on diet and exercise. In fact, she opened up to Glamour about a job, early in her career when Pugh was still a teenager, that required significant weight loss. She recalled, "When it was over, I was very aware I didn't want to do that kind of work." She added sagely, "Because I was faced with that, I realized what I wanted to represent, and had that not happened, I may not have overcome my issues with my body at such an early age." 
When it came to "Black Widow," Pugh was willing to put in the work but she remained steadfast in her outlook. 
Florence Pugh wasn't interested in driving herself crazy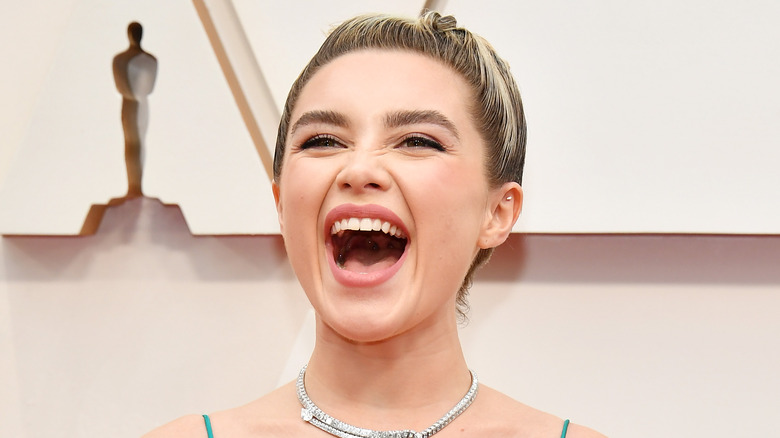 Amy Sussman/Getty Images
While speaking to Elle UK, Florence Pugh made it clear that it was important for her, when taking on the role of Yelena Belova, sister of Scarlett Johansson's titular superhero, in "Black Widow," that it didn't feel as though someone else was "calling the shots" the whole time. As the British star explained, "When I got the job, I wanted to know what the regime was. ... That was a big deal for me. I didn't want to be part of something where I was constantly checked on. And people making sure I was in the 'right' shape. That's not me." 
Pugh didn't mind knuckling down for "Black Widow" of course, mainly focusing on resistance training to tone up and "look good moving" as she termed it. Speaking with podcaster Sue Perkins, Pugh agreed that she submitted to a "hellish workout routine" to prepare for both "Black Widow" and "Fighting With My Family," the latter of which saw Pugh playing a wrestler. However, she did concede, "At no point were either of them worried about how good I looked. It was just about, "How strong can you be?" For Marvel specifically, Pugh described the "warehouse" at Pinewood Studios where all of the fight choreography was done for "Black Widow" as "my heaven." There, she learned how to "do movement," which was basically training with stunt professionals on how to look good on camera in action scenes.
Kickboxing got Florence Pugh ready for Black Widow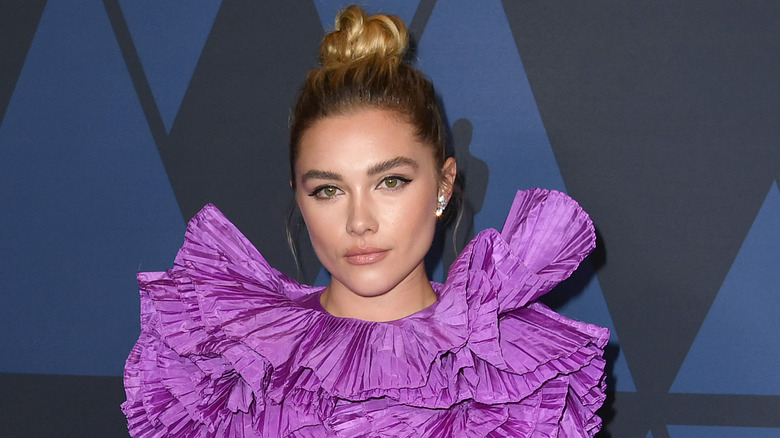 Kevin Winter/Getty Images
In terms of getting fit outside the studio, Florence Pugh worked with longtime trainer James Shields, who's been keeping her in shape since 2019's "Fighting with My Family." For that role, CrossFit reported that Shields used exercises like burpees, that matched her character's need for repeatedly "getting up from the ground." She returned to training with Shields for "Black Widow," but told podcaster Sue Perkins that she also did "kickboxing for two hours with this amazing guy called Troy," adding that "he was in '300,' he was one of the mega muscle men that did all of the fighting."
Pugh hasn't elaborated on her "Black Widow" workouts much more than that, but she did speak more with Culture Trip in 2019 about her preparation with Shields for "Fighting with My Family." "It was a month of intense squatting and eating as many protein bars as possible," she revealed. As for her diet beyond noshing on protein bars, Pugh hasn't said much about restrictions. In fact, when asked about her go-to "for healthy meals," she cited an Indian restaurant in Shoreditch, London that doesn't exactly boast a menu full of salads and wheat grass shots.