Is Glossier Mascara Actually Worth It?
Glossier has become one of the most popular makeup brands to hit the market over the last few years. According to Keke Magazine, if you're scrolling through the Instagram or YouTube account of a beauty influencer, you'll likely see a post about achieving a "no-makeup makeup look" using these products. They've made a business out of selling makeup that looks like you're not wearing anything and people love it.
Some of their cult-favorite products include Boy Brow, a brow gel, and their Balm Dot Com, a universal skin salve (via Glamour). However, it is their mascara, Lash Slick, that gets raved reviews from fans of the brand. A content director at Glamour wrote that it is the only mascara that stays in place for her eyes, which is intriguing!
While the brand has a cult following, there are people out there who believe it isn't worth the hype after all. So where does the mascara fall? Worth the investment, or not?
The mascara has rave reviews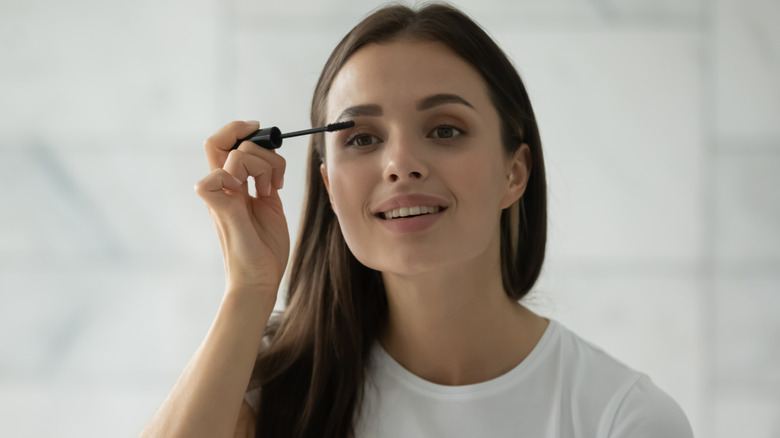 fizkes/Shutterstock
If you scour the internet hard enough, you can find poor reviews for just about anything. Glossier's Lash Slick Mascara is no exception to that rule. One Reddit user shared, "I wanted so bad for lash slick to work for me but unfortunately it uncurls my lashes right when I apply it." A few reviews like this one followed, but the general consensus surrounding the product seems to be that it is a top-notch mascara.
One of the best reviews for the mascara came from the Glossier website, where a verified buyer penned, "Just got into a car crash and cried a lot but along with the cloud paints this mascara didn't budge and sis still looked kinda cute afterwards so I recommend."
The rave reviews for the product come from more than just the company's website. Town & Country wrote that Lash Slick is by far their favorite mascara, while four editors at Byrdie shared that it reigns supreme above all other mascaras. These positive reviews note that the mascara stays in place all day without smudging, defines and lengthens your lashes, and feels lightweight on your eyes.
If you are looking for a more natural-looking mascara, Lash Slick is the way to go. However, if you are more in the market for a dramatic look, most reviewers note that no matter how many layers you apply, you can't achieve that specific look and should try a different option.