The Real Reason Kat Von D Sold Her Beauty Line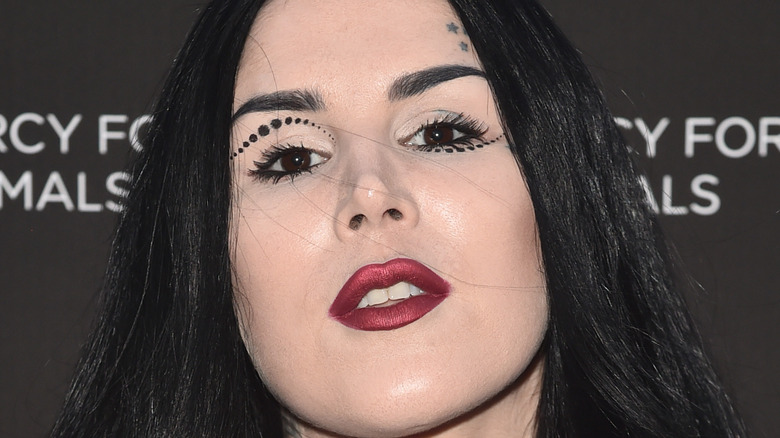 Alberto E. Rodriguez/Getty Images
Back in the year 2008, giant belts and bubble hems were all the rage in fashion, "Low" by Flo Rida was topping the charts, and tattoo queen Kat Von D was just getting started on creating what would eventually become a beauty empire, starting with just four shades of ultra-pigmented red lipsticks (via Insider). Focusing on vegan and cruelty-free products with more eye-catching hues than what was previously available, the KVD Beauty line, named after Von D herself, quickly became a staple in makeup bags everywhere. 
The line soon expanded to included her iconic Tattoo Liner, countless collaborations with celebrities, and even a rainbow set of eyebrow gel (via Allure). Von D would create custom art for the packaging for each product and took great pride in it, saying, "The artwork on my packaging was something I painstakingly micro-managed — for example, I treat it like a tattoo, taking into consideration the muscle structure and seeing were the line lands on the existing body." 
After a few years of being sold on Sephora shelves, Von D's beauty line picked up in popularity with big-name social media beauty stars like Manny MUA and Nikkie Tutorials. In 2013, however, Von D began facing backlash for the names she chose for her lipsticks, but Von D stood by her decisions and her public reputation took a hit (via Insider).
Kat Von D sold her line to Kendo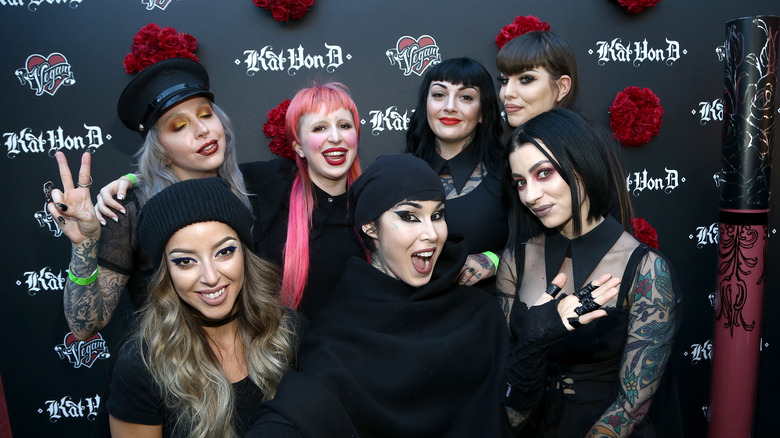 Tommaso Boddi/Getty Images
Following the faux pas, Kat Von D remained committed to her brand's success. In 2017, the tattoo-artist-turned-beauty-guru carefully curated a team of talented artists from all over America to work directly with her as her Global Artistry Collective, appearing to grow her hands-on involvement (via Multivu). Following the formation of the team, it came as a surprise that she sold her namesake beauty line to Kendo in 2020, the holding company that she had been working with for the last decade.
At the time, Von D made an Instagram announcement in which she cited her various other projects and commitments as the reason that she no longer would work with the beauty empire she had built (via Insider). She had recently launched a vegan shoe line, begun working on an album, and given birth to her first son with her husband Rafael Reyes. In a January 2020 post, Von D wrote, "As much as I wish I could balance all of this, on top of continuing my makeup line, it has become clear to me that I just can't do everything at the maximum capacity." 
The line has since rebranded to "KVD Beauty" rather than "Kat Von D Beauty" and is still sold in Sephora stores. In addition to not having quite as much time to devote to her brand, Kat Von D has cited several other reasons for walking away from the company.
Kat Von D had a few reasons to leave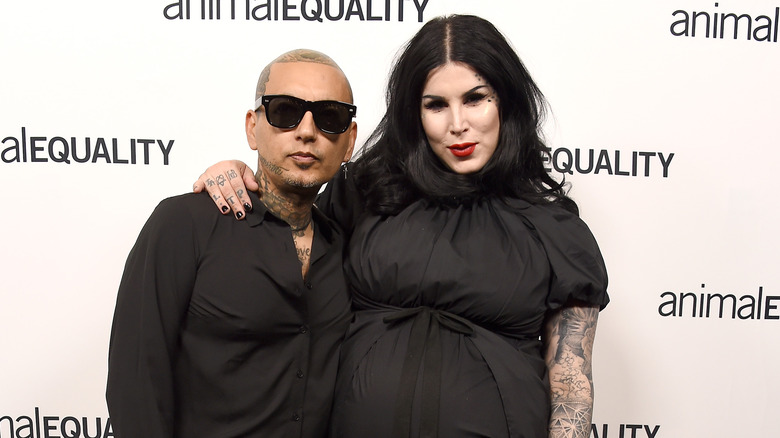 Gregg Deguire/Getty Images
In an interview with the "Second Life" podcast in January of 2020, Kat Von D placed a share of the blame for her decision on the direction that the beauty industry was heading in. She said that the industry had become a "culture thing" that was getting taken over by influencers, and Von D felt that most of the influencers weren't aligned with her brand (via Insider). 
Having been avoiding involvement with major influencers for years, Von D told Racked in 2017, "Influencers have a lot of followers. I don't think half of those influencers are on-brand. We don't repost them. I don't really relate to them. I'd rather pick people with smaller follower counts that I actually admire and that are cool and that are different, you know?"
Coupled with her new responsibilities, this pushed Von D to make the decision to officially bow out of the beauty industry. She said of her experience and decision, "It kind of throws me back to how I felt when I was a kid. I feel like I've stepped away from it a lot, partially on purpose, and the other part of it is, obviously, I just — after having the baby, and then I wrote an album years ago, and I was supposed to release it last summer, and then I got pregnant." While the once-guru is no longer involved in the brand, you can still like the punk-rock-inspired products on Sephora shelves.