Christina Hendricks Shares Her Favorite Things In Her Home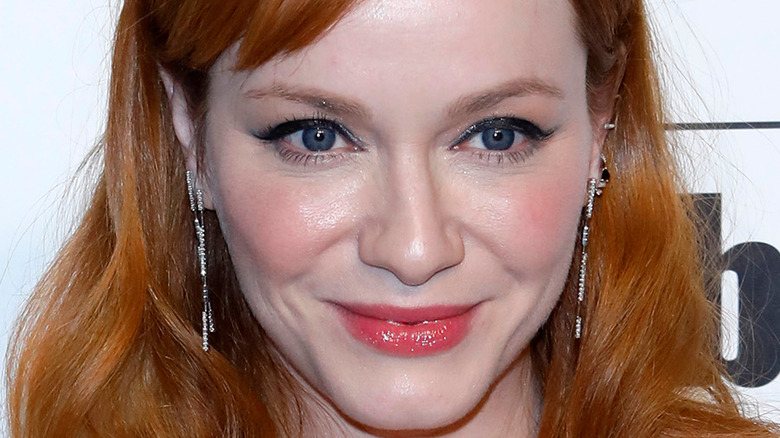 Kathy Hutchins/Shutterstock
Every time Joan Holloway made an entrance into the offices of "Mad Men," the audience needed a minute to get back into Don Draper's storyline. She commanded attention like no other, using eloquent charm and a dagger-like stare to navigate the male-dominated space of the show. 
Christina Hendricks, who portrayed the stunning secretary, quickly became a supporting actress with numerous nominations and awards (via IMDb). She told the press at the Screen Actors Guild Foundation, "I had to sort of create who she was in those two scenes, and that's who she became," Vulture reported.
The actress has since worked on TV series and movies, "Good Girls" being a notable project. However, Hendricks has many projects off-camera as well, privy only to her million followers on Instagram. Earlier this year, she gave followers a peek inside her uniquely designed house, adding the caption, "I've been excited to share the bathroom I just redesigned!" It happens to be her "favorite room in the house" so it definitely deserved its own post (via Instagram). But this wasn't the first time the actress spoke to her love for design; read on to know more about her favorite things around the house.
Christina Hendricks designed many things in her home
In an interview with Penta, Christina Hendricks invited the world into her home, revealing that interior design was the one hobby she didn't mind consuming her time. The British-American actress also said that she extends her passion to others: "I've definitely helped my friends along the way," she said. "Sometimes, I'll be on set and my friends will be texting me, 'I'm redoing my bedroom, any thoughts?' And I'll write, 'Send me three inspiration shots and then I'll do a Pinterest page for you!'"
In her California home, Hendricks likes to be surrounded by "gilded, fringed, and vintage" pieces and she describes her home as "immediately whimsical" (via Penta). As evidence, she produced photos of a chandelier shaped like a ship, complete with crystal masts and rudders. Further inside, the actress' cocktail-making station has a "Deco-fabulous" aesthetic — something she designed to be functional but fun. She also sketched out the large wooden kitchen island that sits in the middle of her otherwise modern kitchen. The tour ended with artwork from artist Malcolm Liepke. "He paints in a traditional way, but with the sentimentality and the modern sexiness of now," she told Penta. 
With an experience curated as well as this, it would be a crime to not notice the details at Hendricks' home.