Inside Matt James And Tyler Cameron's Friendship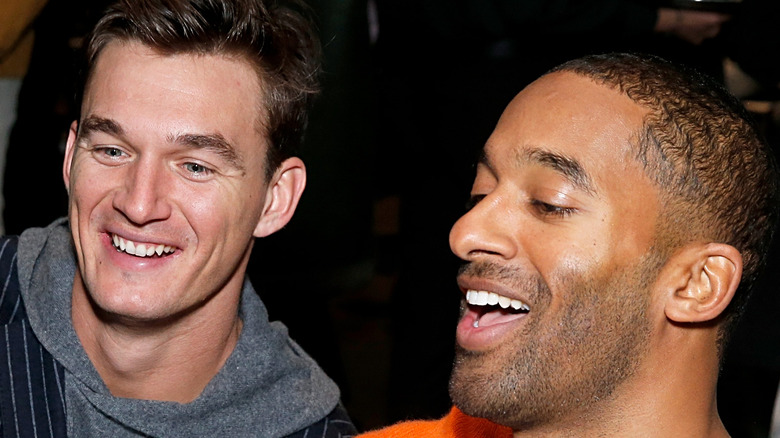 Dominik Bindl/Getty Images
Tyler Cameron and former Bachelor Matt James might just win the title of Bachelor nation's favorite besties. The BFFs have been together since attending Wake Forest University, where they met while both playing on the football team (via Us). On an episode of the "Bachelor Party" podcast in September, Cameron said that James was "the cool older kid" who took Cameron "under his wing" when they were in college and that they've been "boys ever since."
And we're sure glad that they are, because throughout their journey through Bachelor nation together, their friendship has been the gift that keeps on giving. Cameron first appeared on Season 23 of The Bachelorette – Hannah Brown's season — and James was originally cast as a contestant on the subsequent season, where Clare Crawley was later replaced with former Bachelor contestant Tayshia Adams, though he ultimately became the star of Season 25 (via The Bachelor). Keep reading to learn about all the best parts of Cameron and James' epic bromance.
They're roommates in NYC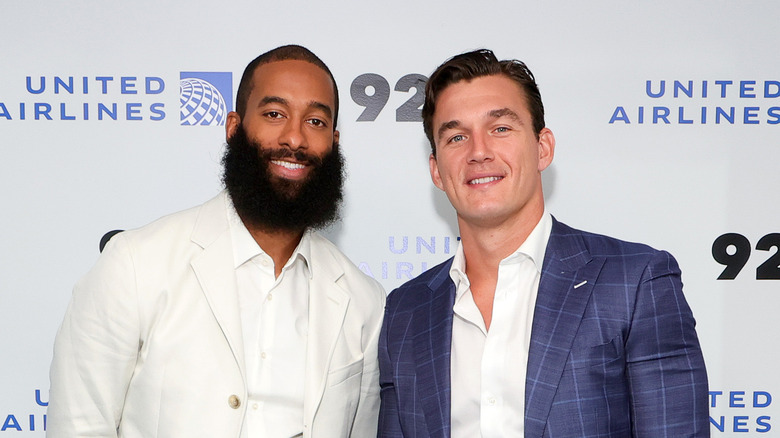 Dia Dipasupil/Getty Images
Fans of Bachelor nation's dynamic duo Matt James and Tyler Cameron likely know that the two met during their time at Wake Forest University but that the duo has stayed close in their post-grad lives as well. In October of 2019, Cameron and James moved into a New York City apartment on the Lower East Side of Manhattan and, according to Cameron, "have so much fun there together." In an interview with People, he said they enjoy working out, playing basketball, going swimming, and cooking together.
Cameron also revealed that while James has a lot of great qualities, interior design may not be one of them. Cameron joked that he has "no idea what the hell is going on in Matt's room," which is reportedly decked out in a combination of photos of jungle animals, sports jerseys and memorabilia, and photos of breakfast food. The two temporarily relocated to Cameron's family home in Jupiter, Florida, due to the COVID-19 pandemic, but are back at it in the Big Apple (via People).
Tyler Cameron really wanted Matt James to be The Bachelor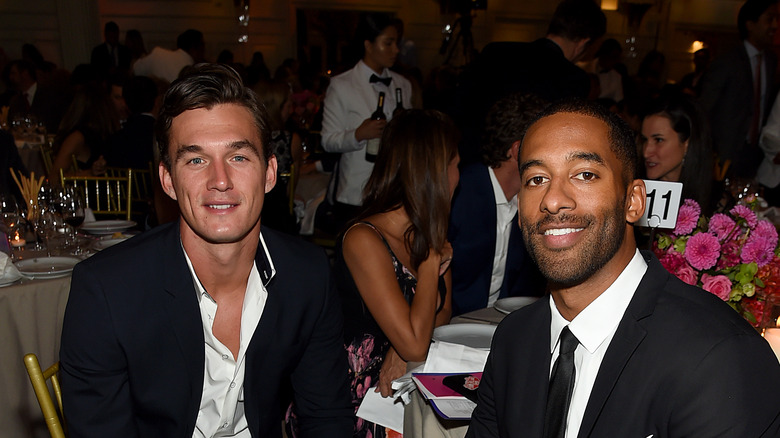 Jamie Mccarthy/Getty Images
As with most best friends, it seems that Tyler Cameron is Matt James' biggest fan. Cameron was reportedly in the room when James filmed the video for "Good Morning America" announcing his turn on "The Bachelor," and he subsequently posted a hilarious photo of the two sleeping next to each other with a sweet caption of congratulations. "Now the world gets to see the person you are and the heart you have," he wrote. "You can change the world. Proud of you and excited for you" (via Us). Cameron added that he was already jealous of the woman who would take his place as James' "snuggle buddy."
Cameron's campaign for James' Bachelor run began long before he was chosen, though. On a 2019 episode of the "Viall Files" podcast, Cameron said of his friend, "It's my goal to get him on. He needs some convincing, so everybody get after him, get him convinced to go, and he'll be a great guy for the show." These two are the definition of friendship goals.