What Jeffree Star Really Looks Like Underneath All That Makeup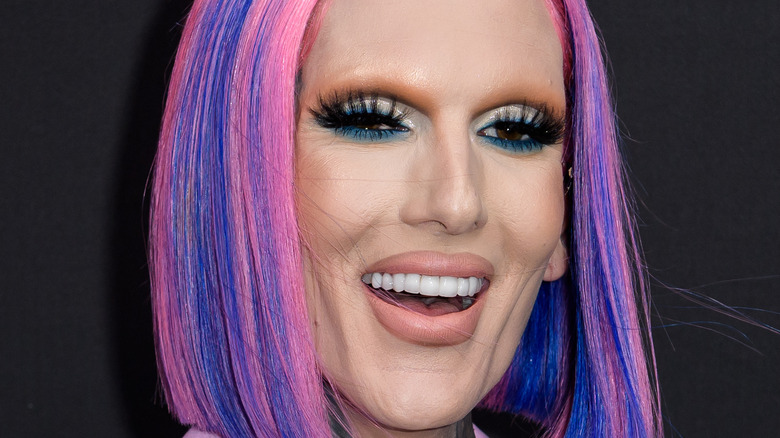 Jason Koerner/Getty Images
YouTube star Jeffree Star is as glam as glam can be. We mean it. The beauty guru lives for top designer brands, and when giving a tour of his vaulted closet, complete with pink onyx floors, he gushes. "On this wall you'll see everything from Flight sneakers, to all the Balenciaga and Versace and Louis Vuitton, Christian Louboutin ... I just love sneakers. I am a shoe whore" ( via YouTube).
It's not just his glammed-out closet. Star prefers to match his designer duds with his face painted to the max, creating an overall extraordinarily glamourous look. This beauty influencer and cosmetics company owner clearly loves his own product — and from the looks of it, millions of others do too. His namesake line, Jeffree Star cosmetics, traffics more than 2 million views a month and is only growing with the recent success of his Blue Blood Collection (per Revelist).
Star shows he can keep it natural every now and then
We're admittedly bedazzled by his unique looks. And it is clear his makeup means a lot to him both personally and professionally. But we're dying to see past all the pink and the glitter for a change. What does this self-made artist look like underneath all of that makeup?
We had to dig a bit, but we found a fresh-faced photo to answer our question. Though before we get into detail, it should be noted that this photo could have been filtered to erase any blemishes or unwanted marks. After all, the naked-face photo of Star was uncovered on his own social media handle.
As far as we can tell, the Jeffree Star sans makeup is a natural stunner. His skin is dewy, his lips are youthful and plump, and he doesn't need eyeliner to make those soft brown eyes pop. His only face tattoo, which reads 'vanity' vertically, stands out with the lack of concealer and foundation (via Instagram). Surely, this successful influencer's celebrity image and beauty business encourage him to keep his face painted. Though we must say, we're equally intrigued with Star's exposed fresh face.