This New Jeffree Star Makeup Collection Will Have You Ready For A Pumpkin Spice Latte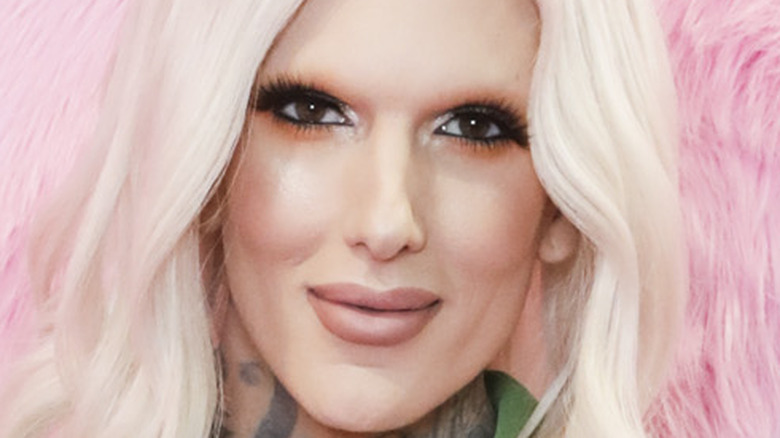 Rosdiana Ciaravolo/Getty Images
We've all been sensing a change in the season for a couple weeks now. There's a distinct chill in the air, and the sun's setting progressively earlier — in effect stealing those precious summer evenings. But it wasn't until this week — on September 22 to be exact — that fall well and truly has arrived. As the leaves start to change colors and the days cool off, pumpkin spice reigns supreme. For makeup lovers, now is also the perfect time to change out the bright colors of summer in favor of an autumnal palette.
According to Glamour, green eyeshadow is having a moment this season, if you're looking to incorporate a little emerald into your eye looks. Cool tones in general have been ruling the eyeshadow game for a while now as well (via The Mascara Wand). However, a warm-toned eye will always be a fall staple. If you're more into fiery orange and rich umber, Jeffree Star Cosmetics' latest drop has your name all over it. Beauty guru, overall mogul, and owner Jeffree Star took to YouTube earlier this month to announce the brand's fall launch — the Pricked Collection.
After his late summer, all-pink Pink Religion collection and a mini palette inspired by his move to Wyoming, this one is all for anyone who adores the color orange.
The Pricked Collection is perfect for a fall makeup look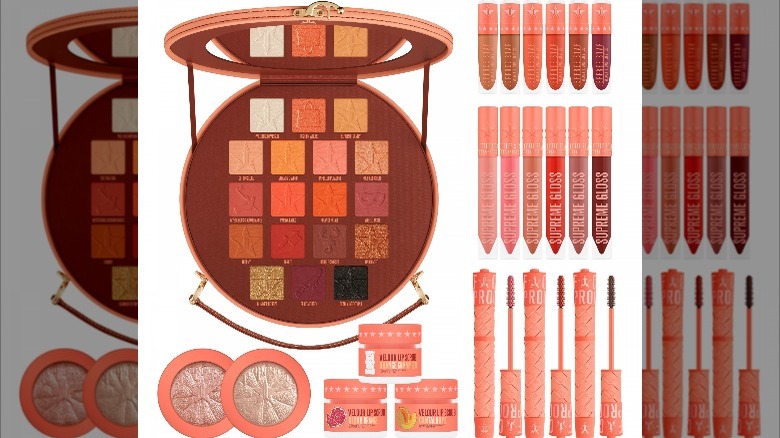 Jeffree Star Cosmetics
While there are a few exceptions, the crown jewel of most Jeffree Star Cosmetics drops is typically a vibrant eyeshadow palette. That's the case with his Pricked Collection, which is centered around a namesake, 18-pan palette featuring a blend of matte and shimmer finishes. If the orange tones accented with pops of burgundy, gold, and black aren't enough for autumnal vibes, the razor-sharp promotional campaign (seen on Instagram), haunting shade names, and pan designs (such as a dripping knife) certainly evoke the spooky season. It'll also be easy to take this palette on the go if you're looking to travel since it comes with a strap like a purse.
While the Pricked palette is the centerpiece, there's plenty more to consider picking up. The collection also features an extension on his Supreme Gloss and signature Velour Liquid Lipstick lines, two highlighters pressed to look like orange slices, colorful mascaras, flavored lip scrubs, and crown-shaped hand mirrors. Buyers can pick things up individually or bundles are available on the brand's website now. 
What remains to be seen is if JSC's latest drop will sell out. Insider noted that Star's collections used to sell out, sometimes within minutes. However, that hasn't always been the case of late. At the time of publishing, most of his Pink Religion collection and the Star Ranch palette are still available to purchase. Maybe this pumpkin spice-lovers dream will shake things up?