Here's What You Should Know Before Getting A Halloween Costume For Your Pet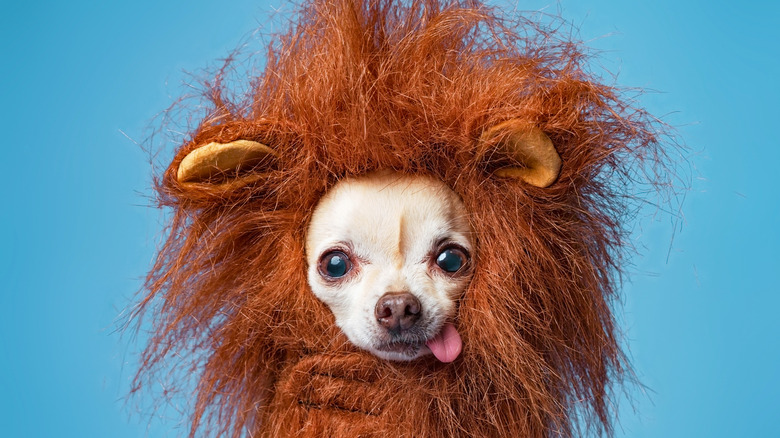 Annette Shaff/Shutterstock
A central part of Halloween is dressing up, and many people also put their pets in costumes, as well. However, there are some important tips to know before transforming your pup into a vampire or your cat into a witch.
The Humane Society of the United States suggests that when it comes to choosing a costume, first think about your pet's personality. What types of pieces do you think they can handle? How long do you think they can keep it on while celebrating? Usually, animals want out of strange new clothes quickly. Therefore, it is best to keep the Halloween costume minimal and to get rid of any parts that could be swallowed, wrapped around them, or otherwise perhaps endanger them.
In addition to small pieces on costumes that could be dangerous, there are other risks to keep in mind. For instance, these outfits could keep an animal from being able to move or react in their usual way. Also, it can be hard to find the perfect fit, since most have a one-size-fits-all option. A look that is too big could get caught on furniture, while one that is too small could be uncomfortable, as stated by PetCoach.
When it comes to dressing up pets for Halloween, don't force anything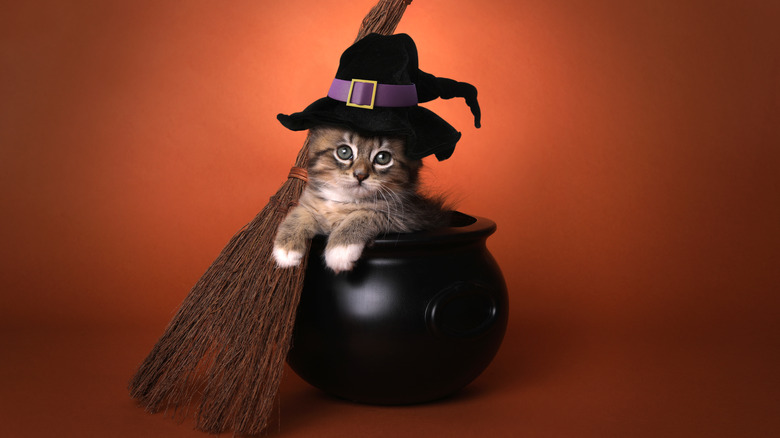 Katrina Brown/Shutterstock
Once the ensemble is in, let your pet get used to it, and then, use a reward system. "I just keep a treat directly in his line of sight, and I carry a ball so that I can entice him with a little fetch, too. He has to be rewarded for almost every move he makes in costume," Sylvia Reutens told Rachael Ray Everyday. (Her corgi is a Tompkins Square Halloween Dog Parade Best in Show winner.)
Of course, there will be certain animals and certain costumes that just do not work together. A person may go over and beyond, choosing something for Halloween that is safe and comfortable, but, as we know, our furry friends have minds of their own, and they are not afraid to tell us when they don't enjoy something.
That being said, take advice from the Animal Humane Society. Don't force anything. If a Halloween costume is not going to work, you still may be able to add a festive bandanna or collar, or you could add cute and creepy touches to your pet's bowl, carrier, stroller, or toys.