Why Viewers Are So Angry Over The Princess Diana Musical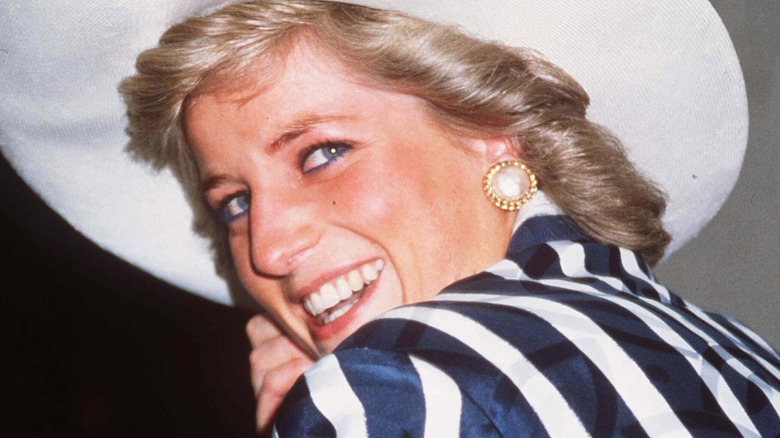 Anwar Hussein/Getty Images
In the almost 25 years since Princess Diana's untimely passing, interest in both her life and death have remained fierce (via Parade). The British royal family itself has provided fodder for documentaries, plays, films, and now even television shows throughout the years, notably the Oscar-winning movies "The Queen" and "The King's Speech," and more recently, the hit Emmy-winning Netflix series "The Crown."
When "The Crown" began airing it was announced that each season would cycle through the beginning of Queen Elizabeth II's reign until modern day (or at least, somewhat modern, as it won't cover Harry and Meghan's defection from the monarchy). Fans waited with bated breath until the show finally reached its Princess Diana seasons and gave a dramatized look at her struggles with the Windsors (via The Hollywood Reporter).
Maybe because "The Crown" has been such a success — or because it seems like enough time has passed that creators now feel comfortable fictionalizing Diana's story — there are more Princess Diana stories on the way. "Spencer," a film starring Kristen Stewart, centers around just three days in Princess Diana's life, when she first reckoned with leaving the royal family. The film is already garnering serious Oscar buzz (via Town & Country, Entertainment Weekly).
Princess Diana: The Musical?
But despite this hunger for stories about Princess Diana, that doesn't mean all of them are going to be a hit with audiences. Take for example, "Diana," the musical depicting the late royal's life that dropped on Netflix on October 1 (via Yahoo!). The musical will open on Broadway later this year, but in the meantime, fans had the opportunity to check out the soon-to-be stage show from their very own homes. And what they saw? Well, let's just say Stewart won't have much competition from another Diana.
Stuart Heritage of The Guardian called the musical "the year's most hysterically awful hate-watch" and viewers agreed. "Genuinely painful to watch," one Twitter user shared. "The idea of 'DIANA: THE MUSICAL' should've been destroyed, then burned, then have the earth where it grew salted."
Another said, "I cannot stress how awful and perfect the Diana musical is ... Objectively the worst thing I've ever seen. A flawless, stunning, fever dream. It should be considered a war crime and I want to watch it on repeat for the rest of my life."
So does this mean "Diana" will sell out on Broadway? A ticket bought as a hate watch still counts as a ticket sale.