Carlos Santana Set To Receive A Major Honor At The Hispanic Heritage Awards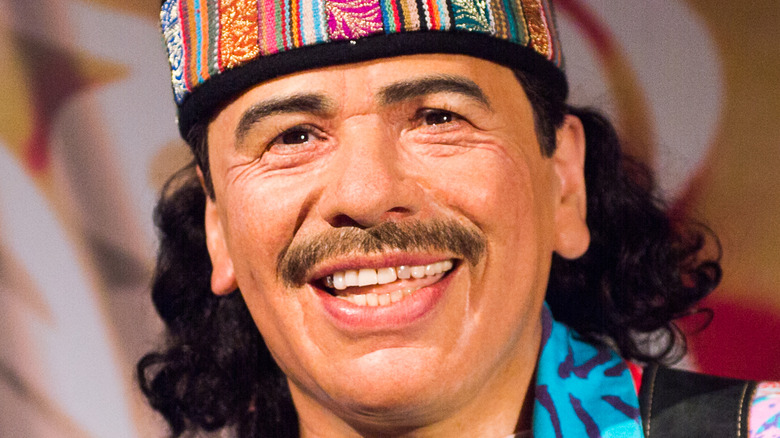 Anton_Ivanov/Shutterstock
After more than 50 years in the music business, there's no denying Carlos Santana is a legend. He was born in Mexico, where his father was a professional violinist who taught Carlos to play. But Carlos Santana's passion was with the guitar. He played in local strip clubs as a teen before moving to San Francisco in the early 1960s and eventually signed a recording deal with Columbia Records after performing at Woodstock in 1969. Santana released successful albums in the 1970s and early '80s before his career stalled (via Biography).
He went on to make a huge comeback in 1999 with the highly successful album "Supernatural." The album featured guest vocals by Wyclef Jean, Lauryn Hill, and Dave Matthews, and launched the hit single "Smooth," with Rob Thomas. The song became the first No. 1 song of Santana's career, staying at that spot on Billboard's Hot 100 for 12 consecutive weeks and winning Record of the Year, Song of the Year, and Best Pop Collaboration with Vocals at the Grammys. Twenty years later the track has been named the second-most popular song of all time, according to Billboard (as reported by Esquire). That same year, Santana won the Grammy for Album of the Year for "Supernatural."
Santana has already been inducted into the Rock and Roll Hall of Fame, as well as received a Billboard Lifetime Achievement Award and Kennedy Center Honors. Now he will be bestowed with another honor, this time at the 34th Annual Hispanic Heritage Awards.
Carlos Santana will be honored at the Hispanic Heritage Awards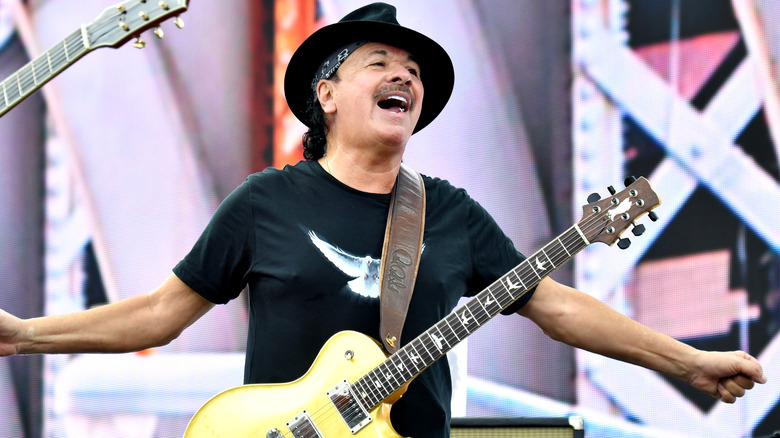 Jeff Kravitz/Getty Images
Carlos Santana will receive the Legend Award at the 34th Annual Hispanic Heritage Awards, to be broadcast October 8 by PBS. Other honorees this year include Salma Hayek, Ron Rivera, and Ivy Queen. 
"With gratitude, I am deeply honored to be receiving the 2021 Hispanic Heritage Legend Award. I am grateful to the Latin Community and to everyone who feels oneness with our mission to bring equality, fairness, justice, unity, and harmony," he said in a statement. "We wake up every day to touch people's hearts with our music, spirits-vision, and to make a difference in the world, for the highest good for life, people, and the planet. It is a blessing to be a blessing. We thank the Hispanic Heritage Foundation and PBS for this glorious honor."
And he has no plans on slowing down anytime soon. Santana is poised to continue his residency at the House of Blues Las Vegas in 2022 and is also planning to release a new album, "Blessings and Miracles," later this year.