Drake Opens Up About His Weird Experience With COVID-19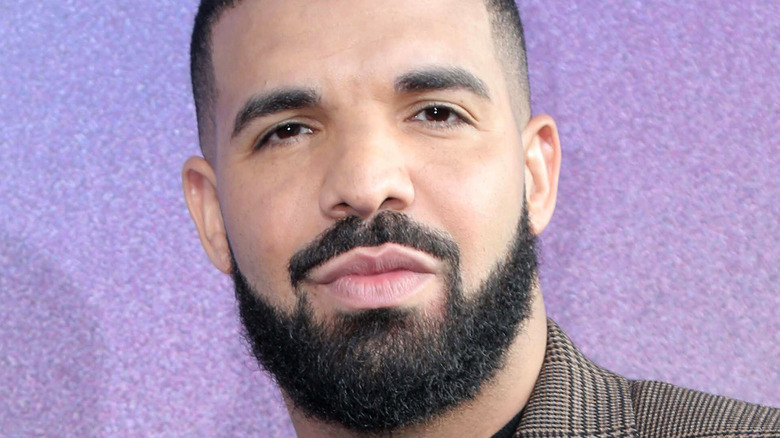 Kathy Hutchins/Shutterstock
The COVID-19 has been wreaking havoc on people since March 2020. Some people lost their smell, while others lost loved ones. But it looks like Drake lost something that was a bit more uncommon — his hairline. According to Page Six, Drake had COVID and it affected his hairline. Yes, you read that correctly. It looks like even Certified Lover Boys get bad hair days, and COVID is to blame this time.
There have been tons of celebrities that tested positive for COVID-19. From Khloe Kardashian, who shared her experience on "Keeping Up with the Kardashians," to Idris Elba, who had just a mild case (via Vulture), no one was immune from the Coronavirus. Drake wasn't so public with his run-in with COVID-19, but he recently shared part of his story in the comment section (via Mix Mag). The rapper is private about most aspects of his life, but he will defend his hairline until the end.
Drake blames his receding hairline on COVID-19
Drake is one of the least public rappers out there. You know, when he's not starring in Allstate commercials (via USA Today). It took him two years to show photos of his son (via Mirror UK), so it only makes sense that he took some time to share that he also had COVID-19.
But it turns out that, according to Page Six, Drake did test positive for COVID-19, and he blames the illness for his receding hairline. "I had Covid that s*** grew in weird," Drake commented on a fan's photo. "I had to start again." According to Page Six, he also added, "It's coming back don't diss."
The rapper has had a heart in his hairline since October 2020, according to Popdust. The heart. which sits on the left side of his head, was once was a distinct, full heart, but, as one Instagram user so eloquently puts it, the heart is "stressed." Basically, it's no longer a full heart because the bottom is missing.
Hair loss is actually a side effect of COVID-19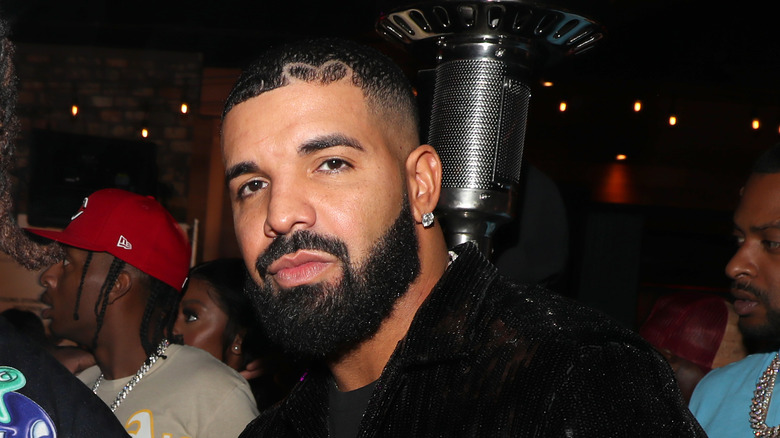 Jerritt Clark/Getty Images
Although it's unclear when Drake tested positive for COVID-19, the side effects do pan out. According to the Cleveland Clinic, hair loss is common among people who have had COVID-19. "We are seeing patients who had COVID-19 two to three months ago and are now experiencing hair loss. I think the timing is really crucial," says Dr. Shilpi Khetarpal, a dermatologist at the Cleveland Clinic.
The CDC does not list hair loss as an official side effect of COVID-19, but as the Cleveland Clinic puts it, hair loss is a "consequence of the infection." The clinic says that it could take anywhere from six to nine months for hair to grow back. Good things take time, and it looks like this Certified Lover Boy will just have to wait for his heart to grow back.
Just hold on, Drake, your hairline is coming home eventually.