Inside Judy Greer's Marriage
Sam Aronov/Shutterstock
Judy Greer is one of the most popular supporting actresses of the last decade. She's stolen the spotlight in movies like "13 Going On 30" and "The Wedding Planner," and played the hilarious role of Kitty Sanchez on "Arrested Development" (via IMDb). It seems like Greer has a role in just about everything these days — she's one busy woman!
Greer has been married to her husband Dean E. Johnsen for over a decade now. He's wildly supportive of her career, as Greer told Closer Magazine, "my husband always tells me, 'You're not America's Sweetheart — you're America's Best Friend!'"
Johnsen is no stranger to the spotlight himself. According to his IMDb page, he's a famed producer and writer, having worked on shows like "Real Time with Bill Maher" and "Courage Under Fire," amongst others. The pair have kept their relationship going strong over the last several years. What exactly is their secret?
The couple didn't live together for 7 years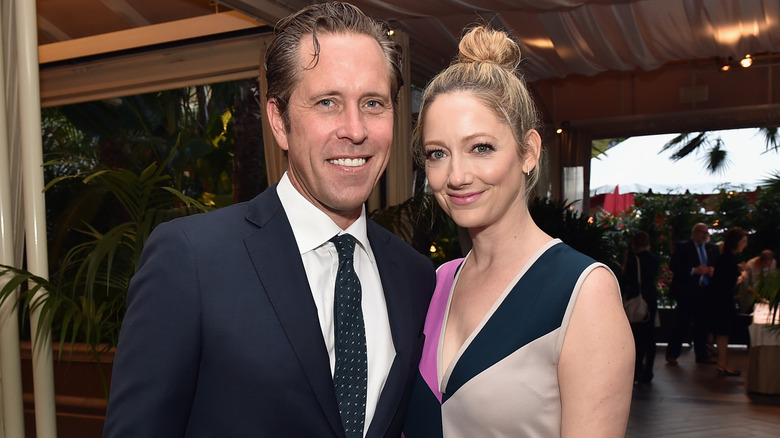 Kevin Winter/Getty Images
According to Greer and Johnsen, the secret to a successful marriage might be living in separate houses. The married couple did not live together until 2018, nearly seven years after they tied the knot (per People). The reasoning behind this choice to live separately is sweet. Johnsen wanted to be closer to his two children from a previous marriage in Thousand Oaks, California, while Greer lived in Los Angeles proper, which is about 40 miles away.
"Our married life is a little weird," she admits. "He had his house and I had mine. We spent our nights together back and forth." She adds that she wouldn't change a thing about Johnsen otherwise, "I married the right guy for me," she gushed, "I think marriage is great. He's the most supportive person I could've imagined if I'd "Weird Science'd" a husband."
Once his children were both over the age of 18, he decided to make the move to Los Angeles to live with his wife (via Daily Mail). Now, they live happily ever after.
They bonded over renovating their home together
Once the pair officially moved in together, they bonded over renovating their home (via The Scott Brothers). She found the structure of her home was much like the structure of a healthy relationship. She shared, "As we tore down walls, ripped out cabinets, and exposed damaged beams and flooring that all needed some kind of rescue, I was learning how to build not only a house but also a relationship." The couple took what could have been a stressful moment in their lives and turned it into a life lesson.
They have a strong relationship that has been built around strong family values. According to Closer Magazine, Greer has become not only a great home renovator but a wonderful stepmom. "Being a stepmom has been the greatest gift," she says. "There was a big learning curve, but it's been so awesome and fun."
Maybe the secret to a healthy and happy marriage is home renovation and strong family values!