Are Martin Kove And Ralph Macchio Friends In Real Life?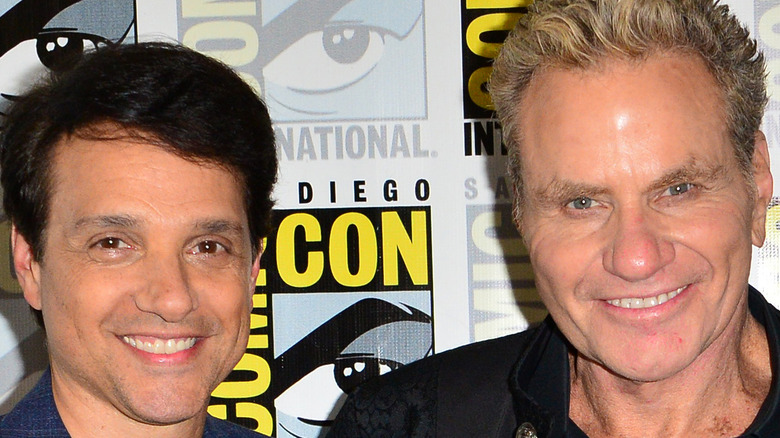 Jerod Harris/Getty Images
"The Karate Kid" made instant stars out of its core cast, in particular William Zabka, Ralph Macchio, and Martin Kove. Zabka played Johnny, the nemesis of Macchio's plucky Daniel, while Kove was the cruel Sensei whipping Johnny into shape to beat the upstart, well, karate kid. As The Guardian notes, all three men reunited for "Cobra Kai," a super-nerdy TV spinoff that posits where the characters might be 34 years on from the famous competition. 
While Daniel is a successful businessman, Johnny is scraping by — that is, until he decides to reopen the titular karate school. "Cobra Kai" has proven to be a major hit for Netflix, while the central trio is clearly delighted to be working together once more. The series means just as much to the stars as its fans, but it's also been three decades since their "Karate Kid" journey first began. Are Kove and Macchio really friends, or is it just business for them?
The Karate Kid stars go way back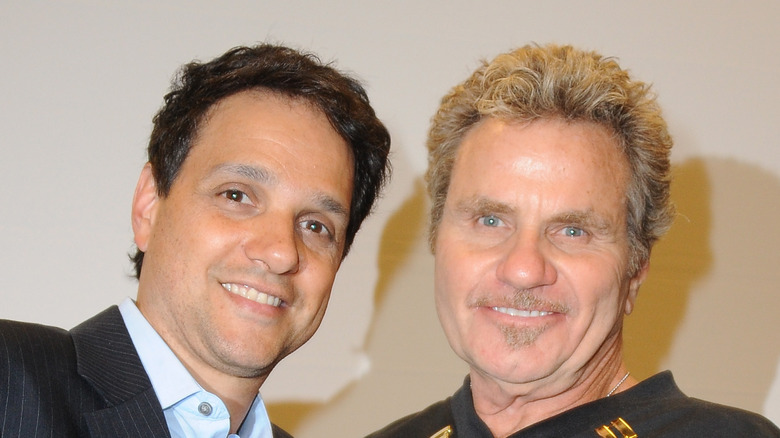 Albert L. Ortega/Getty Images
In an interview with the Hollywood Reporter, actor Martin Kove casually mentioned that he, Ralph Macchio, and William Zabka have "gotten to do all the [fan shows and conventions] and stay together 30 years before this new series ['Cobra Kai'] came along," suggesting the trio remained close long after "Karate Kid" wrapped. Kove and Macchio apparently share a love of cigars, with Macchio even telling Cigar Aficionado Kove is his "cigar sensei." The former child star explained, "Martin is synonymous with cigars ... He loves cigars and loves talking about them. I ask him questions about cigars — it's like learning about tasting wine or Scotch." Zabka, meanwhile, told For The Win his co-stars are his BFFs.
Kove confirmed the feeling is mutual with a gushing Instagram post celebrating the end of Season 4's shoot for "Cobra Kai." The actor wrote, "To @ralph_macchio & @william_zabka the battle rages on! I couldn't be more humbled to work alongside you both. Who put the work in day in and day out and day in and day out." While chatting to ET Canada, the legendary movie villain admitted when they first joined forces again after 34 years, "It was really cool, and it was tingling, and it was fun." Kove added, "It kind of made the work easy, you know, because we were just looking forward to play ... It wasn't like work." They might play enemies onscreen, but in real life it's all love between these tough guys.