The Truth About Nikki Haley And Donald Trump's Relationship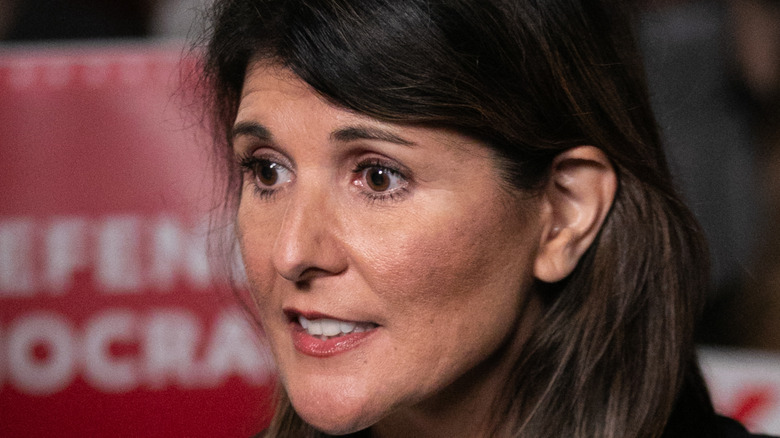 Jessica Mcgowan/Getty Images
If Republicans want to know whether former United Nations Ambassador and South Carolina Governor Nikki Haley is thinking about running for president in 2024, she has made it clear that you might not want to ask her, but her former boss, Donald Trump what he thinks.
During an interview with The Wall Street Journal, Haley referred to Trump as "a friend" and someone she would talk to before she would launch a campaign for the presidency. She explained why she has faith in the former president, saying, "He has a strong legacy from his administration. He has the ability to get strong people elected, and he has the ability to move the ball, and I hope that he continues to do that. We need him in the Republican Party. I don't want us to go back to the days before Trump."
But while she sees Trump as being invaluable to the GOP, there is one point she has (thus far at least) said she would agree to disagree with the former president on, and that is the result of the November 2020 elections. "There was fraud in the election, but I don't think that the numbers were so big that it swayed the vote in the wrong direction," she said.
Why Haley's friendship may not be reciprocated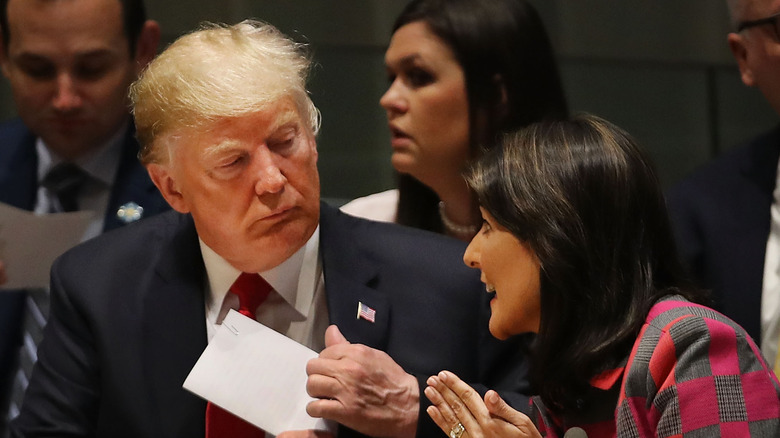 Spencer Platt/Getty Images
Nikki Haley faces an uphill battle to get her boss, the former president, to understand  — and accept — that he lost the last election. To this day, Trump continues to push the idea that the election had been stolen from him, and he continues to bolster conspiracy theories and accusations of election fraud aka "the big lie." He even makes it a point to endorse to candidates at the local and state levels who are keen not just to promote the idea that the 2020 election was stolen (via Associated Press). Given that accepting "the big lie" appears to be a loyalty test for the former president, we wonder if Trump's feelings about Haley are entirely positive.
Haley's position on the 2020 elections isn't the only thing that could keep Trump from embracing his administration's former U.N. representative as a bosom buddy. Like everyone, Trump is keenly aware that Haley can't seem to make up her mind about him. "Well, every time she criticizes me, she uncriticizes me about 15 minutes later," Trump told Vanity Fair. 
A history of flip flopping on Trump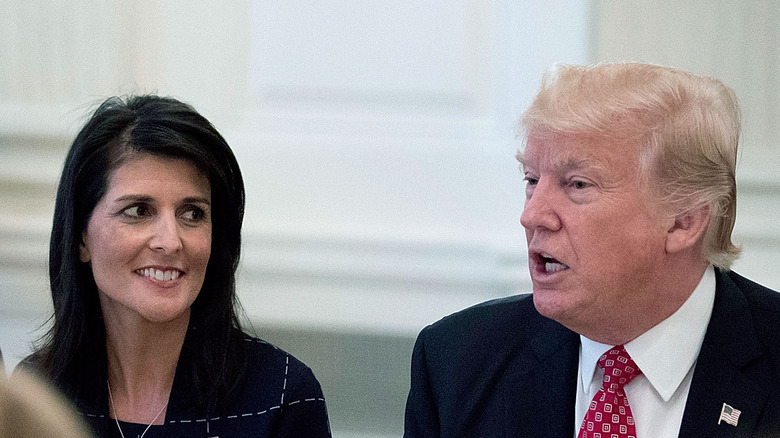 Chip Somodevilla/Getty Images
In all fairness, Nikki Haley has done nothing but flip flop on Donald Trump since he transitioned from businessman to politician. When Trump sent a pointed Tweet her way in 2016, saying that "the people of South Carolina are embarrassed by Nikki Haley," she responded in kind by tweeting, "Bless your heart" (via Time). 
At the same time, the former South Carolina governor told a local television station in 2016 that Trump represented "everything a governor doesn't want in a president because as she put it, "I want someone who is going to hold Republicans accountable, and I want someone who is going to make a difference, not just for our party but for every person they represent in the country" before accepting a position as his administration's Ambassador to the United Nations for two years. And after the January 6 insurrection, Haley unleashed on Trump saying, "We need to acknowledge he let us down. He went down a path he shouldn't have, and we shouldn't have followed him, and we shouldn't have listened to him. And we can't let that ever happen again" (via CNN). 
Could it just be a matter of time before Nikki Haley decides to change her relationship status with Donald Trump once again from "friends" to "it's complicated"?