Jake Tapper Opens Up About Going On A Date With Monica Lewinsky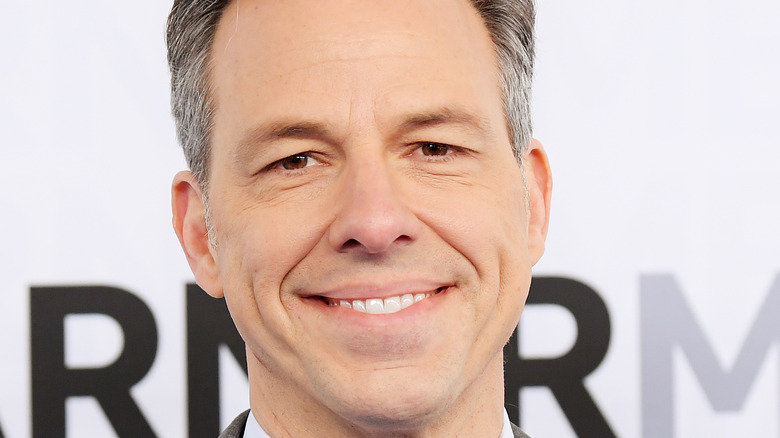 Dimitrios Kambouris/Getty Images
On January 16, 1998, Monica Lewinsky's life changed forever when she was ambushed by the FBI in the Pentagon City mall, per CNN. For the next two decades, Lewinsky dealt with the aftermath of her affair with former President Bill Clinton. It wasn't until 2014 that the disgraced former White House intern finally found her footing. After decades of trouble finding work or a friendly face, Lewinsky penned an essay for Vanity Fair in 2014, stating that she wanted to turn toward the future and to also bring "a purpose to my past." From giving a TED Talk about bullying to forming a production company appropriately titled Alt Ending, Lewinsky has dedicated her life to fulfilling that mission.
Lewinsky's latest project is as the producer on "American Horror Story" creator Ryan Murphy's latest offering, "Impeachment: American Crime Story." According to the New York Times, Murphy approached Lewinsky to produce the series, which follows the impeachment of Clinton through the eyes of Lewinsky and the other women involved in the scandal that eventually brought the former president down (at least back then). "When you have made a colossal mistake like I did so early in your life, and lost so much because of it, the idea of making a mistake is catastrophic," Lewinsky told the New York Times. "And yet in order to move forward, I have to take risks. I have to try things. I have to continue to define who I am."
Jake Tapper has revealed more about his 'G-rated' date with Lewinsky
Rodin Eckenroth/Getty Images
A brief but important part of "Impeachment: American Crime Story" shows Monica Lewinsky's first date with Jake Tapper. Now a CNN anchor, Tapper first gained notoriety as a journalist when he wrote about his date with Lewinsky just after the Clinton scandal broke at the beginning of 1998 for the Washington City Paper. As Tapper wrote in the article, the pair met at a going-away party for a friend, exchanged phone numbers, and made plans to have a first date at a Tex-Mex restaurant. According to Tapper, Lewinsky was a sweet, authentic woman who got simply swept in a scandal much larger than herself. "Right off, Monica was different from the standard D.C. date: not a salad-picker, she joined me in appetizers and an actual entree of her own," Tapper wrote. "She had a beer or two, while I drank bourbon. She even offered to pay for her share, a fairly rare offer I rejected but appreciated. We talked about some of her past relationships, though the president's name did not come up."
Nearly 25 years after going on that date, the pair were reunited once again on Tuesday when Tapper spoke with Lewinsky about her work on the new "Impeachment" series on "The Lead with Jake Tapper." "First of all, Monica: Yes, I have to disclose — full disclosure — in tonight's episode, our G-rated date from December 1997 ... is portrayed," Tapper said on the show, according to People. The two had a friendly rapport, and Tapper noted with amusement that he considered the actor playing him to be "way better looking than me now or then."