Inside Jojo Siwa And Maddie Ziegler's Friendship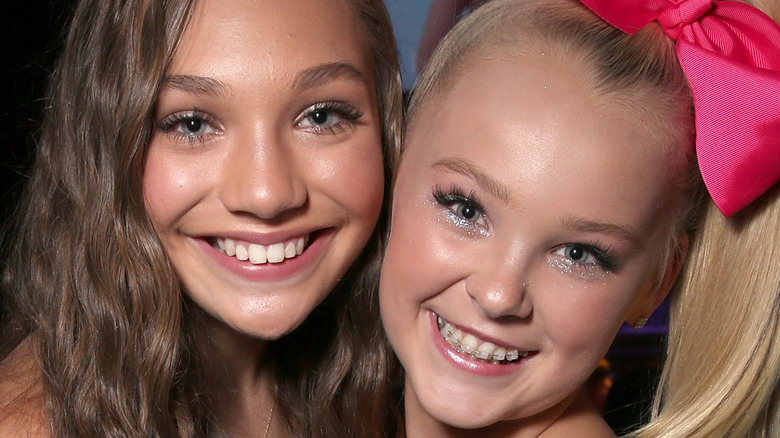 Todd Williamson/Getty Images
Jojo Siwa and Maddie Ziegler became household names as children when they entered the realm of reality television as child dancers competing in Lifetime's hit series "Dance Moms." Although the duo started on the same platform, their careers took different paths.
Siwa took her talents to YouTube and became a famous YouTube Star. Her glittery persona and bubbly attitude became the foundation for her Jojo empire. According to Celebrity Net Worth, the 18-year-old is worth $20 million.
Ziegler took a different route. Highlighting her comfortability in front of the camera, Ziegler began acting in movies and television shows. Ziegler guest-starred in "Pretty Little Liars" and "Austin & Ally" and landed her first role in a major motion picture in "The Book of Henry" (via IMDb) The talented dancer also starred in many of Sia's music videos, such as "Elastic Heart," "Chandelier," and "Big Girls Don't Cry."
Although the childhood friends' careers took different paths, they remained close. In 2016, Siwa, who was 13 years old at the time, told TMZ that Ziegler was "one of [her] best friends in the whole wide world." The "Boomerang" singer even compared their friendship to another famous best friend duo, Selena Gomez and Demi Lovato. The teenager gushed about their plans to live together.
"We make jokes about how when we're older, we're going to have this huge house together," Siwa told the outlet.
Ziegler and Siwa's friendship has withstood the test of time, but how did the two even meet?
The moment Maddie Ziegler and Jojo Siwa became friends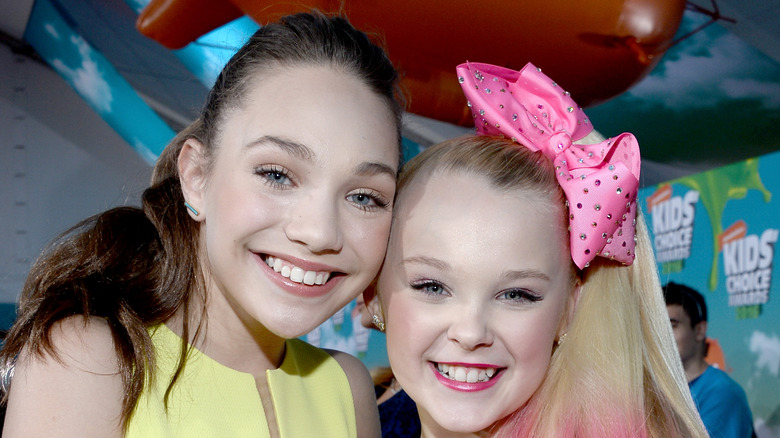 Frazer Harrison/Getty Images
Maddie Ziegler and Jojo Siwa first met as children on Lifetime's "Dance Moms." In an interview with J-14, Siwa recalls the specific moment that started her and Ziegler's friendship.
While on "Dance Moms," the "It's Time to Celebrate" singer remembers an instance doing a meet-and-greet in Australia, where some of the other "Dance Moms" girls appeared to be making fun of her. Ziegler explained the misunderstanding to Swia and was adamant that she understood their intent.
"This is kind of funny, so when we were all in Australia," Siwa explains. "This video opens in a new window. Went viral. Now looking back on it, I'm like, 'Oh whatever, they didn't really mean it.' But back in the day, when it actually was important to me, the girls made a video online where they were at a meet and greet, and they were making fun of me." Siwa wasn't bothered though, explaining, "It's fine. I could care less about it! But Maddie was so cute about it. She was like, 'No, we really didn't mean it!' She was so stressed out about it, and that's probably when we became really good friends. And she was like, 'No really, you know-how meet and greets are, it wasn't a thing.' She just tried so hard to explain it. It was cute. She was awesome."
Even as children, the "Dance Moms" co-stars were eager to resolve the tension to save their friendship.