The Truth About Color Street Nails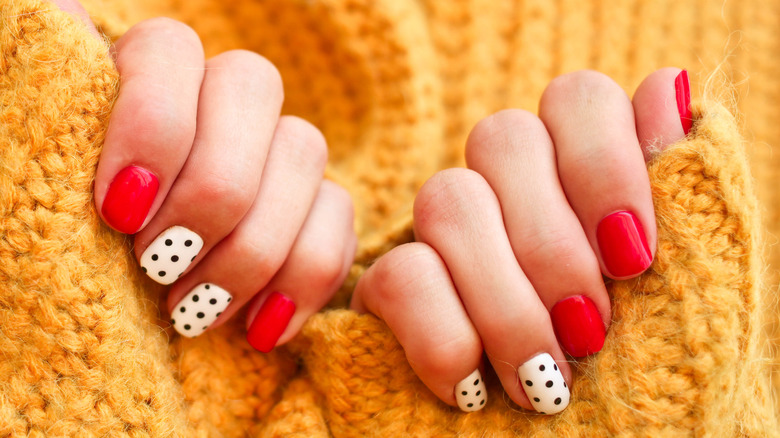 smile23/Shutterstock
A great way to look pulled together is a fresh manicure (via Byrdie). Perhaps you don't enjoy going to the nail salon every couple of weeks, or you're notoriously bad at chipping your professional manicures. If you like to keep your nails manicured, chances are you've looked for some simple hacks to help make it easier. Of course, you know you can simply shape and paint your nails at home, but somehow it never turns out nice, and you rarely take the time to do it. That's why you might feel intrigued if you have friends on social media selling Color Street Nails as a multi-level marketing business.
"Color Street is real nail polish that's been dried down onto a strip for an easy, mess-free manicure with no dry time," Hannah Parks, the brand's marketing coordinator, told Byrdie. "It's a salon-quality manicure — base coat, color coat, and topcoat — that you apply in one step without worrying about streaks or smudges."
According to Southern Living, Color Street nail stickers are 100% polish that are easy to apply. Plus, you get the bonus of getting two weeks of wear out of your application. Simple application with long wear might sound too good to be true. Read on to find out the skinny on these fancy nail strips that have taken your newsfeed by storm.
Here's what's great about these convenient nail strips
Color Street nail strips have several pros. They cost between $11 and $14, and if you're careful, you can probably squeeze two applications out of one 16 strip package (via Southern Living). They also come in a wide variety of colors and patterns. Plus, you can get fancy fingernails for each holiday at Color Street. These easy nail strip manicures also last between 10 to 14 days, which is challenging to beat. Plus, the website features a variety of application technique tutorials for solid colors, glitters, designs, and French manicures. Finally, if visual learning is more your thing, you can also watch a quick YouTube video to see how to apply the colorful strips to your own nails easily.
According to Byrdie, another positive about Color Street stickers is that they don't damage your natural nails the way some nail salon treatments like dip or acrylic sets can. In addition, they are easy to remove using a regular or acetone nail polish remover. Finally, you might love that you can support your friend in their multi-level marketing business.
Here are the cons of Color Street nails
Color Street uses independent salespeople, according to Southern Living. To build their businesses, your friends might attempt to recruit you to be a salesperson for the company. So that aspect of this easy manicure might make it less attractive to you if you'd rather not have that pitch when you try to buy the nail strips from Color Street. Plus, if you'd prefer to keep your friendships friendly instead of mixing in business, then you might not enjoy this method of buying nail strips. 
Byrdie reported that you remove the nail polish strips and apply them to your shaped nail, filing away any overhang. Suppose you're uncomfortable with shaping your own nails or filing the strips' excess material. In that case, Nail Street might not be a viable option for you to get professional-looking manicures at home. However, because the price is lower than many nail salon services, it might be worth trying.