The 5 Best Nail Sticker Brands For An Instant Perfect Manicure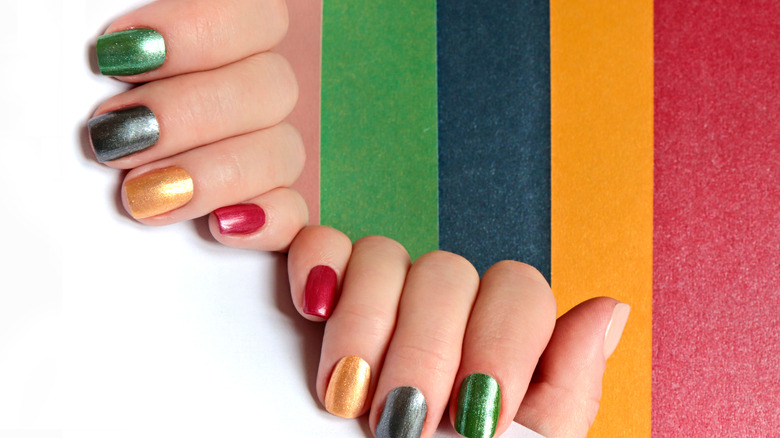 Shutterstock
Once upon a time, folks who loved to sport a fresh, lovely manicure had to deal with the frustration of the polish chipping after just a day or so of wear. But then came acrylic nails and the more recent advent of gel nails, which boasted much longer wear time but wasn't healthy for nail beds (via AAD). Plus, not everyone has the time or the money to spend at professional salons to achieve colorful, long-lasting mani results. 
Enter: the nail sticker. Not only can you apply nail stickers at home in a fraction of the time and with a fraction of the funds it takes to go to a salon, but there is also no dry time since the stickers are just peel-and-stick. Further, nail stickers don't stain your nails as many varnish colors can, and they don't damage your nails the way that acrylic nails can (via Medium). They even protect your nails from breakage and other damaging outside forces.   
The best nail stickers for your needs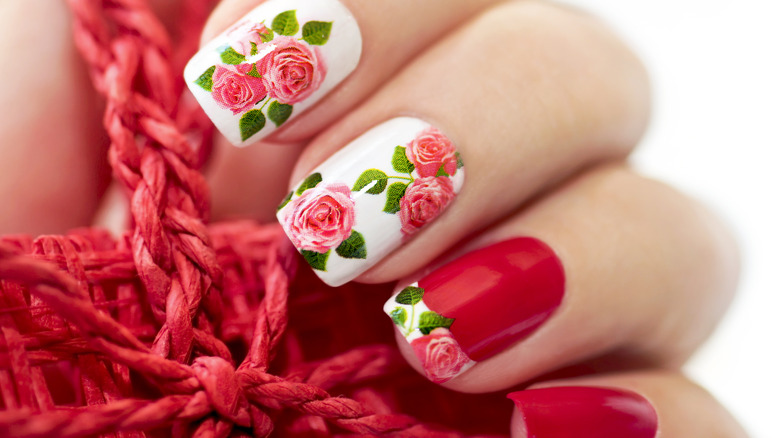 Shutterstock
Once you've decided to give nail stickers a try, then comes the hard part: choosing a brand and pattern! While you may have heard of Color Street, not everyone is comfortable buying from an MLM (multi-level marketing) business model, and even if you are, you might not have a distributer or seller in your community (via Wealth Pursuits). But not to worry! There are plenty of other great nail sticker brands to meet your nail color needs. 
According to Cosmopolitan, there are a few brands that take the cake, depending on what you're looking for. For Gel-like manicure results, the publication recommends Dashing Diva Gloss Ultra Shine Gel Palette.they are made with real gel polish and come with a prep pad and a file to help you get the perfect mani. If you're looking for floral prints, then Scratch Florista Nail Wraps might be for you! Cosmo recommends a thin base coat of clear polish before application for longest wear time. 
If you're more of a minimalist, consider Olive & June Nail Art Stickers, as they have tiny designs like little stars that will give your nails just a hint of glitz. If you're looking for something that's easier to remove than most nail stickers (which have to be carefully peeled off), then go for Sally Hansen Salon Effects Real Polish Strips, as they can be removed with just a few swipes of nail polish remover. For a pedicure, Try Dashing Diva Ultra Shine Gel Pedicure.