Why Dog The Bounty Hunter's Estranged Daughter Is Criticizing His Search For Brian Laundrie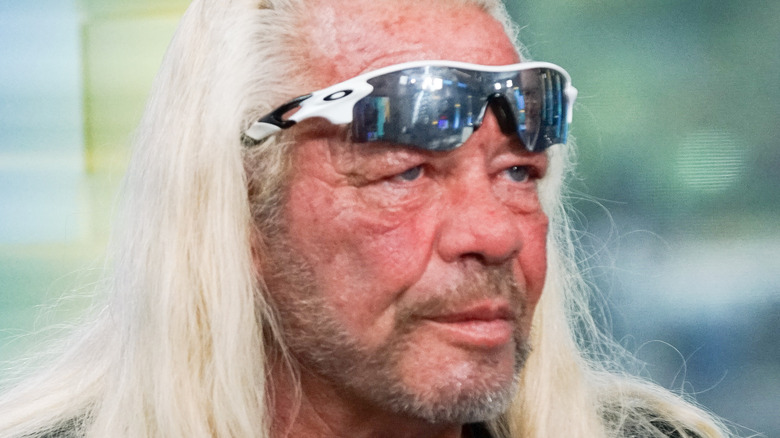 Bennett Raglin/Getty Images
Duane "Dog" Chapman, otherwise known as Dog the Bounty Hunter, had the world on the edge of its seat after he announced that he and his team would be joining the search for Brian Laundrie (via People), who has been described by social media users as "the most wanted man in America." On September 1, Laundrie returned to his parents' North Port, Florida home without girlfriend Gabby Petitio, with whom he set off on a cross-country road trip in Gabby's van earlier this summer (via CNN).
Laundrie and his parents, Christopher and Roberta, immediately lawyered up upon his early return and refused to speak to authorities or Petito's family. Petito was reported missing by her parents on September 11, and it was previously reported that Brian had gone to the Carlton Reserve near his parents' home on Tuesday, September 14; however, in a newly updated timeline (via Twitter), the Laundrie family's lawyer stated that Brian had driven his Mustang to the reserve on Monday, September 13. His parents then reported him "missing" on Friday, September 17, and Petito's remains were found just two days later in Teton County, Wyoming, where the couple had last camped.
The FBI has been searching for Brian ever since he disappeared, and although Chapman has vowed to find the 23-year-old fugitive, some people have been critical of his efforts, like his estranged daughter, Cecily.
Cecily Chapman has harsh words for Dog the Bounty Hunter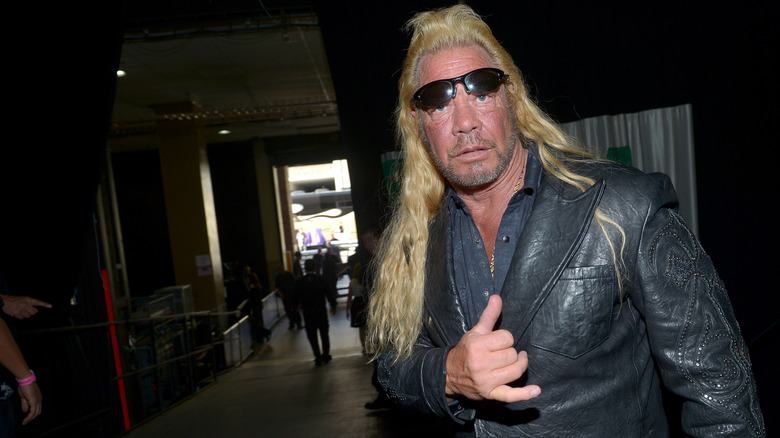 Charley Gallay/acma2013/Getty Images
Duane "Dog" Chapman's estranged daughter, Cecily Chapman, who recently had a falling out with Chapman after she accused him of being racist and homophobic (via People), had some harsh words for her dad in regards to him joining the nationwide search for Brian Laundrie. "He needs to back off and let the FBI handle it," Cecily told The Sun (via New York Post). "It's just a publicity stunt. That's really what it is."
Cecily also added that her estranged father, who adopted her after marrying her mom, Beth, is reportedly shopping a new reality show around to network. "A real network would be aware of the situation and I'm pretty sure everyone knows that this is a f****** publicity stunt," she said, adding that the recent footage of Dog wading around in swamp water looks "totally staged."
Cecily also slammed the "evidence" and "leads" that Dog has been openly discussing in the media — like the discovery of a Monster energy drink at a makeshift campsite in Fort De Soto, where the Laundrie family camped from September 6-8 (via Inside Edition) — and insisted that the FBI would "never" let Dog find Brian before they did. "The FBI is way too prideful for that," she stated.
Social media users are divided on Dog the Bounty Hunter's involvement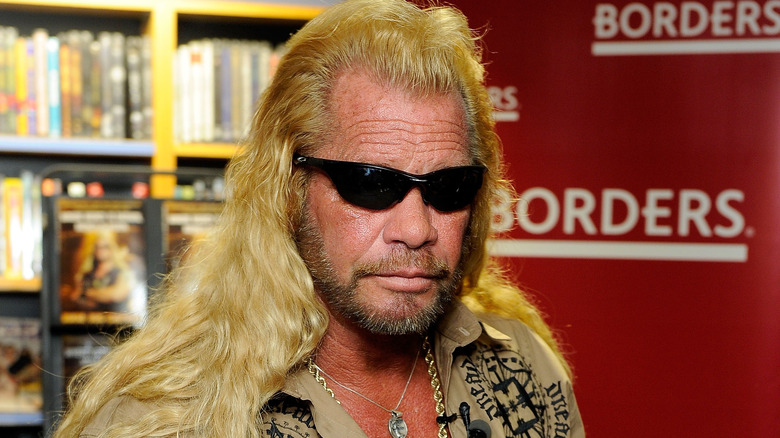 Jemal Countess/Getty Images
Social media users across the globe have been extremely divided on Dog the Bounty Hunter's involvement in the search for Brian Laundrie, with many people echoing Cecily Chapman's sentiments about her estranged father's "publicity stunt" and the leads he's made available to the public. "This dude isn't close otherwise he wouldn't announce it ... he is just putting this out here in the hopes that Laundrie buys it, panics, and comes out of hiding wherever he is and maybe messes up since they can't seem to figure out where he is at..." one Tweeted. Another wrote, "Doing it for another shot at another television show."
On the opposite end of the spectrum, many social media users are rooting for Dog to be the one to find Laundrie over the FBI, with one tweeting, "If Dog the Bounty Hunter finds Brian Laundrie before the FBI, I'm never paying taxes again,"  Another said, "The FBI will be investigating Dog the Bounty Hunter for successfully doing the job they can't do."
And although Dog is best known for his reality television series, "Dog the Bounty Hunter," he does have some credibility to his name — the 68-year-old reality star captured serial rapist and Max Factor cosmetics heir, Andrew Luster, in Mexico in 2003 during a worldwide manhunt for the fugitive after he fled the country during his rape trial (via The Hollywood Reporter).