How Dog The Bounty Hunter Is Taunting Brian Laundrie Amid Manhunt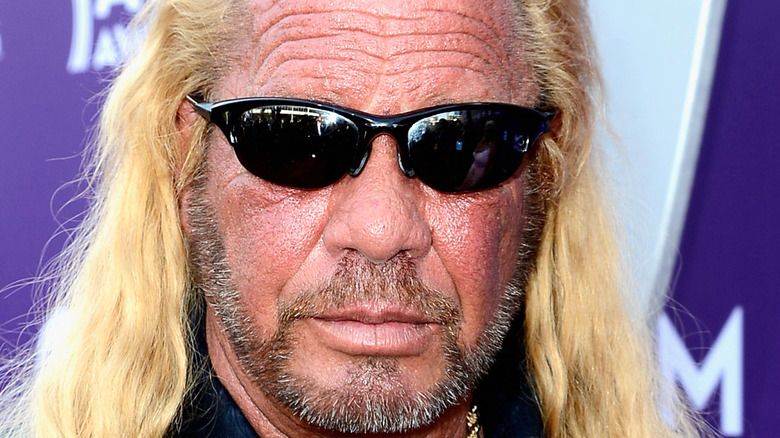 Frazer Harrison/acma2013/Getty Images
The murder case of Gabby Petito has taken the world and media by storm. She was reported missing in September while on a cross-country road trip with her boyfriend, Brian Laundrie (per ABC 7 New York). Sadly, her body was discovered soon after, and her death was declared a murder. Many people believe Laundrie is the person responsible for her death, and by his behavior, it seems clear he knows more than he's letting on.
Laundrie returned home from the road trip without Petito but was not considered a person of interest initially (via CNN). This gave him a chance to flee, and now he is considered a missing person. The FBI are involved, along with local authorities, and the manhunt is on. However, there hasn't been much uncovered. So, someone else decided to step in.
Duane "Dog the Bounty Hunter" Chapman has gotten involved in the case. According to the New York Post, he is hot on Laundrie's trail. While he's following leads and making discoveries, he is also taunting the suspect along the way.
He allegedly flew a banner over the area he is searching
While Dog the Bounty Hunter is working hard to locate Laundrie, he is also having some fun by taunting him along the way. According to Daily Mail, the reality TV star has flown a banner over the area Laundrie is expected to be hiding in. The banner reads, "Aloha, Brian Laundrie -Dog."
Aside from having fun with the banner, Dog has been putting in work by searching the water via boat and sticking a K9 unit in the area to help track his scent. He believes the area he is searching is the ideal hiding spot for someone on the run. "This would be and could be a perfect spot for him to hide, not too many people out here, but there's a lot of environmental things that we're gonna fight," he shared.
However, it turns out it may not have been Dog who flew that banner over the area. According to Newsweek, Dog and his camp have denied hiring the plane. If it wasn't Dog, who was it?