Inside Jimmy Kimmel's Relationship With Sarah Silverman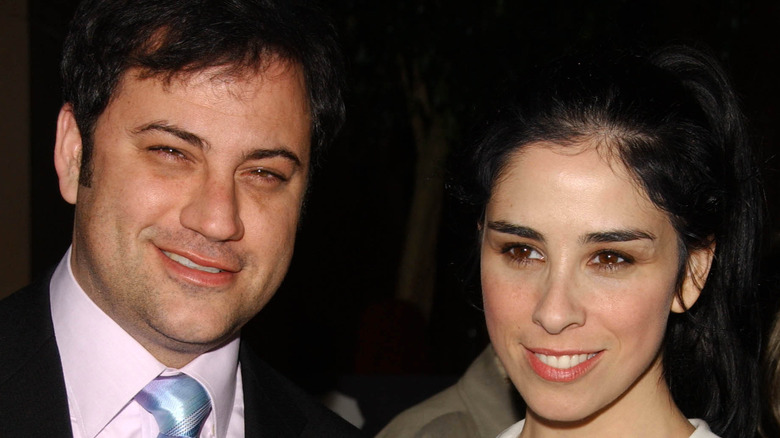 s_bukley/Shutterstock
Being friends with an ex isn't easy, but comedy veterans Jimmy Kimmel and Sarah Silverman do it with such effortless ease that it leaves fans scratching their heads. 
The former couple initially met at a party in 2001 and cultivated a deep friendship before eventually solidifying their status as a couple in 2003. The pair went on to date for five years before hitting a rocky patch and ultimately splitting. The two stars did reconcile briefly following the breakup but called it quits for good in 2009 (via ET). Kimmel went on to marry his current wife, Molly McNearney, in 2013 in an Ojai, CA ceremony and has since welcomed two children with the "Jimmy Kimmel Live!" writer (via Parade). 
Although Kimmel and Silverman haven't been a couple for over a decade, the pair maintains a friendship to this day. During an appearance on "Jimmy Kimmel Live," Silverman once joked, "It's not fair. She gets new woke Jimmy. I had Man Show Jimmy," making it clear that there's no bad blood between the two.
While Kimmel and Silverman might give you some serious friendship goals, it wasn't always easy for the former flames to be friends. Luckily, given their experience with comedy, the two are now able to joke with each other with a familiar comfort that might have you feeling like pulling out your phone to smooth things over with your ex.
Friendship didn't come easy for the former flames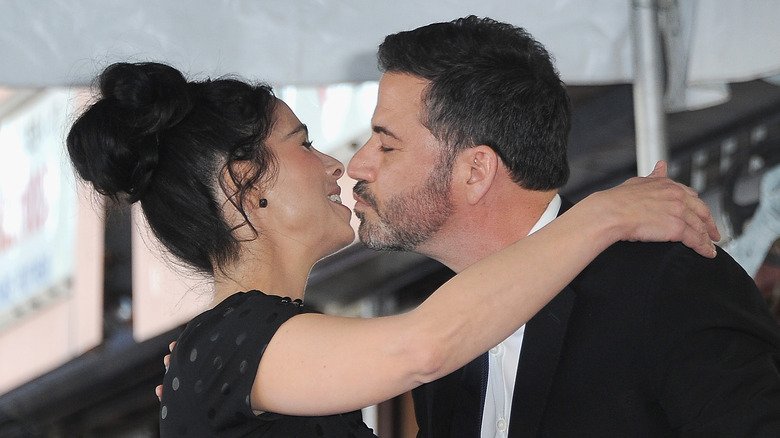 Albert L. Ortega/Getty Images
For Jimmy Kimmel, being friends with an ex didn't come naturally until his breakup with Sarah Silverman. However, the two had been friends for years prior to dating, so the groundwork for a friendship to form had already been laid (via ET). During an appearance on "Watch What Happens Live With Andy Cohen, Kimmel said, "I would say that it took some time definitely. It definitely took some time. It was never where we didn't like each other, hated each other, but it definitely took some time to be comfortable enough to be friends again" (via Youtube). 
The "Jimmy Kimmel Live!" host credits the now-thriving friendship to both his own and Silverman's maturity, saying in an interview with GQ, "Sarah [Silverman] and I, we're like brothers." He goes on to explain, "She has a very good relationship with pretty much all of the guys she's dated. She is very mature about it. And I'm nothing if not mature, as you've probably gathered from this interview."
Since the pair became friends again, Silverman has continuously made appearances on Kimmel's show. She cracks jokes and makes it clear that there's nothing taboo about their past relationship. Both Kimmel and Silverman insist that there is no bad blood and that nothing happened to cause tension (via The Things). They decided that they were better off as friends, and, after some time passed, they've proved to the world that they were right.