The Health Scare That Has Kept Princess Charlene Of Monaco Away From Her Husband And Kids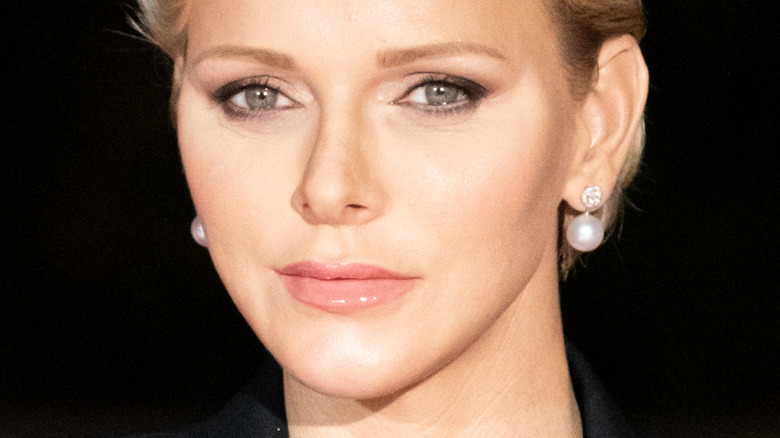 Frederic Legrand - COMEO/Shutterstock
There has been much speculation over Princess Charlene being away from her home in Monaco since May. According to Express, the Princess went to her home country of South Africa to promote her philanthropic cause of saving rhinos from being poached. The royal was supposed to be in South Africa for two weeks, but she contracted a severe ear, nose, and throat infection and complications that have prevented her from returning home.
The 43-year-old Princess is said to have had several medical procedures while in South Africa and previously told News24 that it has been a "trying" time for her, as it has for her husband, Prince Albert, and their 6-year-old twins, Prince Jacques and Princess Gabriella. The palace released a statement to People in September regarding another setback for the princess, explaining, "On the night of September 1, Her Serene Highness Princess Charlene of Monaco was taken to hospital after becoming ill due to complications from a serious ENT infection."
People reported on Sept. 3 that Charlene had a "medical emergency" but was released in "stable" condition.
Princess Charlene is expected to return home soon
The Princess of Monaco has been in South Africa for months now, as medical professionals have been treating an infection that she developed after having sinus surgery and bone grafting ahead of receiving dental implants (via Express). After her setback in September, per Express, a statement from the palace revealed that Princess Charlene's condition is being monitored and is "reassuring."
People reported on Oct. 6 that in an interview with RMC Radio, Prince Albert shared that his wife "is still in South Africa, but will be back very soon, we have to talk to the doctors in a few days." The prince went on to say that many "problems affected her" but that "she is better." The 63-year-old prince shared that Princess Charlene is eagerly awaiting her return to her Monaco home, telling People in September, "She's jokingly said that she's ready to stowaway on a ship to come back to Europe."
In her first Instagram post since her hospital stay, simply captioned "God Bless," along with a black heart emoji, the princess is smiling and appears to be on the road to recovery.