Billie Lourd Reveals The Heartbreaking Parenting Lesson She Learned From Mom Carrie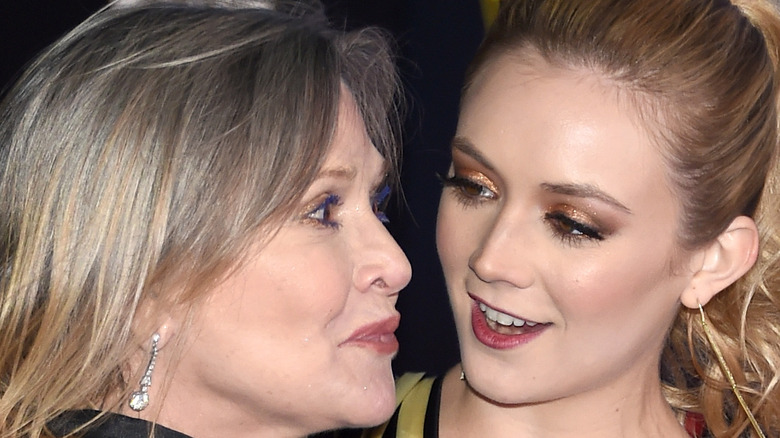 Ethan Miller/Getty Images
Four years after the death of her mom Carrie Fisher, Billie Lourd welcomed her first child into the world. Paying tribute to her mom with his name, Lourd and her fiancé, Austen Rydell, named their son Kingston Fisher Lord Rydell (via Cosmopolitan).
The couple kept Lourd's pregnancy under wraps for quite some time, but since the birth of Kingston the actress has been sharing snippets of her mom life on social media, including an adorable snap on Instagram of her son in a Princess Leia knit hat watching his grandmother in "Star Wars."
Lourd opened up even more about her experience as a mother on a recent episode of the podcast "New Day" with host Claire Bidwell Smith (via People). Here she touched upon how it feels to finally fulfill a life goal of being a parent, as well as what her mom taught her not to do when parenting her own son.
Billie Lourd was her mom's ;everything' growing up, and felt pressured to make 'sure she was okay'
Billie Lourd explained on "New Day" (via People) that when her mom was alive, she felt pressured to take care of her. Carrie Fisher was diagnosed with bipolar disorder when she was 24 and was known for openly talking about her condition (via Delphis). As noted by the Los Angeles Times, she was also open about alcoholism and substance abuse. "Drugs made me feel more normal," Fisher told Psychology Today in 2001. "They contained me."
As Lourd revealed on the podcast, her "main job" was looking out for her mom and "making sure she was okay," which is a lot of pressure for a kid. "That's why I grew up really fast because I was her best friend," she added. "I was her mother, I was her kid, I was her everything. And that's one of the things I'm learning not to do with my kid."
The actress acknowledges that her mom gave her a fountain of positive knowledge, but the negatives "might be more valuable" to her as a mother. "There's a lot of things that my mom taught me to do and there's a lot ... of what not to do," she said. "And that's one of the things that I will not do to my son is put this pressure on him that I had on me."
If you, or anyone you know, is struggling with addiction issues, help is available. Visit the Substance Abuse and Mental Health Services Administration (SAMHSA) website or contact SAMHSA's National Helpline at 1-800-662-HELP (4357).