Mariska Hargitay's Best And Worst Haircuts In SVU History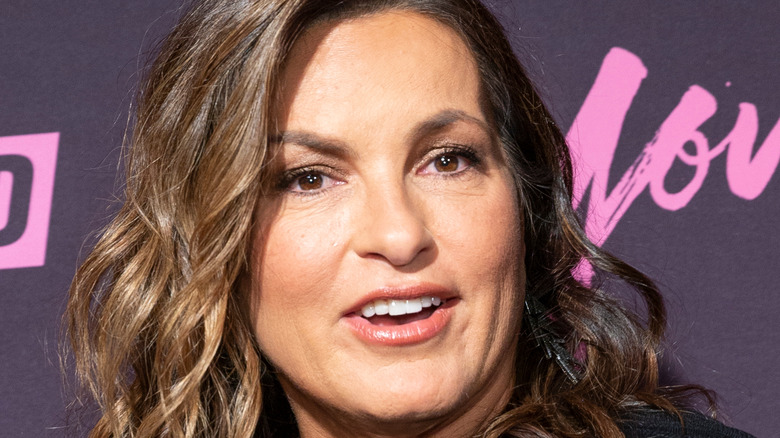 lev radin/Shutterstock
"Law & Order: SVU" premiered in 1999 and has been a TV staple in many of our lives ever since. Over the show's 23 seasons, many characters have come and gone — most notably, Elliot Stabler, who peaced out without so much as a goodbye 10 years ago (not cool) only to reappear as a recurring guest star in Season 22.
But there has been one constant. We are, of course, referring to Mariska Hargitay's character, Olivia Benson, who, throughout the series, has risen in the ranks from detective to sergeant to lieutenant to captain. She's also become a pop culture icon thanks to her character's strength, independence, integrity, and compassion toward victims.
In fact, a 2015 survey conducted by marketing agency Trailer Park, in partnership with research consultancy QC Strategy, found that 20% of respondents named Olivia as their favorite female television character, per The Washington Post. We love her for all the aforementioned reasons, and it's rare that a TV show has such longevity that you get to see a character grow and evolve as much as her.
A different evolution is also worth discussing: Over 23 seasons, Olivia has sported a number of different haircuts and styles. And, although we're convinced it's impossible to make Hargitay look anything less than stunning, we will admit that some of these haircuts were better than others. 
Here's a ranking of Olivia Benson's "SVU" haircuts, from best to worst.
Overall Best: Season 22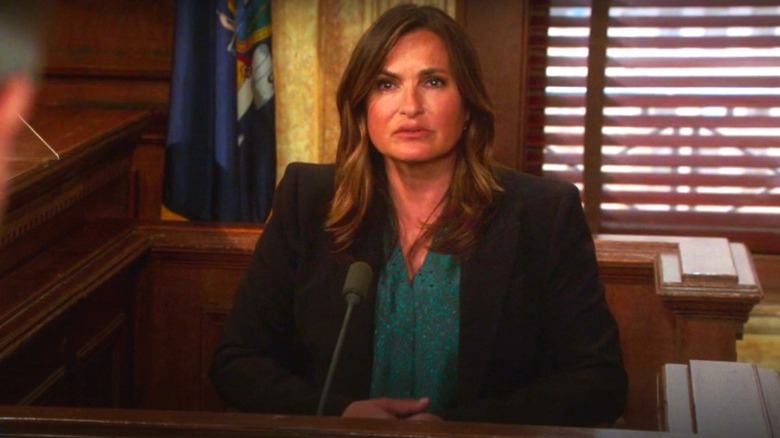 NBC
We're partial to when Olivia Benson lets down her gorgeous waves, and her Season 22 hairstyle and overall look just prove that this woman ages like a fine wine. (Seriously, how does Mariska Hargitay somehow manage to look even more amazing than she did when "SVU" premiered over two decades ago?) Throughout the season, she wears her hair mid-length, with a side part, layers, and loose waves. 
Due to a break in shooting because of COVID-19, Season 22 only consists of 16 episodes, but it still packs a punch as it doesn't shy away from timely real-life issues like police corruption. Ever our heroine in shining armor, Olivia, is determined to change the department from within while others either jump ship due to the depressing uphill battle of fighting for victims or they switch sides in favor of defending powerful, wealthy perpetrators.
And, of course, Elliot Stabler (played by Christopher Meloni) returns mid-season, marking the first time that Olivia has seen her former partner since he put in his papers and left without saying goodbye 10 years ago. Olivia is shocked when she first sees Elliot, and he's rightfully apologetic for the way he left. He doesn't say it out loud, but we're guessing he also noticed that Olivia and her hair look better than ever.
Second Best: Season 14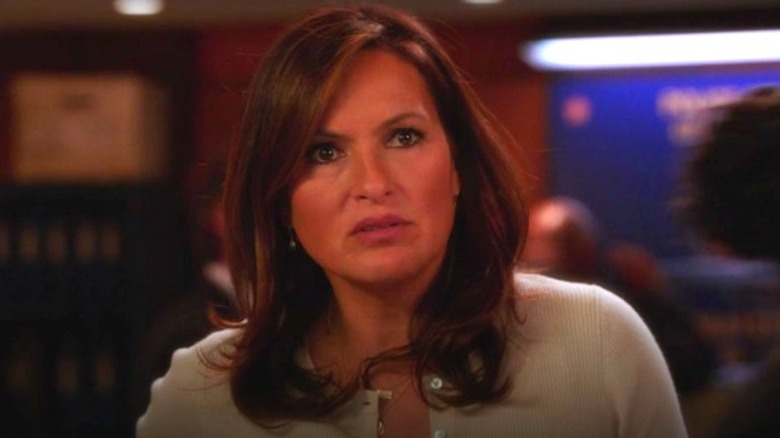 NBC
OK, seriously, can we talk about these perfectly tousled waves? They look so effortless and a bit less styled than in Season 22. Olivia Benson wears her hair down for most of Season 14, although she also pulls off a messy bun to perfection a number of times.
Olivia is still a detective in Season 14, partnered with Nick Amaro. This season focuses mainly on the cases themselves — many of which were ripped from real-life headlines — and less on Olivia's personal life than previous seasons. Of course, her life changes dramatically in the following season when she's named Noah's court-appointed legal guardian, eventually adopting him and becoming a mom (via Distractify).
Although Season 14 isn't really a standout for "SVU" as a show, it certainly is memorable when it comes to Olivia's best hairstyles. This wavy look with a side part really flatters her face shape.
Third Best: Season 16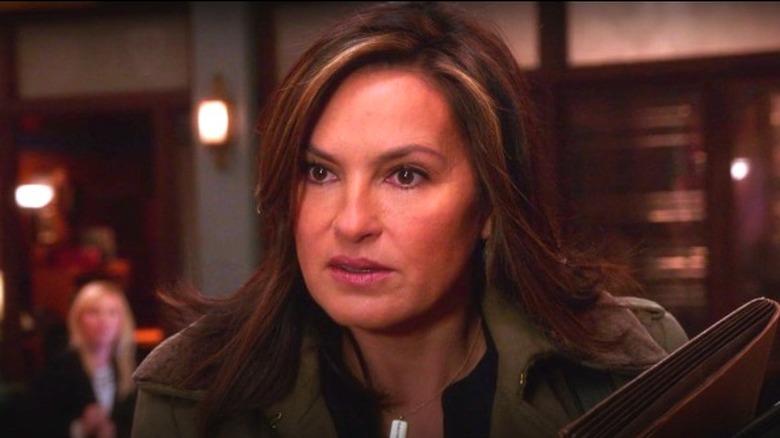 NBC
Season 16 is a pretty significant one for Olivia Benson. After Captain Cragen's retirement in Season 15, she was promoted to sergeant, and this marks her first full season in her new position.
Olivia's haircut this season is ideal for jumping into her new role. It remains shoulder length, but it's a sleeker, straighter style (which looks like the product of a good blowout) that is simultaneously stylish and professional while saying, "Don't mess with me."
She is basically the epitome of a badass single mom in Season 16. Viewers see her navigate her new position while also dealing with the realities of single motherhood, like when her son, Noah, is hospitalized after being exposed to measles. As the season comes to a close, Olivia is in the final stages of completing Noah's adoption when the discovery of his biological father's identity puts the process in jeopardy.
Olivia also continues to crush it at her job, and, by the beginning of Season 17, she is once again promoted, to lieutenant. It's a hectic season for her, but Olivia's perfect hairdo never suffers.
Fourth Best: Season 7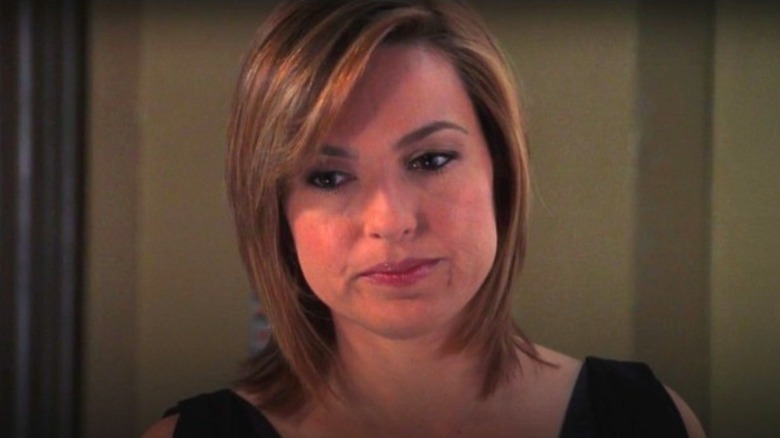 NBC
Let's take a major step back in time to Season 7, which aired from 2005 through 2006. Olivia Benson works the long bob with a side bang like no other (we'd expect nothing less). This hairstyle is sleeker, more polished, and more formal than some of her others and pretty much proves that she can pull off anything — long hair or a bob, bangs or no bangs, waves or straight. You get the idea.
Season 7 contains one of the most memorable, unique episodes of "SVU." Olivia is leaving for a rare night out when she gets a 911 call from a little girl who says she's been trapped in a locked room by an abductor and can provide very little information about where she actually is. Some officers write it off as a prank, but Olivia's instincts are correct (per usual), and she is able to outsmart the tech-savvy perpetrator and finally reach the child to save her life.
Overall Worst: Season 3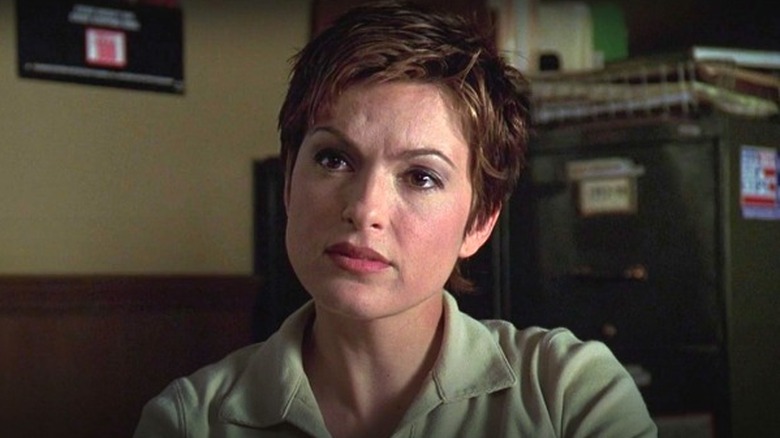 NBC
As much as it pains us to say it, even Olivia Benson gets it wrong sometimes — well, when it comes to her hairstyle, at least. Mariska Hargitay successfully pulled off short hair in other seasons, but this pixie cut is just really unflattering, and, if the actress can't pull it off, no one can.
Hargitay actually shared the story behind this unfortunate crop, and anyone who has ever had a major "uh-oh" moment during or after a haircut (which, let's be honest, includes most of us) will be able to relate.
"You know that moment. I look up and [my breath caught]. My hair was so cute and then all of a sudden, he did the one irrevocable cut. I went, 'Oh! Oh!' and he said, 'What? Honey, you're gorgeous.' He kept going. He cuts it and then he leaves," Hargitay recounted (via HuffPost). "I'm calling the producer at 10:30, [crying], 'I just got a haircut. I don't think it looks good!' I went over to the producer's house and he was like, 'Yeah, that's a problem.' When they saw dailies [at work], they weren't happy."
Hargitay added that showrunner Dick Wolf told her, "I've fired people for less," when he got a look at the haircut, which she got while she was in the middle of filming the season. "I said, 'You can't be mad at me; I'm the one with the dramatic hairdo,'" Hargitay joked (via HuffPost).