Justin And Hailey Bieber Are The Ultimate Matching Couple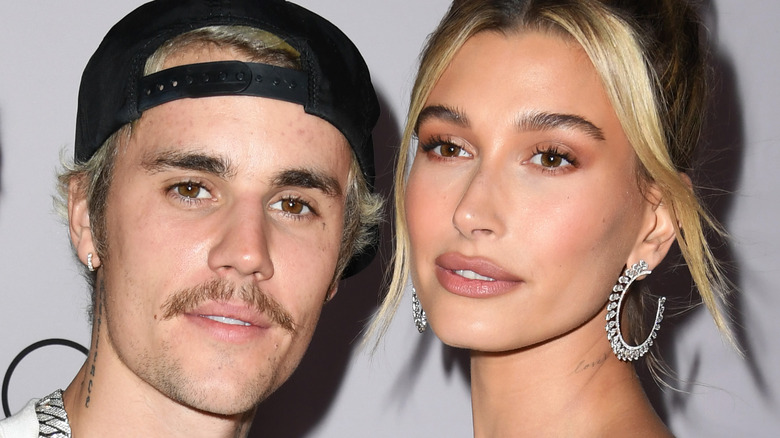 Jon Kopaloff/Getty Images
Pulling off a matching couple outfit is no easy feat. Throw in two celebrities with bold personalities and styles, and you have an even trickier time making the outfits work together. Justin and Hailey Bieber are one celebrity power couple that get it right just about every time. As Vogue pointed out in 2018, the couple nails everything from red carpet looks and date night ensembles to street style. Get ready for some inspiration, because this couple is serving a whole lot of it.
If you thought Justin and Hailey Bieber's personal style on their own was good, just wait until you see them together. The married couple — they tied the knot twice, once privately in 2018 in a New York City courthouse, and more publicly (and lavishly) a year later in South Carolina — always looks incredible every single time. From their iconic streetwear to their dazzling red carpet looks, the two have a way of balancing each other's style while not outshining each other. It's an art, really.
Justin and Hailey Bieber have a knack for sticking to the same shade range when they style their outfits. One goes monochrome, so does the other. One decides to wear pastels, so does the other. Their style is a match made in heaven. According to L'Officiel, their stylist, Maeve Reilly, is partially to thank for that.
The power couple pieces together prints perfectly
L'Officiel notes that Reilly is in charge of all of Hailey's outfits, but doesn't mention if she's the stylist behind Justin's looks as well. Either way, these two sure know how to kill the couple matching looks when it comes to hues. They constantly find a way to look incredible on their own and then even better when they stand side-by-side.
It's not just the color scheme that this couple get right with their matching styles though. The Biebers have a knack for prints as well. While the two don't always match perfectly, they are almost always giving off the same vibes. As GQ puts it, these two have "cool-kid style." They mix and match prints in their own outfits just as well as they do each other, and each outfit is cooler than the next.
The vibe that these two give off is most definitely cool. Even the loud patterns that they wear are somehow tamed down when they stand next to each other. The couple is extremely talented at putting together outfits, whether they pay someone to help them or not. Justin is continually sticking to his laid-back look (via GQ) while Hailey sticks to her off-model style (via Elle). Yet when these two stand next to each other, they both look equally incredible. 
Justin and Hailey Bieber love to mix-and-match accessories
The two don't just nail their clothing. The Biebers are just as artful at nailing their accessories. The two never exactly match their hats, jewelry or shoes, but the vibe is always there. It's like they sit down and talk about which aesthetic that they'll go for that day over morning coffee. They just really know each other and are in sync.
While their mix-and-match game is on-point, they also love a good unisex look, too. According to Hailey's Instagram, the two often wear the same items from Justin's clothing collection, Drew House. (Let's not even go over who wore it better, because it could be debated all day long.)
No matter what their plan of sartorial attack is, one thing is for sure: they nail their couple outfits every single time. Here's to many years of happiness for the pair, and, accordingly, a whole lot more style inspiration for the rest of us.