Kristen Stewart Reveals Her Only Regret About Her Portrayal Of Princess Diana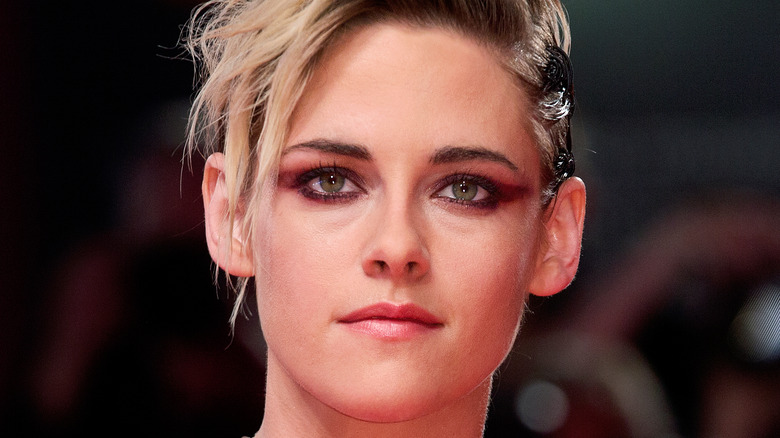 Andrea Raffin/Shutterstock
Portraying a real person on screen comes with a unique pressure. When you're playing one of the most recognizable people in modern times, that pressure must amplify. That's exactly the situation of Kristen Stewart in her latest role in "Spencer," in which she will play the Princess of Wales.
Town and Country writes that Stewart's latest role sees her portray some of the key moments in Princess Diana's life. From Diana's charity work, to marriage, and motherhood, Stewart will explore the many facets of "The People's Princess." She told InStyle in 2020, before shooting started, "I haven't been this excited about playing a part, by the way, in so long."
However, she noted that playing one of the most famous women in history comes with a certain responsibility. "The accent is intimidating as all hell because people know that voice, and it's so, so distinct and particular," she said. "I'm working on it now and already have my dialect coach."
Stewart debuted the film in October at the BFI film festival ahead of its release in November. Stewart told Sky News, "I'm obsessed with her — I love her so much. We came to this with a lot of curiosity, and they've [William and Harry] endured that curiosity worldwide their whole lives, and so I'm sure that they're used to it, but it's not their favorite thing. But having said that, it is sort of their job and I can relate to that."
Kristen Stewart's one regret
Kristen Stewart has been candid in interviews on the run-up to the premiere of "Spencer" about the challenges of playing Lady Diana. She revealed to the Daily Mail that one of the most important things for her was the part feeling "authentic." Stewart said, "I'm not a mum yet ... It's the one part of playing her that I felt disloyal about." During the interview, Stewart also said she felt that playing Lady Diana was a rare opportunity.
"She just really did have this overriding, disarming, beautiful energy. The decisions Diana was grappling with were 'earth-shattering'. And yet 'inhabiting her made me feel taller, and made me feel I could dance. I felt her power in a f***ing beautiful way," she said.
This isn't the first time that Stewart has spoken about her ambition to get the role totally right. While speaking to Sky, the "Twilight" actor explained how she drew on her own experience in the public eye to try to understand elements of Princess Diana's life.
"It's difficult to compare because ... she was a figurehead ... Her job was to kind of uphold that ideal. I'm allowed to make mistakes and choices, and therefore the pictures feel invasive, sure, but just less ... I feel very lucky to not have a crushing responsibility to be a certain way," she said. "I'm not a queen, I'm not a princess — it must have been heavy, and it's like the fact that they're able to make that choice."