The Top 10 Foundations With SPF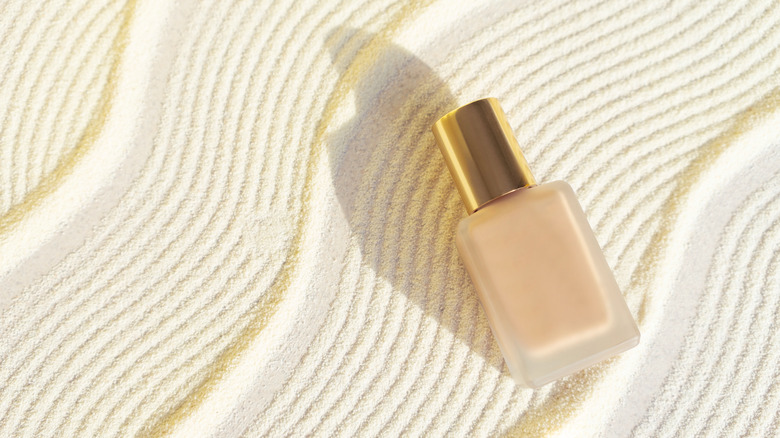 KaterynaTkachenko/Shutterstock
No matter the season, it's always important to layer on plenty of sunscreen. Even with the cooler temperatures and shorter days, autumn is no exception to this rule. And this is why you might want to shop for a foundation with SPF in it when you go fall makeup shopping. While putting a foundation with SPF does not provide enough sun protection on its own for your face, using it on top of your sunscreen can prove to be extra beneficial (via Paula's Choice).
If you're someone who enjoys the effortless application that high-end foundation formulas provide, there are several that contain SPF. Guerlain L'Essentiel Fond De Teint Haute Perfection with SPF 20 ($60) is a long-lasting foundation that offers a natural matte finish and full coverage, per Who What Wear. The formula consists of 96% natural ingredients, feels like skin, and blurs pores (via L'Officiel). Shiseido Synchro Skin Radiant Lifting Foundation ($47) is a dewy foundation that looks natural and offers SPF 30, per Who What Wear. The formula lifts and smoothens texture while filling in fine lines. It also has a brightening effect, thanks to its light-diffusing properties (via L'Officiel).
But if you're looking for options that will be easier on your wallet, keep reading for eight other foundations with SPF that will give you a flawless face and sun protection.
Tried and tested SPF foundations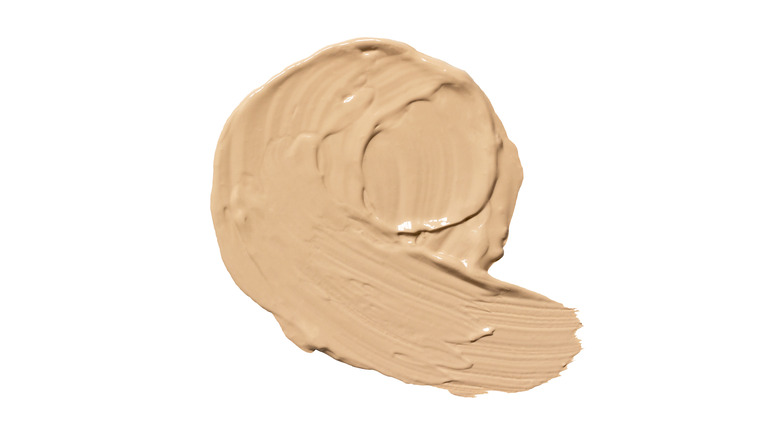 Olha Kozachenko/Shutterstock
Estee Lauder Futurist Hydra Rescue Moisturizing Foundation with SPF 45 ($45) is a medium-coverage, hydrating formula that contains chia seed extract, probiotics, and ion-charged water (per Women's Health). Conversely, if you're looking for a powder foundation with SPF, PUR Cosmetics 4-in-1 Pressed Mineral Makeup ($29.50) is a great option (via Byrdie). The foundation has a mineral-based sunscreen made with titanium dioxide that is friendly to those with sensitive skin. Because it has buildable coverage, you can use it on its own or to set a liquid foundation.
Lancome Regenerie Lift Makeup Foundation ($52) is an SPF foundation that will plump your skin and won't settle into fine lines. This "face-lift in a bottle" comes with SPF 27, allows your skin to breathe, and creates a crease-free look. The Ilia Super Serum Skin Tint ($48) comes with mineral-based SPF 40 and skincare ingredients like squalane, niacinamide, and hyaluronic acid. For those looking to try out the dewy, sheer-coverage serum foundation trend, this is a popular choice.
Another dewy skin tint option that contains SPF and is silicone-free is the Milk Makeup Sunshine Skin Tint with SPF 30 ($42), per Women's Health. What sets this foundation apart is its click-pen design which makes application easier. If you want a full-coverage foundation with similar skincare benefits, you should check out It Cosmetics Bye Bye Foundation with SPF 50+ ($39.50). The skin-loving formula also neutralizes redness and reduces the appearance of texture and wrinkles.
Budget-friendly foundations with SPF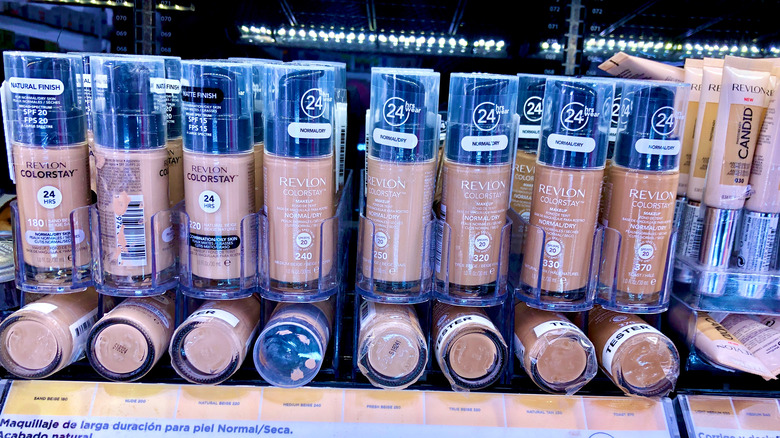 JonathonHall/Shutterstock
If you're on a budget, there are plenty of affordable foundation options that have SPF. Byrdie recommends Revlon ColorStay Makeup and L'Oreal Fresh Wear Foundation. The Revlon ColorStay foundation has been a staple among women's makeup bags, long before YouTube even existed. 
The formula lasts all day and gives a soft matte finish. The foundation comes in a diverse shade range and is even recommended for its buildable coverage by professional makeup artists like Nick Stenson (per Byrdie). There are two different versions of the foundation: a combo-to-oily skin version with SPF 15 ($14.49) and a normal-to-dry skin version with SPF 20 ($14.49).
The L'Oreal Infallible Fresh Wear Foundation ($14.99) comes with SPF 25 and is also highly recommended by Stenson. The formulation is waterproof, as well as transfer- and sweat-resistant, while allowing the skin to breathe. It's a buildable medium-to-full coverage foundation and doesn't oxidize as the day goes on. So the next time you want to take selfies on a scenic hike, you don't have to sweat about looking good and protecting yourself from UV rays.