The Accident That Nearly Cost Jimmy Fallon A Finger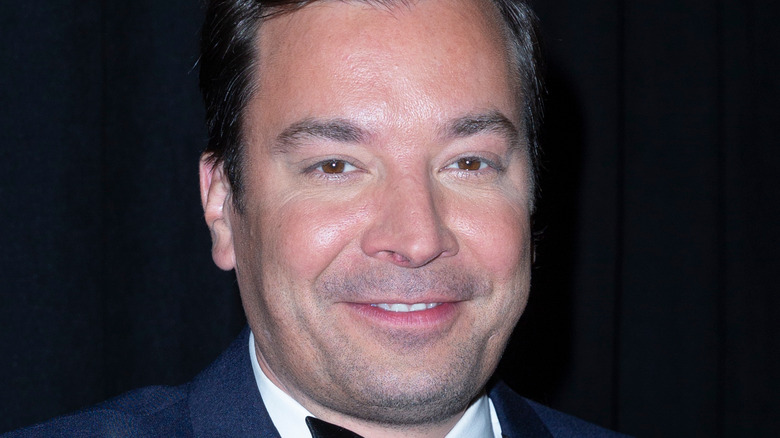 lev radin/Shutterstock
On June 16, 2015, Jimmy Fallon had to suddenly cancel a taping of "The Tonight Show" after being hospitalized for a hand injury (via Entertainment Tonight). In an official tweet from the show (via Twitter), it was stressed that Fallon was "totally fine" and that a repeat episode would be aired in the usual slot.
Two weeks later, Fallon returned to his show with a rather large splint on his wedding finger. Following his absence (and the injury being pretty hard to miss), Fallon explained to the audience and viewers at home exactly what happened — and it wasn't pretty.
Basically, the comedian explained that he fell after tripping on a braided rug in his kitchen (via YouTube), something that he "can't wait to burn to the ground," and caught his finger on the way down. "I'm getting up, and my finger is sideways," Fallon explained, adding that the injury looked like a fake prop from a cheap horror movie.
So he went to the emergency room, thinking he'd only broken it, but the doctors quickly informed him that he had a ring avulsion — something Fallon warns not to Google (trust us, he's right about that). This is way more serious than a break, and nearly cost Fallon his entire finger.
Jimmy Fallon underwent a six-hour surgery to save his finger
Essentially, when Fallon fell, his finger hit the countertop (via YouTube). As this happened, his wedding ring got caught and pulled his finger out of the socket, which is why it ended up looking sideways. Fallon hadn't really looked at the injury when it happened, so was pretty shocked to find out that he'd have to go under microsurgery to fix it.
"Apparently the odds aren't great with these things," Fallon said, explaining that "usually they just cut your finger off." This is due to the severe trauma related to the injury, especially if you have a Class II or Class III ring avulsion, according to Healthline. This is when the blood supply isn't circulating through the affected finger, and in the worst circumstance it's been "stripped of tissue to the bone or cut off."
Thankfully, doctors were able to save Fallon's finger after six hours of surgery, which involved taking a vein out of his foot to replace the damaged vein in his finger. After spending 10 days in the ICU (via Entertainment Tonight) and having no feeling in his finger for eight weeks, Fallon went on to have a full recovery.
That is, until he injured his other hand in October that year after falling again with a bottle of Jägermeister in his hand and landing in broken glass (also via YouTube). Thankfully it wasn't as serious as the first time.