Could Prince Harry And Meghan Markle Be Heading To England Soon?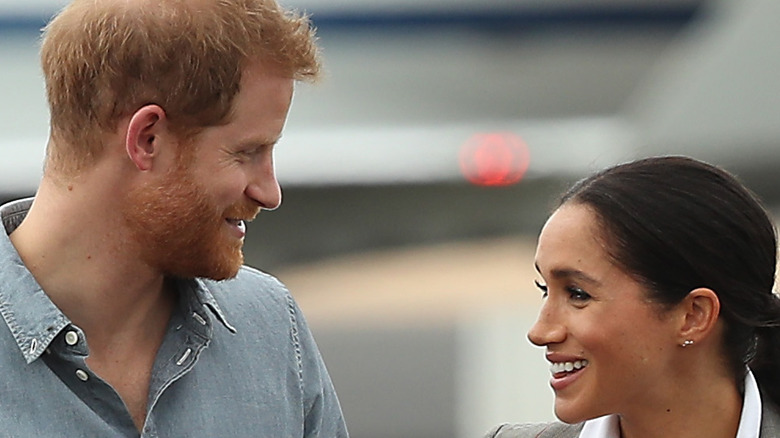 Cameron Spencer/Getty Images
Since Prince Harry and Meghan Markle's exit from the royal family in early 2020, fans have been waiting for the moment when the couple would return to the U.K. Harry returned home on two occasions in 2021: In April he came back for the funeral of his grandfather, Prince Philip. He returned a few months later in July for the dedication of a statue in honor of his mother, Princess Diana.
However, on both occasions, Meghan stayed behind in the United States. Last month, royal expert Robert Jobson admitted that Meghan may choose to never return to the U.K. following her departure from the royal lifestyle. "I'm not sure Meghan will ever come to Britain again. She's not popular [right] now," Jobson said (via Us Weekly).
"We have to wait and see ... Harry, I'm sure he thinks he'll be there for the [Platinum Jubilee]," Jobson said, adding that some people may see Meghan "doting on the queen" as "hypocritical" after she's publicly bashed the palace. "But you've got to remember that within months, [Harry's] going to have a book coming out ... It's gonna be quite awkward," he said. Jobson also added that the Sussexes could steal Queen Elizabeth's attention during her big celebration. "The focus should not be on whether Megan's happy or not, or whether Harry is looking the wrong way from his brother ... The queen deserves more than that," he said.
Meanwhile, rumors are now flying that Meghan and Harry could return to the U.K. very soon.
Are the Sussexes returning to the UK?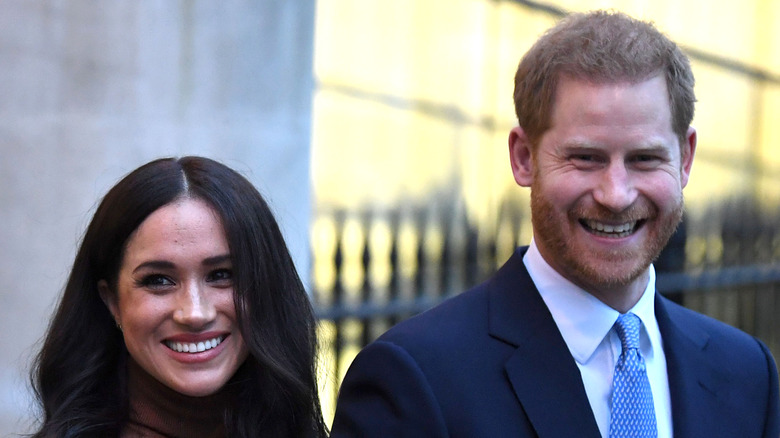 Wpa Pool/Getty Images
The Sun reports that there is a party planned later this month to celebrate Princess Diana's new statue. The statue was officially unveiled in July on what would have been the beloved royal's 60th birthday. The party will allow those close to Diana to come to Kensington Palace and admire the statue, since the unveiling was a small, intimate affair. The event will reportedly include around 100 guests, including celebrities such as Sir Elton John, who was a close friend of Diana.
It remains to be seen if Harry will return to the U.K. for the event. However, sources are telling the publication that the Duke and Duchess of Sussex are considering the idea of making a surprise appearance at the festivities. In addition, they may also bring with them Archie and Lilibet, their two children, so that the youngsters can spend some time with their family members. "No one knows what Harry's decision is but there are rumblings that he may come with Meghan and their two children," the insider said.
Royal expert Ingrid Seward says that it's not out of the question for Meghan and Harry to show up for the event. "It is an important gathering of his mother's friends. He could even get a few quotes for his memoir. I am sure Meghan would want to be there for Diana and Harry," she said.
Only time will tell if the Sussexes will make an appearance at the party. If they do, it will definitely be front-page news.