What We Know About Meghan King And Cuffe Owens' Wedding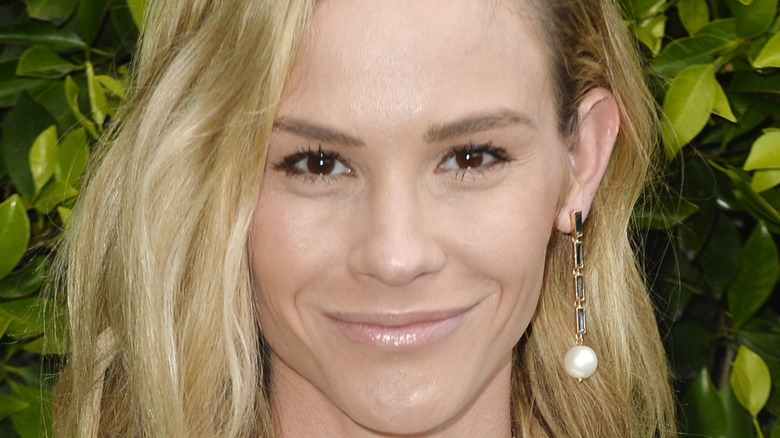 Jerod Harris/Getty Images
President Joe Biden's family members seem to live under the radar much more than the former president's relatives did. While the Trump family played a major role in the media circus surrounding the White House, President Biden's family only find themselves as a media topic on occasions. That is unless the Trump family are the ones leading the witch hunt, as they did with the attempt to take down Hunter Biden, the son of the president, during the election season (via Vox).
This time, though, the Biden family is in the news for a different reason. The president's nephew, Cuffe Owens, recently tied the knot (via Page Six). President Biden and the first lady stepped away from the White House to attend. The White House released a statement to the New York Post that read,"[Biden's] nephew Cuffe Owens is marrying Meghan O'Toole King."
If the name Meghan King sounds familiar, it's likely from her appearance on "The Real Housewives of Orange County." She was previously married to Jim Edmonds, a former Major League Baseball player (via Today).
What we know about the intimate wedding
The President and first lady attended the wedding, which was described as a "small, family wedding" at the home of the groom's family (via People). The host of the wedding was the president's younger sister, Valarie Biden, who is a close advisor to the White House.
If you keep tabs on King because of her run on "The Real Housewives," you're likely surprised to hear she tied the knot to a relative of the president. According to Us Weekly, the couple had only been "Instagram official" for a month before walking down the aisle. The caption of the post read, "Trying my best to avoid any cheesy introductions like 'my main squeeze'... so just meet my man."
King had been romantically linked to a few men this year, but her engagement news came after word came out that her retired baseball-playing ex was engaged to his girlfriend. Their divorce was finalized in May (via Us Weekly). 
When asked about the single life, King had said she was ready to settle down. "I want to spend my life with a partner," she told Us Weekly in May. "I'm a loyal, monogamous individual. I've been having a lot of fun dating, but I'm really hoping to settle down and find that partner." It looks like her quest was successful, marrying the president's nephew in a quiet and small ceremony.