When You Donate At Spirit Halloween, Here's Where Your Money Really Goes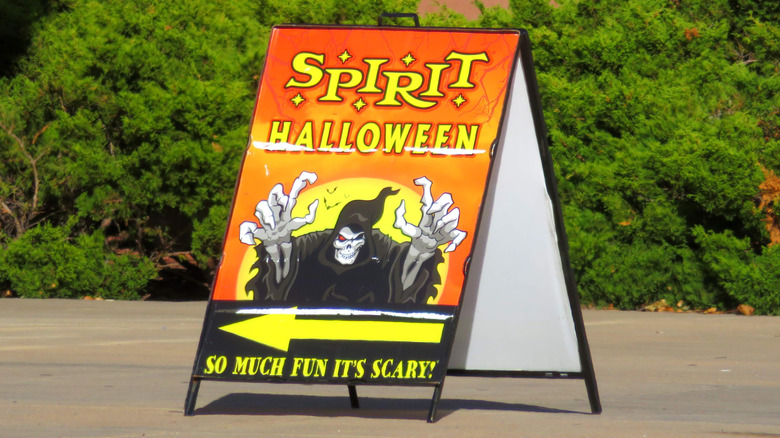 Retail Photographer/Shutterstock
For some, the Halloween season truly kicks off when Spirit Halloween opens up its stores. Calling itself the "World's #1 Halloween Costume Store," there are more than 1,400 locations across the United States, helping to make up the $10.14 billion that the National Retail Federation says consumers spend on Halloween items (via Spirit Halloween).
At Spirit Halloween, there are rows upon rows of costumes with tons of options for accessories. There are also numerous decorations, including those centered around popular and seasonal TV shows and movies. And then there are the animatronics that make visiting this place like a trip to a haunted house.
You're probably familiar with the types of products that can be purchased, but did you know that shopping here can help support a charitable cause as well? It's one that, according to the store's website, puts the "fun" in "funding" and makes a real difference in children's lives.
Spirit of Children raises funds and throws Halloween parties for hospitals
When you shop at Spirit Halloween, you have the option of donating to Spirit of Children, which has a mission of making hospitals less scary for kids and their families. Throughout the year, this foundation helps provide funding for art, music, therapy programs, educational items, and more, and since 2007, more than $77 million has been raised (via Spirit Halloween).
Additionally, Halloween celebrations are put on by this foundation, complete with all of the costumes, accessories, decorations, and volunteers. The events support the Child Life departments at the 147 hospitals that are partnered with Spirit Halloween. Despite the pandemic last year, Spirit of Children Halloween Care Packages were sent to the partner hospitals, allowing Child Life Specialists to safely deliver costumes, activities, and treats to individual rooms, per the foundation's website. 
So the next time you're stocking up on Halloween goodies, consider donating to this cause. You'll even get to ring a purple cowbell afterward, which further celebrates the Spirit of Children.