Subtle Halloween Nails You Will Love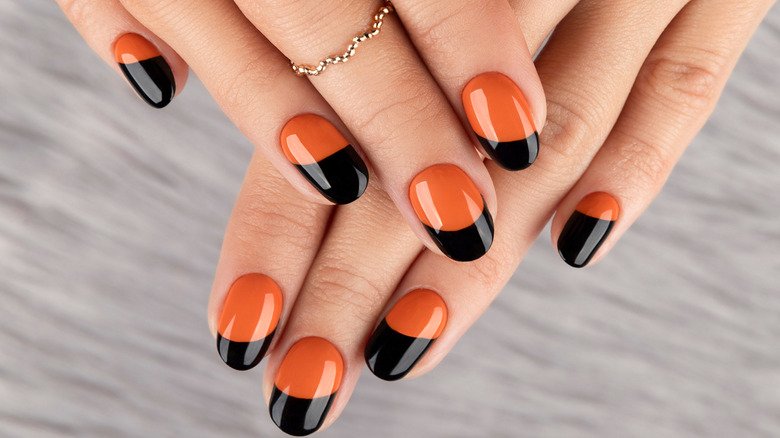 Darya Lavinskaya/Shutterstock
The "H" word is on everyone's minds at the moment — and for good reason. The weather is changing, leaves are falling, and holiday displays are emerging in stores en masse. That's right: It's Halloween season, and we can't get enough of it. The spooky holiday is looking significantly brighter this year, especially because Dr. Fauci has even given good news about the trick-or-treating day.
Last year, Halloween was trapped in the turmoil of the COVID-19 pandemic, but this year, people will be celebrating harder than ever before, so we've all gotta look the part. You'll see certain costumes everywhere this year, and you should be aware of why you shouldn't wear a Day of the Dead costume on Halloween, too. If everyone's going to go all out this year, this must include nails, right?
Folks around the world have already begun decking out their nails in true Halloween spirit, and we're here to break down which subtle nail trends will show that you're festive without having to don an entire ensemble.
Color gradients for your nails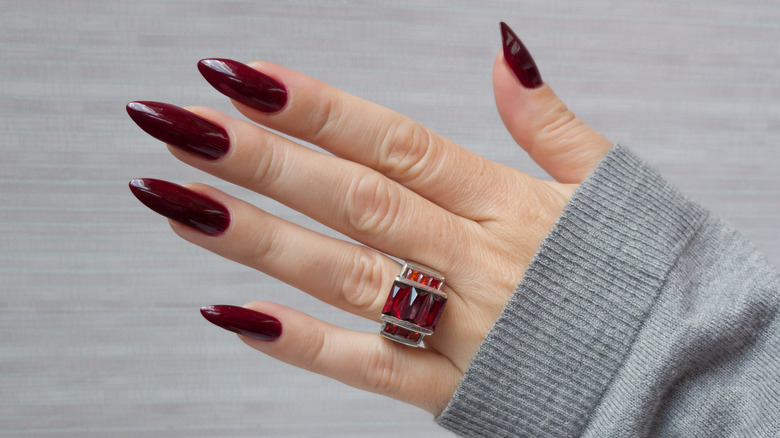 Kozlik/Shutterstock
Costumes for Halloween 2021 are more elaborate than ever, but your nails don't have to be. You can display your creativity and festivity without laboring over them for hours or spending far too much money at the salon. According to Oprah Daily, one easy way to step up your Halloween nails is to invest in nail decals. Decals aren't expensive, and when accented on top of white, black, or orange nails, they make the perfect spooky surprise.
If you want to keep it extra simple, try a color gradient. Starting on one end of your hand, paint from dark orange all the way to yellow across your nails to create a fall spectrum that will blow people away (via Glamour). With this design, you only need a few shades of nail polish, and there's no mixing them. Simply paint each nail one shade, and you're set!
Another fun single color nail for Halloween is deep wine, per Glamour. This color is exactly what you think of when you think about wine: a dark purple-red that appears mysterious and like a long night. It's daunting but fun, and if you want to paint every nail one color, this should be your go-to. However, you can make this your own. You could paint all of your nails pumpkin orange or reddish brown like fallen leaves and maple. All of these colors will elevate your fall aesthetic.
This Halloween design is out of this world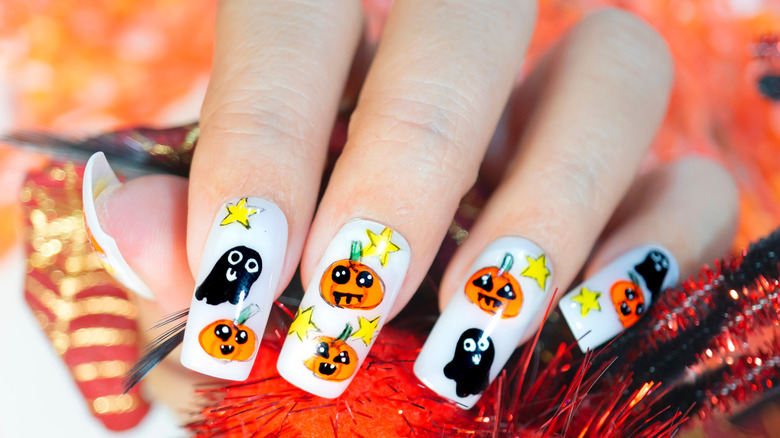 Nittaya Saternram/Shutterstock
Similar to color gradients, you can try a glitter gradient if you want an extra touch of finesse on your Halloween nails. According to Allure, you simply start with a solid nail color on one end of your hand and then add increasing amounts of glitter as you make your way across your hand, with the final nail being all glitter. This is super easy and will look incredibly chic.
Another simple nail design comes in the form of ghosts. Well, not real ghosts, but instead the use of white nail polish on the end of your black or orange nail to create the silhouette of one (via Oprah Daily). The splash of wispy white — you can add two dots of black for its "eyes" — elevates a solid color nail to an entirely new level.
This last design may be one of our favorites. Like the ghosts, you can create exceptional nails with a little extra polish, but this time on the back of the nail, not the tip. According to Glamour, people are loving crescent moon designs this year, which they're making with black nails as a base and then a curved stripe of orange or yellow at the back of their nail. It's a sliver of paint on black, a sliver of moonlight in the night sky. It's beautiful and poignant, refreshing and easy.
So, which easy Halloween nail design do you want to try this year?