How To Recreate Rachel McAdams' Lip Color As Regina George In Mean Girls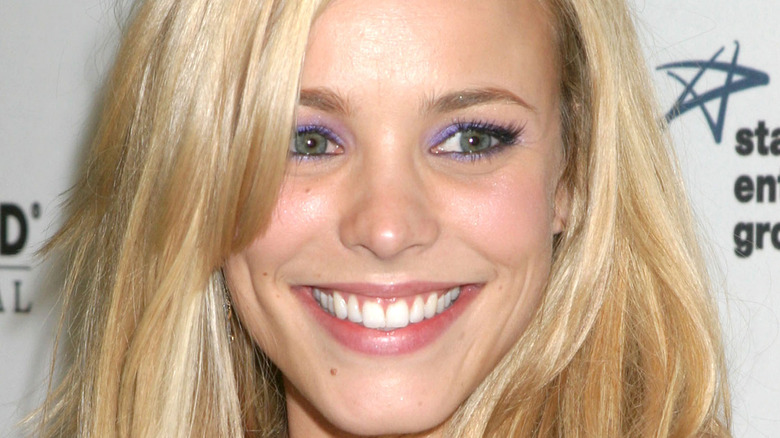 carrie-nelson/Shutterstock
Ah, the early '00s. Life was all about low-rise jeans, mini skirts, and glossy lips, and there was no film that captured the essence of the decade better than "Mean Girls." While not all of those trends deserve to be revived, some of the beauty products do deserve a shout-out. Thankfully, Brittany Cale on TikTok found the perfect lip product to recreate Regina George's lip color. Because letting the Plastics rule school might be overrated, but their lip color certainly isn't.
Regina George might have been the character, but actress Rachel McAdams brought the glossy lip to life. You can almost hear her saying, "ugh, my lipgloss!" after the talent show scene. Let's be honest, that lip gloss was definitely popping, so it makes sense why she didn't want Aaron Samuels to mess it up.
If you're looking to recreate the iconic lip, there's some good and bad news. While no one's certain about which exact lip product McAdams used in the movie, there are some spot-on recommendations that will help you embrace the era.
Rachel McAdams' glossy lip was likely from MAC Cosmetics
The Regina George vibe was classic early '00s. Her classic lip color was neutral and glossy, no matter what day of the week it was. All good trends come back over time, so it only makes sense that you'd want to recreate this iconic look now. While the exact lip color seems to be kept under wraps, one TikTok user suggests using MAC Cosmetics' Lipglass in All Things Magical to nail the look.
The shade is a neutral pink lip gloss, just like the one Regina rocked in the movie. According to Temptalia, it's a pink gloss with a cream finish, and the shade is permanent so you don't have to worry about not being able to restock. That sure does seem like a Regina-approved lip product.
If you're looking to go early '00s but keep the look a little more modern, there's another product you might want to try. Nylon suggests using Fenty Beauty's Gloss Bomb Universal Lip Luminizer in Fu$$y if you want to copy Regina's look. You know, so you can look trendy and timeless all at the same time. Both Regina-inspired glosses are $19, so you won't break the bank either way.
Cady Herron's lipstick was also iconic
As far as other "Mean Girls" characters go, Brittany Cale also found the exact lip product that Lindsay Lohan wears as Cady Herron (via TikTok). While it might not be as glossy as Regina George's pick, it'll definitely give you just as many early '00s vibes.
According to the TikTok, Cady Herron wore MAC Cosmetics' Frost Lipstick in Pink Freeze in the movie. While the color is sold out, Cale suggests using the dupe Frost Lipstick in Angel from the same brand to replicate the look.
Honestly, the movie does such a great job of nailing the style of the decade that you really can't go wrong with any light pink lipstick or gloss. The shade will easily transport you to decades past. After all, all good makeup trends do come back eventually, so it's time to make the light pink glossy look fetch again.